New Delhi: Today, NDMC in the august presence of Hon'ble Lt. Governor of Delhi Shri Vinai Kumar Saxena formally opened for public viewing Sculpture made from scrap metal salvaged from construction sites and automobile waste dumps at the NDMC public park, Kautilya Marg, Chanakya Puri, New Delhi.
After opening the Park, Shri Saxena said that "Development ki Dilli mein bahaar aa gayee hai". All efforts have been made to make the national capital shine and this beautiful park (G20 Park, Kautilya Marg) is an effort in that direction. In this Park the sculpture of the birds from G20 nations have been showcased. This Park is a gift to the people of Delhi. Delhi has been a neglected city and efforts have been made to make it beautiful through new themes and things.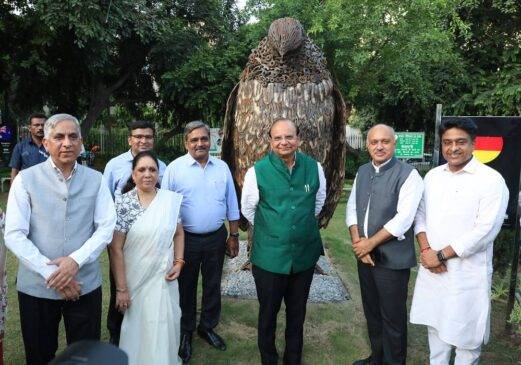 NDMC in collaboration with Lalit Kala Academy has installed 22 Sculptures, made from scrap metal, of animals and birds of G20 members in recognition of their participation in the G20 Leader(s) Summit, being held in New Delhi from 9 to 10th September, 2023. The sculptures are being opened for visitors on the eve of the G20 Summit based on the theme of – "One Earth, One Family, One Future' (Vasudhaiva Kutumbakam).
These sculptures are the best example of "Waste to Art" initiative and have been made by national level artists under a joint initiative of NDMC and Lalit Kala Academy.
This project is envisaged keeping in the mind of the Hon'ble Prime Minister Shri Narendra Modi's resolution of Mission LiFE to ensure ease of Living of citizens, adopt Lifestyle for Environment (LiFE) ensuring cleanliness of the city & enhancing citizen participation. G-20 Summit preparedness for NDMC is reflected in most of NDMC's area of action. This project is also covered as part of the initiative of Reduce, Reuse and Recycle (3Rs) under the Swachhta Survekshan 2023. The concept of 'Reduce, Reuse and Recycle' and circular economy has been a part of the Indian lifestyle for years. "Such practices are prevalent, which inspire us to walk in harmony with nature. Mission LiFE will encompass every lifestyle related to the conservation of nature.
Each sculpture had been hand crafted and is a testimony to the fact that waste can be turned into artistic objects in an aesthetic and meaningful manner. Artists have used iron bars, automobile parts, metal plates, wire-mesh, rims, chains, bearing balls and other junk material for handcrafting of sculpture
The birds and animals featured in the park include Indian Peacock, American Bison, Brazilian Jaguar, Red – crowned crane from China, Saudi Arabian Camel, Korean Magpie, Australian Kangaroo, Russian Brown Bear, Mexican Golden Eagle, Great Britain Lion, Italian Sparrow, Canadian Beaver,  Turkish Redwing, Japanese Green pheasant, South African Springbok, Germany Eagle, Indonesian Komodo Dragon, French Gallic Rooster and Argentina Puma.
The idea of establishment of Waste to Art Park was conceptualized in December 2022. For this purpose, NDMC collaborated with the Lalit Kala Academy and 25 renowned artists from across the country started making sculptures at the artist camp of Lalit Kala Academy, Garhi Village Delhi in April, 2023. Since July landscaping work has been carried out after sculptures were placed in the park. About 50 students from universities across NCR also volunteered and learnt the art of making sculptures from waste scrap material.