New Delhi: NDMC is confident of ending the year with a net surplus, in league with the previous years. NDMC presented a forward-looking budget with a surplus of Rs.224.98 crores in the current financial year 2022-23 (Revised Estimates) and Rs. 583.29 crores for the financial year 2023-24 reflecting its commitment to a well-governed and financially sustainable municipal body. We have resolved to provide uninterrupted services to our citizens and keep New Delhi the aspirational National capital.
This was announced after the NDMC Budget 2023-24 presentations in its Special Council Meeting presided over by Shri Amit Yadav- Chairman NDMC. The meeting was attended by Shri Satish Upadhyay- Vice-Chairman, Shri Virender Singh Kadian-MLA & Member, NDMC along with other Members of Council Smt. Vishakha Sailani and Shri Ashutosh Agnihotri- JS (UT) Ministry of Home Affairs. The meeting was also attended by Shri Surendra Singh – OSD, NDMC, Shri Vikram Singh Malik- Secretary, NDMC and Shri Puskal Upadhyay, Financial Adviser, NDMC.
Chairman NDMC said that the prospects for the ensuing financial year are relatively more promising and NDMC is all set for a stronger growth path and move ahead with firm resolve to make NDMC the national pride and a global benchmark.
He presented the annual Budget with financial projections:-
The total receipts of the Budget Estimates (BE) 2023-24 are Rs. 4743.41 Crore against Rs. 4422.70 Crore provided in Revised Estimate (RE) 2022-23. The actual receipts in 2021-22 were Rs.4146 Crore. The BE 2023-24 for the revenue receipts are Rs.4229.38 Crore against    Rs. 3950.19 Crore provided in RE 2022-23 and an actual Rs. 3491.60 Crore in 2021-22.
The BE 2023-24 for capital receipts are Rs. 514.03 Crore against Rs. 472.51 Crore provided in RE 2022-23 and actual of Rs. 654.40 Crore in 2021-22. The total expenditure for BE 2023-24 are  Rs. 4160.12    Crore against Rs. 4197.72 Crore provided in RE 2022-23 and actual of Rs. 3596.26 Crore in 2021-22.  The BE for  revenue  expenditure in 2023-24 are Rs. 3692.13 Crore against Rs.3899.21 Crore  provided in RE 2022-23 and actual of Rs.3325.51 Crore in 2021-22. The capital expenditure is projected at Rs.  467.99 Crore in BE 2023-24 against Rs. 298.51 Crore in RE 2022-23 and actual of Rs. 270.75 Crore in 2021-22.
Thereafter, he explained the performance and achievements during FY 2022-23 and proposed the plans and projections for FY 2023-24:-
Our resilience and optimism has led to new possibilities and the economic prospects are now far better which encourage us to take bold steps, though measured in the coming year. After winning the prestigious Prime Minister's Awardand first rank in Swachh rankings, NDMC looks forward to bringing more laurels to this prestigious municipal body.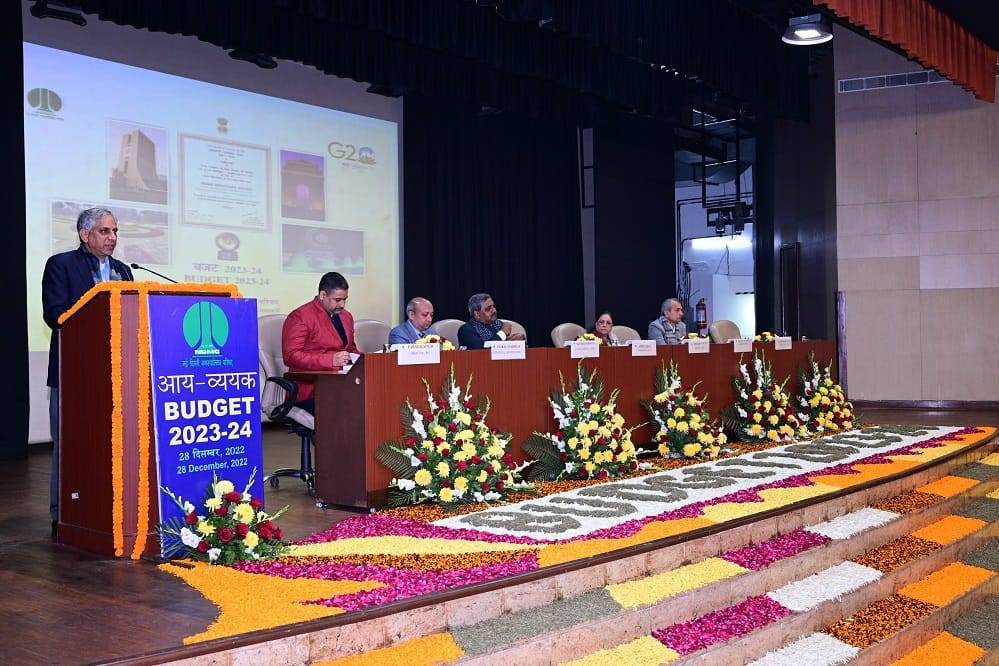 Preparedness for G-20 Summit– The FY 2023-24 is going to be special with the presidency of G-20 coming to India under the leadership of Hon'ble Prime Minister Shri Narendra Modi. NDMC is quickly taking up a comprehensive beautification of flyovers, Roundabouts with sculptures by eminent artists, reflecting our art consciousness. The city will also host a Food Festival with flavours from all participating countries of G-20. A Park dedicated as the G-20 park which will display national animals of G-20 countries on a Waste to Wonder theme. We are committed to work hand in hand with other municipal bodies of Delhi and with both state and central governments. This budget will reflect our resolve to ensure ease of living for our citizens, adopt Lifestyle for Environment (LiFE), ensuring cleanliness of the city and enhancing citizens participation. G-20 Summit preparedness will reflect in most of our areas of action.
TECHNOLOGY MAXIMUM: IT GOVERNANCE:
Phase I of Digitization of Records/Fileswith more than 2 crore pages already completed. Phase-II of the project shall be completed in coming FY 2023-24. Artificial Intelligence Based Chat-Bot Facility project Phase-II which will integrate useful citizen centric services is under progress. To facilitate remote working and digital interaction around 100 computers with in-built camera facility have been procured so as to facilitate video conferencing under the Palika Drishya Project. 49 NDMC schools' websites have been developed and made operational.
 The first phase of  Block-Chain Project has been completed and second phase for Commercial and Building Plan are under process. NDMC is going to implement a 360-degree cyber security audit of its network as well as all running applications. An ERP based Billing System has now been deployed for Electricity-Water Billing System in NDMC. Smart Classroom project is now extended to primary section also. Integrated Command And Control Centre – This state-of- the art and first of its kind ICCC integrates 21 municipal services. NDMC has further integrated the Smart Bike Projects during this year. CCTV of Kartavya Path installed by CPWD will also be integrated with ICCC for monitoring of vendors, parking etc.
RELIABLE NDMC: DISCOM OPERATIONS: IPDS Project-Smart energy meters provide real-time data on power consumption and allow consumers to make informed choices about energy usage based on energy price at the Time of Day (ToD). Out of its three packages, two have been completed. Under the third component more than 60,000 smart meters have been installed. To bring in the culture of pollution free electric cars, NDMC has now installed 100 Public EV charging stations and feasibility is being explored to install more to encourage the use of Electric vehicles. Video wall in NDMC Convention Centre will facilitate more efficient utilization of this centre and will add to its revenue. Providing Electric Connection To J.J. Cluster, Sanjay Camp Left- Out Jhuggis will be completed in the next financial year. NDMC has now prepared a draft of Solar Policy which is under public consultation and NDMC to take steps to encourage installation of solar power units in the commercial and residential premises.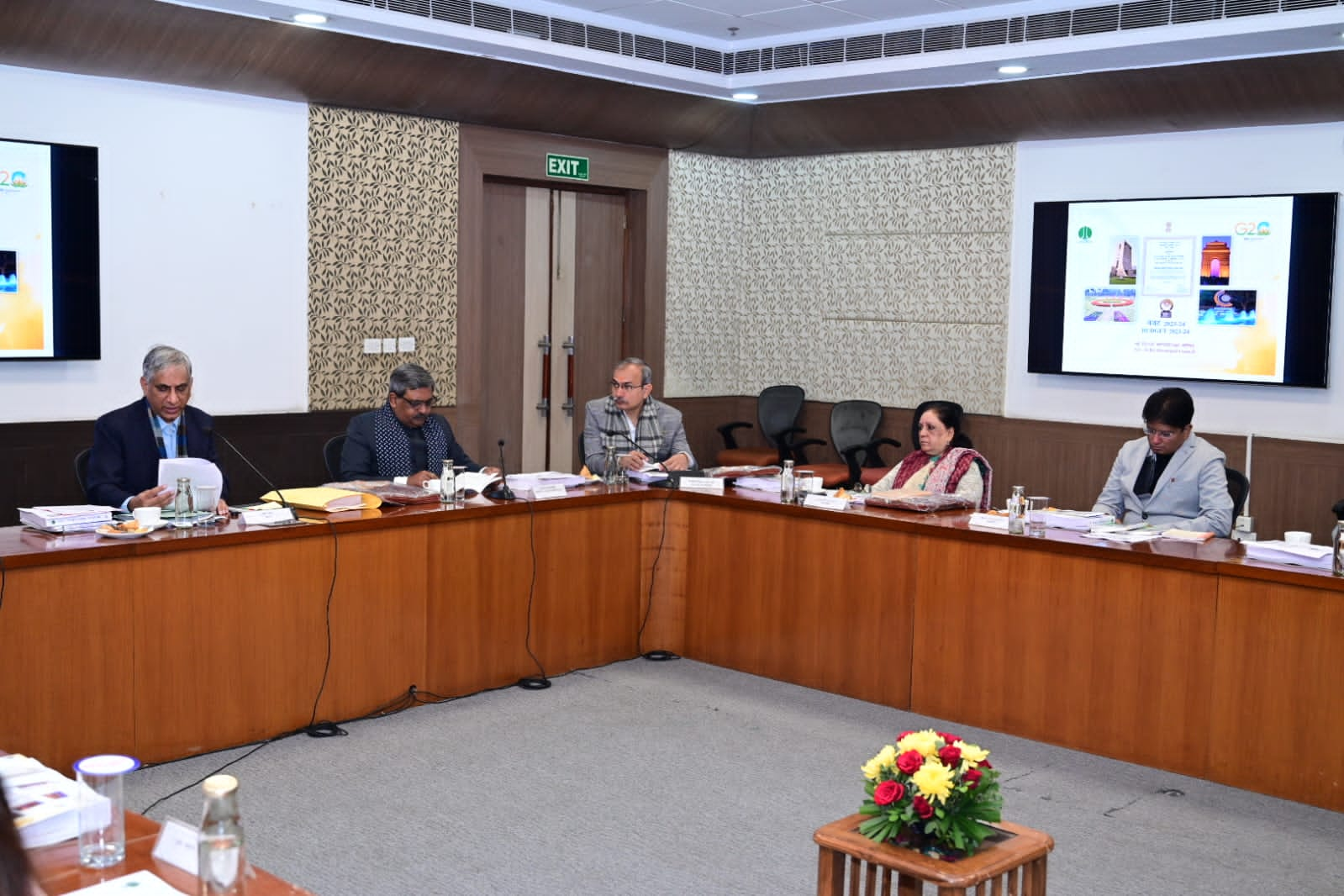 RELIABLE NDMC: ROADS AND LANES: Work of 02 Roads i.e. Ashoka Road & Firoz Shah Road has been completed and resurfacing work of 08 roads is in progress. The work of re-carpeting of roads with cold milling process i.e. resurfacing of Shanti Path, Akbar Road, Shahjahan Road & Sher Shah Road has been completed. Mechanical Road Sweepers have been utilized to keep the roads clean in an effective manner. For Resurfacing work of 12 Avenue roads, estimate has been approved and the work will be completed in the next financial year. NDMC initiated steps for a fully mechanized cleaning in public place of Connaught Place and Hanuman Mandir complex. The work of Mandi House Circle has been completed. Sample work of modern Kiosks has already been completed. The work on 30 Nos. temporary kiosks is in hand with targeted completion in this financial year. The work of 60 modular Rain Water Harvesting pits has been completed and 95 Nos. pits is under progress. The development of Happiness areas at York place – Janpath and Moti Lal Nehru Marg has been completed. A scheme "Art with Heart" in which theme-based sculptures will be installed at major roundabouts and other prominent places in a phased manner with consultation of National Gallery of Modern Art and Lalit Kala Academy. Installation of National Flag Poles on Ranjit Singh & Safdarjung flyover, NDMC will be started in the next financial year. Construction of a foot over bridge at AIIMS gate No.1 Aurobindo Marg and at Delhi High Court near gate No.5, Shershah Road.
RELIABLE NDMC: WATER SUPPLY : NDMC has taken several measures such as AMI Water Meters focusing on reduction in NRW (non-revenue water) so that 24X7 uninterrupted water supply to its residents is ensured. In order to ensure the 24×7 uninterrupted water supply in NDMC area, the appointment of consultant is desired with vision of next 25 years. Process for appointment of a consultant has already been initiated.
Drinking water fountains has been installed at Talkatora Garden as a Pilot Project and the work of two more fountains in Nehru Park is in progress.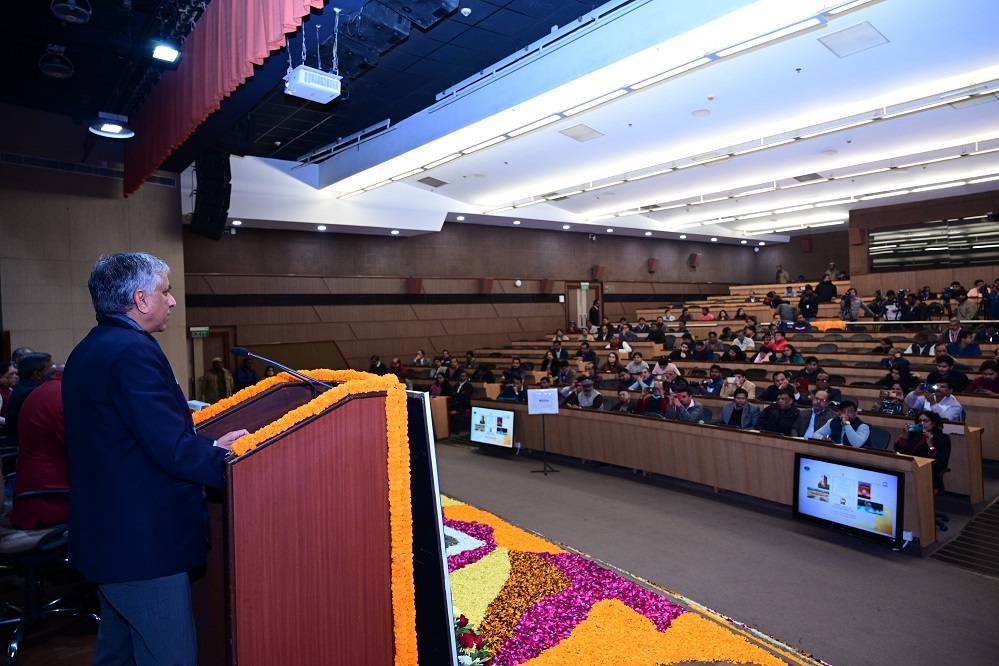 Reliable NDMC: Sewerage System: The first phase of rehabilitation of about 30 km of sewer line has already been completed and the second phase is in progress. NDMC continues to operate 3 Numbers CNG run High Pressure jetting cum sewer suction machine. The project to develop additional water resources by installing STP's 100 KLD to 200 KLD (4 nos.) along with 50 KLD TTP, infrastructure at different locations will be completed this next year.
Our sewerage network is many decades old and the New Delhi city is being transformed with new developments like Central Vista. Keeping the same in view, NDMC has initiated steps for appointment of a consultant to study the sewerage network of entire NDMC area and preparation of a master plan for 25 years design period has been initiated.
Reliable NDMC: Drainage System– There are 14 drainage systems in NDMC area out of which about 53 km of main drainage system is of size 600 mm to 2057 mm and length of transfer underground drainage line is about 270 km of size 450 mm to 900 mm. The work of rehabilitation of 14 drainage systems, IIT Delhi, the premier technical institute is being roped in to provide the requisite consultancy. The work of diversion of main drainage system along BHS road from Shani Mandir to Pillanji Village had been awarded but could not be executed due to technical reasons. The work will be completed in the next financial year.
Strong NDMC: Buildings, Bridges & Urban Assets: The work of External Development and Façade Uplifting At Yashwant Place Momos Market, New Delhi has been completed.
The redevelopment Of ShivajTermina is in progress. The work for rainwater harvesting pits in 13 Nos. NDMC Buildings and 32 Electric Sub Stations is in progress and is likely to be completed by March, 2023. Upgradation work of Palika Bazar and Construction of Skill Development Centre at Moti Bagh is under progress. The civil infrastructure work of JPN Library at Mandir Marg has been completed. The work of Construction of 200 Nos. Type- II Flats, (10 Storied Tower) at Aliganj, New Delhi is now complete and ready for inauguration. NDMC has already identified 25 buildings as High Risk Buildings and the necessary retrofitting has been completed for 24 of them. NDMC will provide fixed LED display board for Palika Bazar Shopping Complex. Suvidha Kendra at Shaheed Bhagat Singh Place as the first Palika Citizen Lounge work would be taken up in the next financial year. NDMC would take up the comprehensive the redevelopment of main Gole Market building and its adjoining area as Heritage Site. Under the Precinct Improvement Project, the adjoining areas of the famous Hanuman Mandir will be developed for better citizen experience.
Leveraging Modern Health System: Upgradation of Casualty ward and construction of new Disaster Wards at CPH is completed.   The necessary equipments and beds will be made available and likely to be operationalized by March 2023. A new OT Complex has become functional. NDMC is Starting Of Complete Rotating Internship Programme For Medical Graduates At CPH. AYUSH Services – Homeopathic Unit at Palika Maternity Hospital will be made functional by March, 2023. Mobile Ayush Dispensary for Old age Homes and at doorstep in NDMC schools on rotation basis, the possibilities have been explored. 50 bedded Ayush hospital with Research Centre in collaboration with Ministry of AYUSH, the layout plan has already been approved.
Swachh NDMC: Public Health: In Swachh Survekshan 2022, NDMC has been awarded as the Cleanest City in the category of 1-3 lakh population. Further, NDMC is a Five Star Garbage Free City and Water Plus Certified City. At National level in the category of above one lakh population NDMC ranked at 9th position. Regular awareness activities for adoption of home composting with RWAs are being done. Annual Health Checkup of all Safai-Sewaks is being done.
To make NDMC bin free at all strategic locations are being installed in a phased manner. Under phase-II, out of 34 underground bins, work on 30 has been completed and remaining shall be completed during this Financial Year. Under phase- III, construction of 50 nos. more underground bins at remaining sites in NDMC will be completed in the next financial year. Intensive awareness for ban on Single Use of Plastic has been created. NDMC has taken initiatives to have ZERO waste official events.
NDMC is establishing intends to augment its control of communicable diseases by a team by appointment of Entomologists, Insect Collector etc. NDMC will procure and install 450 Nos. of stainless-steel twin litter bins in commercial and other areas.
NDMC will seek the help of professional consulting agencies for preparation of Long Term (25 years) Solid Waste Management Plan and Performance Audit of its solid waste management activities.
Swachh NDMC –NDMC has already constructed five pink toilets for women and one more Pink toilet is coming up and the feasibility of additional pink toilets is under consideration. A toilet exclusively for third gender at Shastri Bhawan has been constructed and more. To curb the air pollution, Mist spraying cannon machine has already been installed at Central Park, Connaught Place.
The work of installing of 7 Nos. anti smog guns on high rise building will be awarded by March 2023.
Education: All Balwaris of NDMC have been upgraded into State-of-the-Art NDMC Playway Schools which will help in implementing the New Education Policy. The scheme of Cash Prize to Meritorious Students (Palika Pratibha Puraskar) has been implemented. In one of its kind initiatives, Cycling Clubs have been set up in 8 schools comprising of 3 Navyug Schools and 5 AABVs. 811 Tablets for NDMC School students had made available on a pilot basis to the students of 10th & 12th standard in 4 Schools . NDMC intends to expand the scope of the programme by including all the students of 10th & 12th standard in all schools benefiting more than four thousand students. Its scope would be further enhanced to include all students of class 9th and 11th as well in all schools. The work of one Nature based Class room in each of 10 NDMC/Navyug schools is under tendering process. Mountain trekking is being undertaken for teachers and students with BSF Institute of Adventure and Advance Training (BIAAT), Dehradun. An MOU has been signed with National Science Centre for setting up of Science Parks. Introduction of Vocational Courses recognized by CBSE is being taken up in consultation with GNCT Delhi. NDMC proposed to develop 'Teachers Resource Centre' for Continuous Professional Development of teachers. Bag-less Pre-primary and Primary classrooms initially in all Navyug schools is proposed.
Natural Resource Conservation/ Horticulture: To keep NDMC avenues and premises and roads environment dust free to clean and lush green eco system with the help of specifically procured 20 Tankers for tree washing. Redevelopment of the avenues needs to be taken up in a phased manner. The work at 10 avenues will be completed by March, 2023. It is targeted to develop more than 41 green strips in the next financial year. Beautification of the residential colony parks, comprehensive initiative will be taken. NDMC proposed to get all the designs finalized by engaging consultant under NDMC Smart City Projects for four major gardens, Consultant for the same would be appointed by March, 2023. Smart irrigation technology to save water, a pilot project is being initiated for a comprehensive automated irrigation system for the entire Nehru Park in FY 2022-23.
.Prudent NDMC: Financial Stability:NDMC was one of very few municipality in India to have achieve a credit rating of "AA++" in the year 2017-18 and the same rating has been maintained till date. NDMC will continue to maintain its credit rating in the forthcoming years. NDMC proposed to set aside a sum of 10.00 Crore in the budget with an objective to provide scope for local initiatives and flexibility for local action by the RWAs/ MTAs.
     NDMC had decided to take necessary preparatory steps, develop the concept, assess its feasibility and prepare an action plan to achieve the in FY 2022-23. Regulations for Pension Fund have been prepared and the same has been sent for approval of Government of India.
As on 31.03.22, NDMC has a corpus of 3192 Crores for this purpose, and provision of Rs.271 Crores and Rs 300 Crores has been made to transfer in the corpus of proposed Pension Fund in RE 2022-23 & BE 2023-24 respectively. To Strengthening Financial Systems, existing procedures have been simplified including reduction of stages specially for expeditious project approvals. The revised delegation of financial powers have been issued.
NDMC is taking steps to implement Accrual Based Budgeting, a first in the country.
Caring NDMC: Employee Welfare: For the current year, the health check-ups of eligible regular employees as well as RMR workers of NDMC above the age of 40 years in addition to Safai-Sewaks will be conducted. Palika Swachhta Sewak Scholarship, an important welfare scheme for the wards of our Safai-Sewaks had been launched earlier. Under this scheme two children of Safai-Sewaks are reimbursed the expenses for higher education.
Inclusive NDMC: Protection Of Weaker Section:- Comprehensive Cluster Improvement Programme: Keeping in view the state of various clusters and in recognition of their rights as equal beneficiaries of municipal services, NDMC proposed a new comprehensive program for their development in place of piecemeal projects
Resilient NDMC: Disaster Management: NDMC proposed earlier that NDMC may review its disaster preparedness and come up with comprehensive implementation plan and create necessary mitigation mechanism including infrastructure as required. Due to COVID 19 pre occupation I propose to take up the same in next financial year.
  Palika Knowledge Hubs: NDMC intends to take up the project for a complete 360-degree revamp of its libraries and convert them into a state of art knowledge hubs leveraging technology and factoring in modern modes of knowledge dissemination. NDMC would accordingly digitize database books, articles etc. of all Eight Public Libraries through NIC E-Granthalaya software and issue RFID based Smart Membership Card for all members of 08 Public libraries. Civil and IT infrastructure will be augmented and new books will be introduced as also membership- based content. These will be taken up in coming FY 2023-24.
 Developing Skills-Creating Jobs: To add employment opportunities for the citizens, an initiative has been taken in partnership with National Skill Development Centre. The programme will up-skill more than 75000 participants in 8 identified areas in a phased manner.
 RECEIPTS: Receipts From Electricity Distribution The total revenue receipts from Electricity Distribution Strategic Business Unit (EDSBU) have been projected in RE 2022-23 at Rs. 1387.14 Crore as against actual Rs.1239.28 Crore in the year 2021-22. The projections for BE 2023-24 are at Rs. 1372.69 Crore.
Receipts From Property Tax: We are expecting to collect property tax of Rs. 950 Crore in 2022-23. In the year 2022- 23, we plan to collect Rs.1150 Crore. I do not propose any increase in Property Tax rates for the year 2022-23.
Receipts From Licence Fee From Municipal Properties: The actual receipts in 2021-22 for Licence Fee from Municipal Properties stood at Rs. 528 Crore.   The projections for RE 2022-23 are at Rs. 750 Crore and BE 2023-24 are at Rs.825 Crore.
NDMC Chairman extended thanks to Hon'ble Chief Minister, Hon'ble Member of Parliament, Hon'ble MLA, Vice-Chairman and other members of the Council for their continued support and guidance. Chairman NDMC