New Delhi: Under the Swachhata Hi Sewa Pakhwada, New Delhi Municipal Council (NDMC) with the active participation of their area Resident Welfare Associations, Market Traders Associations, Slums areas, Morning Walkers, School Students launched a massive drive to contribute "Shramdaan" for Swachhata today.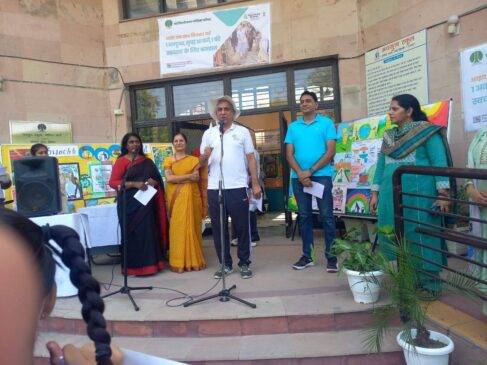 About 8000 field Staff, 3000 Office Staff, 5000 School Students, 65 RWAs, 41 MTAs, 16 Hotels, 103 Parks, 20 Slums along with 65 NGOs contributed their Shramdaan at 356 locations in NDMC area.
The 'Swachhata Shramdaan' drive carried out with the different activities like Plogging drive, Swachhata Pledge, Awareness Rallies, Cleaning & Washing of footpaths, Sweeping on Roads, Cleaning of dumping areas, removal of green waste and other waste items from offices , roadside, Parks, Residential complexes etc.
On the occasion, Chairman NDMC- Shri Amit Yadav also contributed his Swachhta – Shramdaan at Slum area of Kali Bari area and Ashirwad Old Age this morning today. He also visited an Exhibition put up by the Navyug School Students on the theme of "Best of Waste" in which they exhibited the items made from waste items under the initiates of 3Rs – Reduce, Recycle and Reuse.
Chairman NDMC – Shri Yadav also flagged off a rally of School Students from Mandir Marg to spread the awareness about Swachhata initiatives amongst the surrounding Residential and Market areas. Students hold the placards with the message of discouraging single use plastic waste, 3Rs, importance of cleanliness etc and shouted the slogans of cleanliness while took the round nearby localities.
On the occasion, Vice-Chairman NDMC – Shri Satish Upadhyay contributed his Swachhta- Shramdaan at Princess Park, Slum area along with the local residents and school students. The Council Member-  Shri Kuljeet Singh Chahal participated in the Swachhata Drive at Kushak Naala area near Safdarjung Airport. Member of Council- Smt. Vishakha Shailani along with the Resident Welfare Association of B.K Dutt Colony and Aashirwad Old Age Home participated in the Swachhata Hi Sewa Program.
On the other side, Under the Special Campaign "Clean Your Parks/Gardens and Markets" citizens of the local area and many morning walkers with NDMC Sanitation, Civil Engineering and Horticulture staff carried out the different activities and contributed their Swachhata Shramdaan.