New Delhi: Smt. Meenakashi Lekhi, Hon'ble Minister of State for External Affairs and Culture and Member of Parliament New Delhi Lok Sabha interacted with School Teachers and discussed about the "Modi@20 – Dreams Meet Delivery" Book on 27th September 2022 at Navyug School, Sarojini Nagar.
She outlined the 20 glorious years of Prime Minister Shri Narendra Modi Ji and his visionary leadership that has taken India to greater heights. She spoke on the numerous initiatives undertaken by the Modi Government for the welfare of the citizens.
The programme was also attended by approximately 500 teachers of all NDMC Schools. The programme also saw the presence of officials from the NDMC including Shri R.P. Sati, Director, Education, NDMC; Shri Vijay Pal, Deputy Director, Education, NDMC; Smt. Savita Jakhmola, School Principal; Smt. Shabnam, Deputy Director, Education, NDMC; Shri Dinesh Tanwar, Deputy Education Officer and Shri. Inderjeet Singh Grover, Deputy Director, Navyug.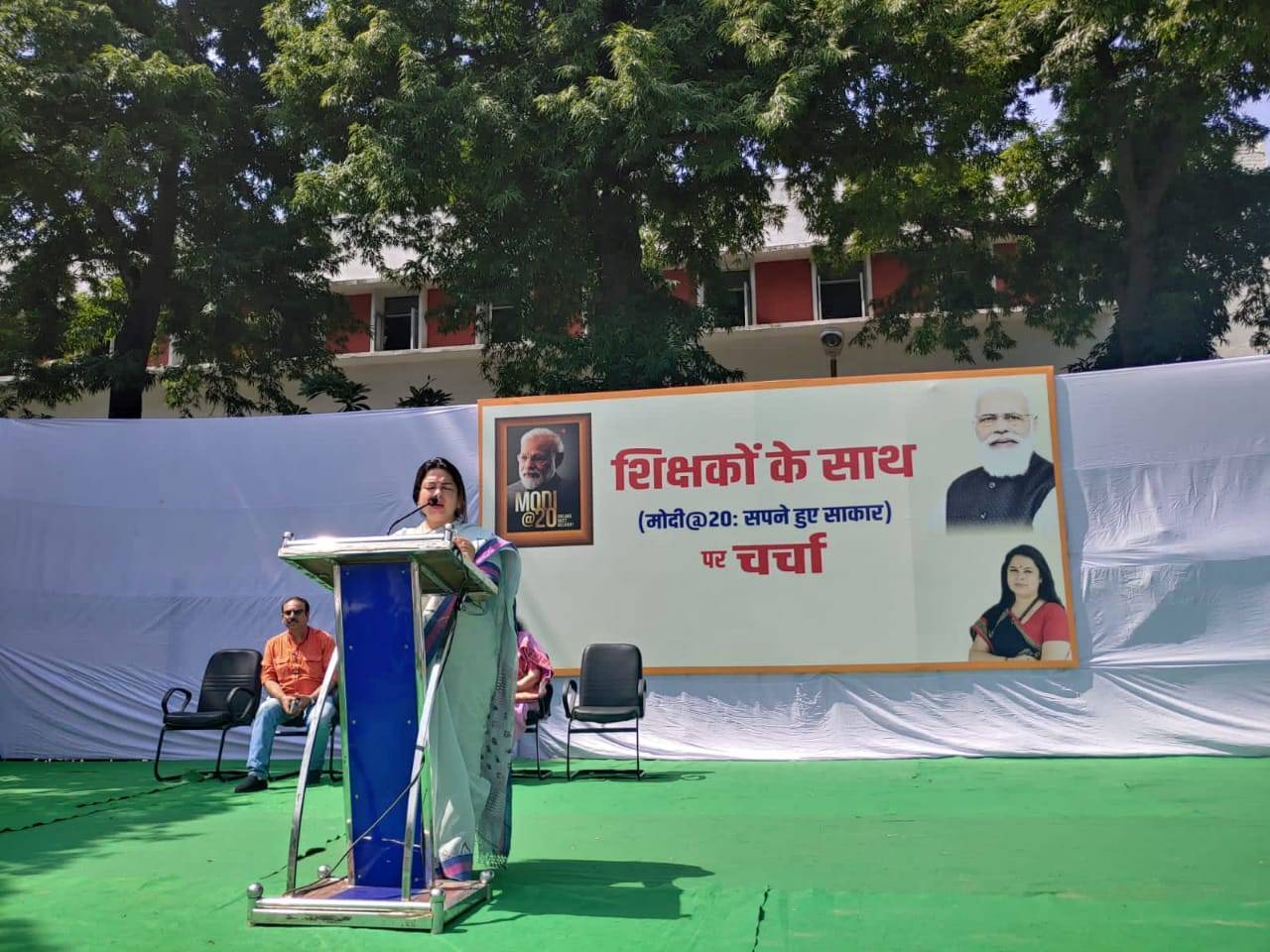 Smt. Lekhi outlined the vision of the Modi government and the motto of "Sabka Saath, Sabka Vikas, Sabka Vishwas aur Sabka Prayaas" with which the government is working. She highlighted the numerous policies of the Modi government which have empowered the downtrodden of the society.
She spoke on the successful vaccine programme which was undertaken by the Central Government through which majority of adults were administered vaccine doses free of cost.
Smt. Lekhi also spoke on welfare policies of the Union Government including the New Education Policy, PM Svanidhi Yojana, Ujjwala Yojana and PM Jan Dhan Yojana. She also mentioned about the great strides that the country has made globally under the leadership of PM Narendra Modi Ji.