DU SOL's orientation program organized in the Diamond Jubilee year
New Delhi: Vice Chancellor of the University of Delhi, Prof. Yogesh Singh said that instead of taking, the students should inculcate the feeling of giving, this is the right way for the progress of the nation and the society. The Vice-Chancellor was addressing the orientation program on Saturday, 17th December, that was organized in the Diamond Jubilee year of the establishment of the School of Open Learning, Department of Distance and Continuing Education, University of Delhi. In his address, he also called upon the students to become job creators instead of job seekers.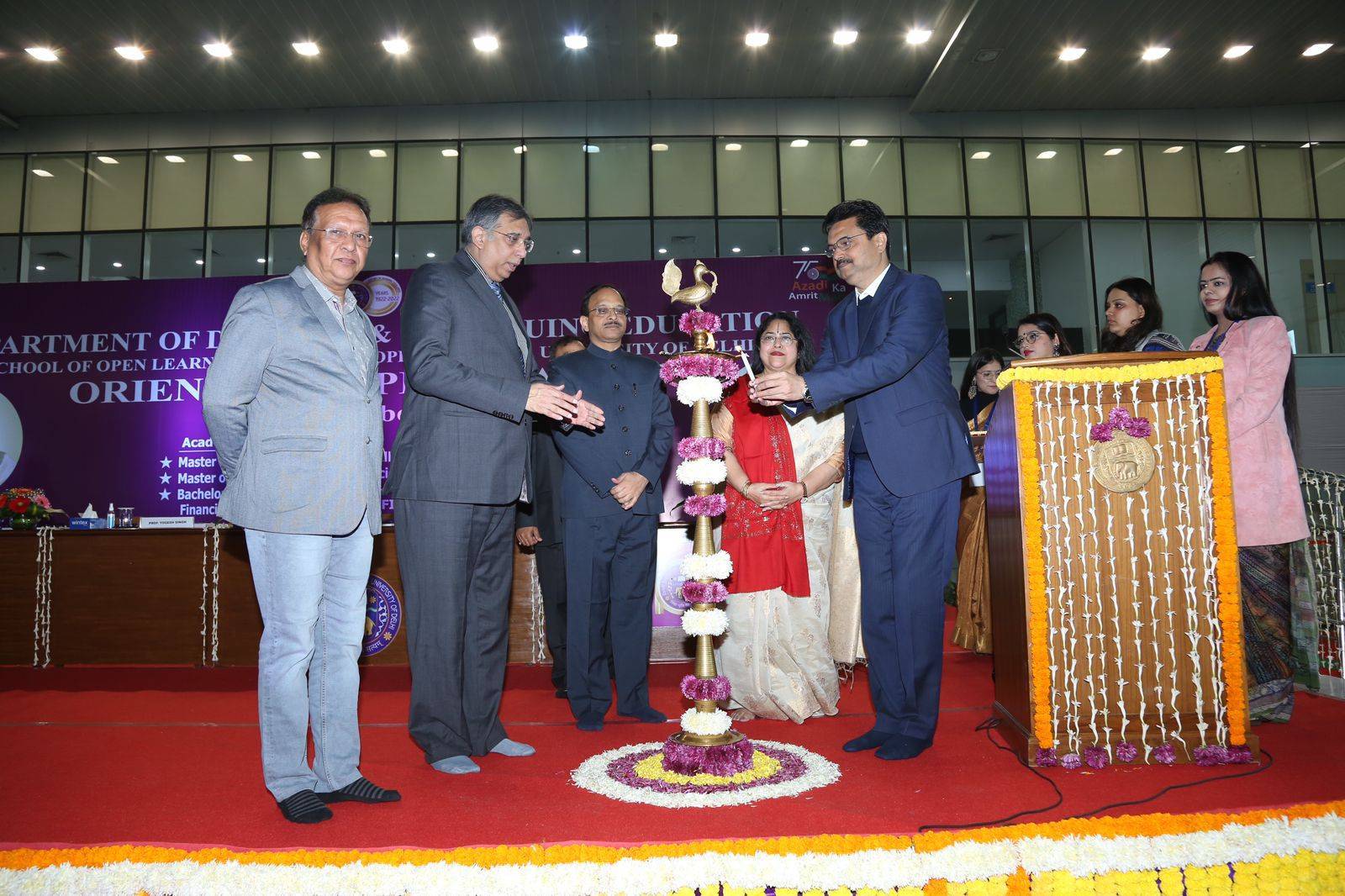 Vice Chancellor Prof. Yogesh Singh, describing the introduction of MBA program by SOL for the first time this year as a revolutionary step, said that today's era is the era of technology and management. In this era, every person needs to continuously acquire knowledge for their development according to the changing needs and changing technology. In such a situation, the importance of distance learning is increasing. He expressed confidence that the students would emerge from this program as qualified professionals, service providers, policymakers, managers and entrepreneurs. The Vice-Chancellor said that this year DU SOL has launched six new professional courses including MBA. These new courses being introduced for UG and PG will be employment-oriented and professional curriculum based. These six new courses have been included in the SOL curriculum after 28 years.
During the program, Director of Campus of Open Learning, Prof. Payal Mago, in her welcome address, welcomed all the dignitaries present on the dais, faculty members and all the students present in the orientation programme. She said that today was a great day for DDCE, SOL. During her address, she also presented detailed information related to SOL. On this occasion, she also read out the written greetings sent by the Chief Guest, Piyush Goyal, Cabinet Minister, Ministry of Commerce and Industry, Government of India. Unfortunately, Piyush Goyal could not attend the ceremony due to health reasons. Professor Ajay Kumar Singh, Head, Department of Commerce and Dean, Faculty of Commerce and Business, Delhi School of Economics, Delhi University also addressed on the occasion. During the program, Director of South Delhi Campus, Prof.  Shri Prakash Singh, Dean of Colleges Prof. Balaram Pani and Registrar Dr. Vikas Gupta, among others, were also present.