Delhi: On the occasion of Platinum Jubilee Celebrations of Delhi Police and Delhi Police Week-2022, North District organised a community connect programme "DHARA" at Gyan Path, Red Fort, New Delhi on 23.02.2022. Shri Rakesh Asthana, Commissioner Police, Delhi graced the programme with his benign presence as Hon'ble Chief Guest. Spl. CsP Shri Sanjay Baniwal, Shri Dependra Pathak, Shri Mukesh Kumar Meena, Shri Robin Hibu, Addl.CP/Central Range Ms Suman Goel and other Senior Officers of Delhi Police along with prominent citizens of North District Delhi also joined and enjoy the programme.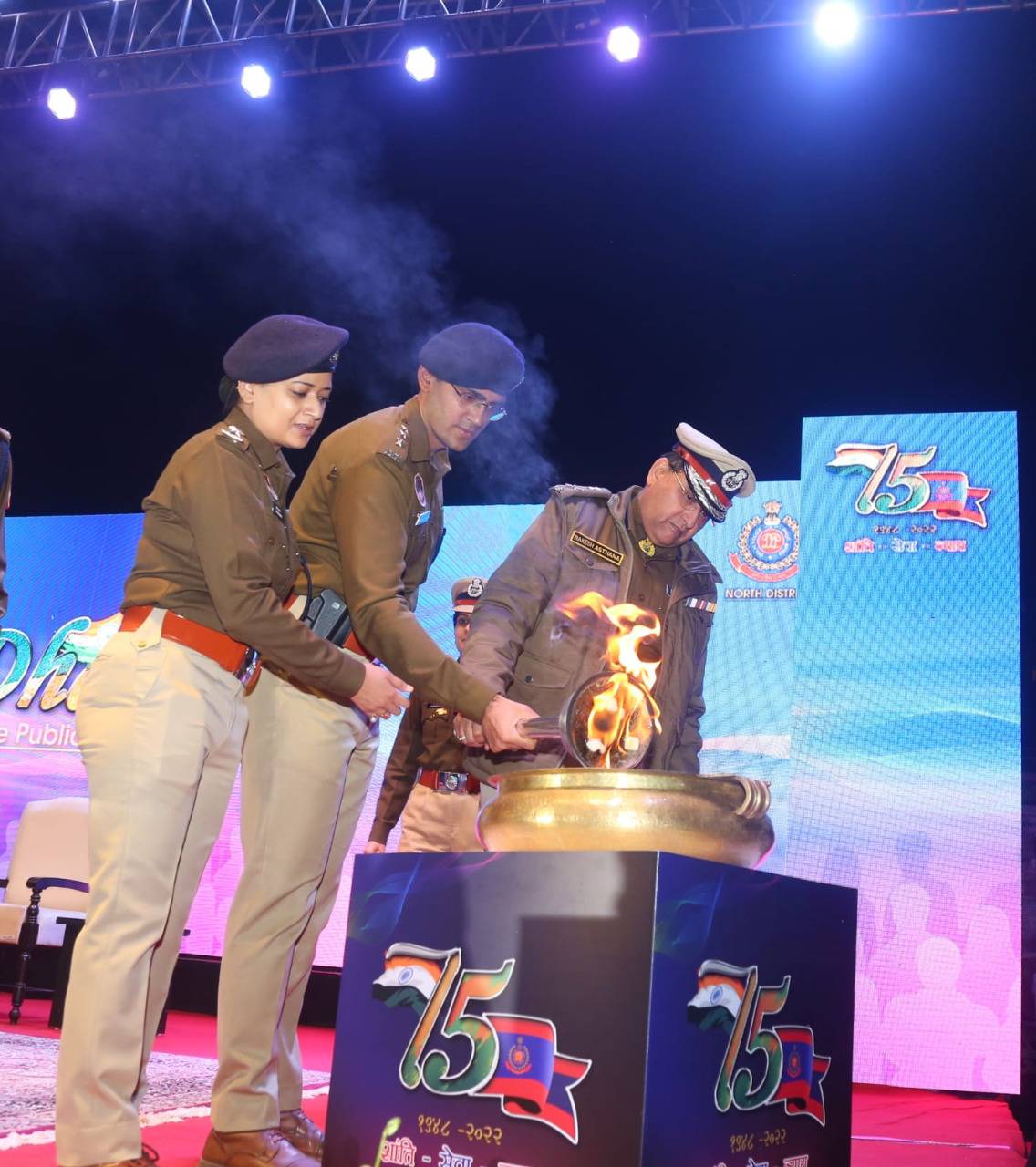 North District Police embarks upon a journey with various initiatives for public. "DHARA"- is a step forward with the flow of time to cover the area of North District with CCTV cameras. This is a testimony to our commitment towards healthy relationship with public persons.
During Delhi Police Week-2022, North Delhi police organised a special 75 Km long Torch Relay, which began from Red Fort as a symbol of Platinum Jubilee celebrations of Delhi Police and traversed through 75 prominent/iconic places located in the jurisdiction of its 14 Police Stations and passed through the hands of policemen, general public, senior citizens, kids etc and the march concluded back in Red Fort in the late evening of 22nd February, 2022.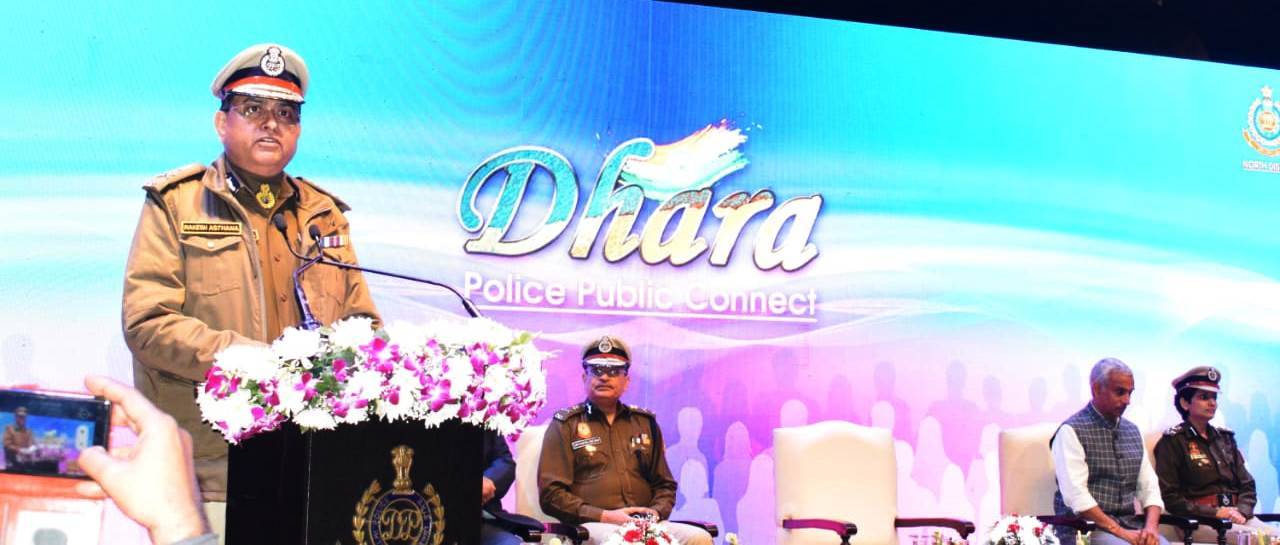 In the presence of all Senior Officers of Delhi Police, CP, Delhi virtually inaugurated, 500 newly installed CCTV cameras through Public Private Partnership (PPP) mode in Chandni Chowk and Lahori Gate market areas under Business Area Watch Scheme (BAWS), followed by virtual inauguration of 14 newly build Pink Booths i.e. one Pink Booth in each Police Station of North District and a newly constructed Red Fort Police Post under Chandni Chowk redevelopment project.
The programme started with a Sand Art Show on "Platinum Jubilee Celebrations" showing memories about the glorious journey of 75 years displaying each aspect of policing witnessing dramatic changes.  After this, a short documentary "Dhara" showing the unique journey of Community Policing implemented by North District police to connect with the public by depicting various initiatives like YUVA, Talash, Shistachaar, Aprajita, Ashirwaad, Shashakti, ADVIK, Neighbourhood Watch Schemes, Eyes & Ears Meetings, Prahari, Police Mitra, Cycle Rally, Nukkad-Natak, etc.
During Delhi Police Week-2022, North District police conducted many programmes like organising a meeting of prominent Dharam Gurus of leading religions in India with selected 50 one time offenders, who will be provided free vocation training, to wean away them from crime world under YUVA initiative, many cyber awareness, woman safety oriented programmes were conducted under APRAJITA, Free Self Defence training to school children under SHASHAKTI  programme, 17 Nukkad Natak on social awareness were organised, 165 Senior Citizens participated in ASHIRWAD programme organised at Red Fort and almost all our 2,376 senior citizens were met by our beat staff during the week, a rural games competition between police and college students was organised under ADVIK programme in Delhi University, school students visited 09 PS of North District to get familiar with police working in programme "SHAGRID", many Primary schools were visited for "Good Touch Bad Touch" awareness, Legal awareness programme for women residing in Majnu Ka Tilla cluster area, cricket and badminton tournaments in PS Sadar Bazar, Tree Plantation programme at PS Subzi Mandi, Woman Cycle Rally in Delhi University area etc. Other than this, 144 missing persons including 37 children below 14 years old have been traced in 110 days under TALASH initiative
During programme, total 75 police officers/citizens of North District comprising of 45 civilians, who voluntarily contributed participated in various community policing schemes and helped in the installation of CCTV cameras, and 30 Police officers, who performed key role in community policing, were felicitated by worthy CP, Delhi with a memento.
Speaking on the occasion, the CP, Delhi said that police and public need to work joining hand in hand for the betterment of our society and to make it a better place to live. During the Delhi Police Week, Delhi Police conducted many community policing programmes for better police-public coordination and today we are concluding our Delhi Police Week-2022 celebration with this programme. Delhi Police will keep conducting these kinds of programmes in future as well for better police public relation and public also needs to perform their part in maintaining Law & Order by voluntarily joining hands with Delhi Police through our various initiatives to work as a force multiplier.