New Delhi: Perception Management & Media Cell (PM&MC) of Delhi Police organized a "Mega Job Fair for YUVA Candidates" adjacent to the Office of DCP, Dwarka Distt., Delhi under SANKALP Program during Delhi Police Week.
The Job Fair was inaugurated by Shri. Sanjay Singh, Special Commissioner, PM&MC, Delhi Police in presence of DCP/Dwarka, DCP/PM&MC and other stake holders of YUVA Project. Anita Chaudhary, Senior Analyst, Skills Acquisition & Knowledge Awareness for Livelihood Promotion (SANKALP), media persons of National Skill Development Corporation (NSDC) and all 13 Training Partners along-with their YUVA trainees actively participated in the fair program resulting into a grand success program.
 The Job Fair was a novel initiative of Delhi Police under YUVA 2.0 Project with moto to provide job opportunities to the youths falling in categories like Juvenile offenders, school dropouts, history of drugs abuse, Orphaned children, families facing economic hardships etc.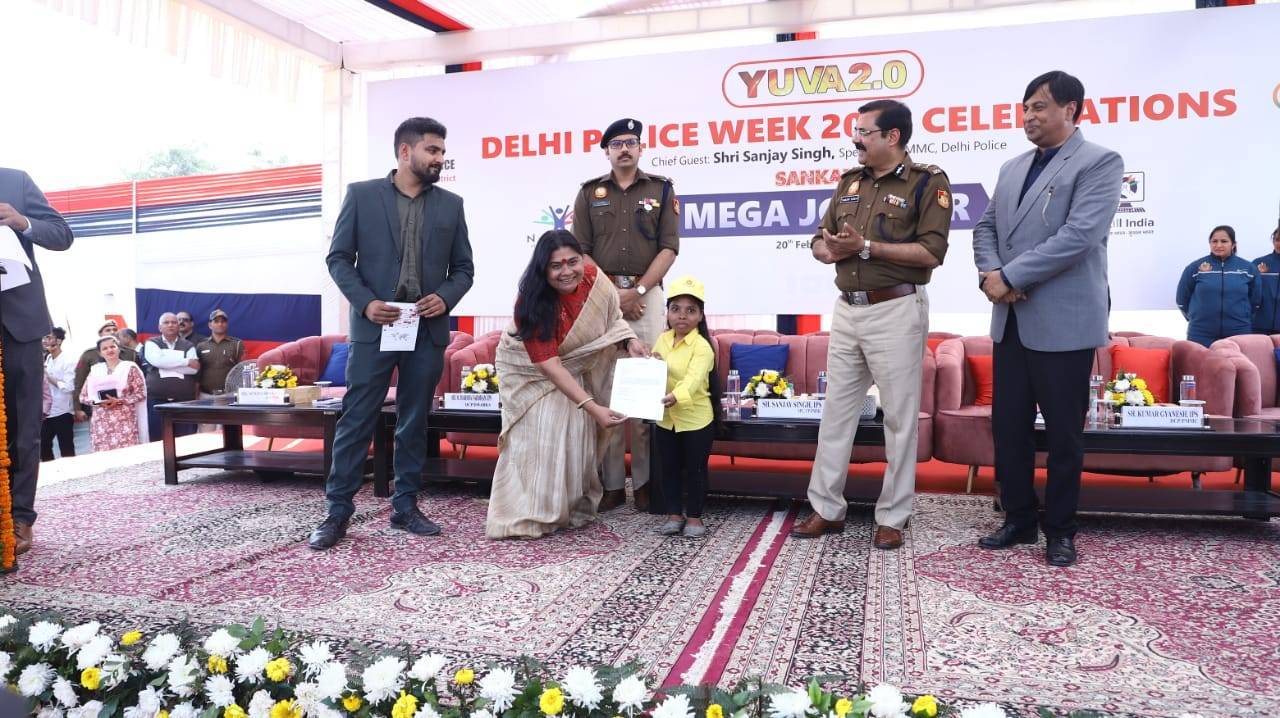 More than 49 companies having approx. 3500 vacancies for various posts participated in the Mega Job Fair to recruit YUVA trainees who had got skill-training under YUVA 2.0 scheme of Delhi Police.
More than 1800 YUVA candidates from all 15 districts of Delhi participated out of which more than 1250 candidates were selected and given job offers/letter of intent during the job fair program.
More than 4282 YUVA candidates are still undergoing skill-training at 70 Training Centers, all existing inside the premises of Police Stations in all 15 districts of Delhi in 18 different job trades/roles by 13 Training Partners under YUVA 2.0 Project of Delhi Police.
Details of YUVA Program & Mega Job Fair:-
YUVA- a 'Community Policing' initiative of Delhi Police is being run with an objective to prevent youths from delinquent acts and connecting them in the mainstream of society by making them self-dependent through "Skill-Training" and such youths belongs to categories of juvenile offenders, Victims of Crime, History of drug abuse, economically backward sections of society, orphaned children, families facing economic hardship, school dropouts & Others.
Delhi Police has signed an MOU with MSDE (Ministry of Skill Development & Entrepreneurship) under SANKALP Scheme to provide skill training to youths vulnerable to crime and help them to get gainful employment with help of NSDC (National Skill Development Counsel) and under YUVA 2.0 Training Program of Delhi Police, there is target to provide skill training to 10,000 youths. The selected youths undergo skill-training based on educational qualification & their interests in various 18 job roles/trades like Data Entry Operator, Retail Sales Associate cum Cashier, 4 Wheeler Driver & technician, Front Office Executive, Food & Beverage Stewards, Customer Care Executive, General Duty Assistant, Document Asstt., Field Technician, Makeup Artist etc. and the training is being imparted by 13 Training Partners (TPs) on board of the YUVA Project.
Under YUVA 2.0 Project, as on date (20.02.2023) about 6328 candidates have been enrolled so far in 18 various job trades/roles on the SIP (Skill India Portal) portal of NSDC out of which 1780 candidates have already completed their training and training of 4282 candidates is still going on at various 70 Training Centers existing inside the premises of Police Stations in all 15 districts of Delhi. Moreover, more batches of YUVA trainees will be created when earlier enrolled candidates complete their training at above training centers.
Shri. Sanjay Singh, Special Commissioner, PM&MC, the chief guest of the Mega Job Fair while addressing the YUVA aspirants encouraged them to give their best in their field of duty and also emphasized that they should continue to keep going on path they have chosen and should never look back at the mistakes if any they had done in the past.