Just three days after the release of An Action Hero to several daily shows at theatres and strong word of mouth from the audiences, producer Aanand L Rai
of Colour Yellow Productions and leading actor Ayushmann Khurrana have penned a heart-felt note on their combined labour of love and making the film industry a more diverse story-telling creative space.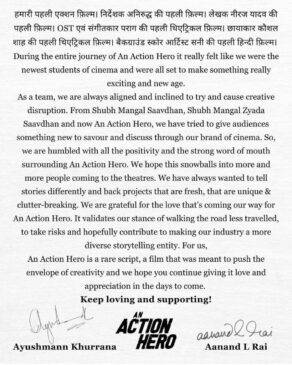 The note shared by the producer and actor starts with them listing down the creative team behind the film for this has been their first feature film, including debutant director Anirudh Iyer, screenwriter Neeraj Yadav and music composer Parag Chhabra. Envelope breaker Rai and creative disruptor Khurrana then go on to reflect on the amazing journey the team has had while making the film, being it a new genre for the duo, and driven by the same passion for telling fresh and unique stories in line with their brand of new age cinema.
The note ends with the team thanking audiences for the outpouring of love and hoping that the film will be seen more widely and remembered as a novel experiment in mainstream Hindi cinema.