Berlin, Germany: (Abid Ali)The Global Solutions Summit 2023 in Berlin, Germany presented a two-day platform for the top thinkers from countries like India, China, Japan, and Germany etc to suggest and discuss evidence-based policy ideas for the G20, G7, T20 Think20 India, T7 Think7 Japan, and beyond. Germany holds the G7 presidency this year. The summit covered a wide range of topics, including sustainable development, climate change, digitalization, global governance, inequality, and innovation. It explores various dimensions of these challenges and seeks to identify actionable solutions and policy recommendations.
About the Global Solutions Summit 2023 Berlin, Germany
Global Solutions Summit is managed by the independent non-profit Global Solutions Initiative (GSI). The Summit brings together thought leaders and decision-makers, visionaries and practitioners from politics, academia, civil society, and the commercial sector to advance global economic, environmental, and social progress.  It takes place annually in Berlin and this year 2023 from May 15th to 16th May. More than 100 speakers and 1,000 guests from all over the world discuss and give political recommendations for action for the G20, G7 and other forums.
Olaf Scholz, the German chancellor, speaks at the Global Solutions Summit
The Chancellor of Germany Olaf Scholz acknowledged that certain countries, including South Africa, Vietnam, and India, were troubled by the West's hypocrisy toward Russia.
"Many of the leaders of those nations assure me when we speak that they do not disagree with the fundamental tenets of our global order. Their issue is the inconsistent application of those ideas, he said.
"Our alliances are more than mere communities of convenience," said Chancellor Scholz. Scholz warned that the war in Ukraine should not prevent a decisive approach to major global challenges such as the climate crisis or the corona pandemic.
Read More- Global Solutions Summit begins: German Chancellor Olaf Scholz to hold keynote
T20 Think20 India – One Earth • One Family • One Future
Think20 (T20) India is a sub-forum of the Group of Twenty (G20) that focuses on generating policy recommendations and research to inform the G20's discussions and decisions. The T20 is an engagement group that brings together think tanks and research institutions from G20 member countries to provide intellectual input and expertise on global economic and governance issues.
The Think20 engagement group is one of several outreach groups of the G20, including the Business20 (B20), Civil20 (C20), Labor20 (L20), Science20 (S20), and Youth20 (Y20). These groups provide platforms for different stakeholders to contribute their perspectives and expertise to the G20 process.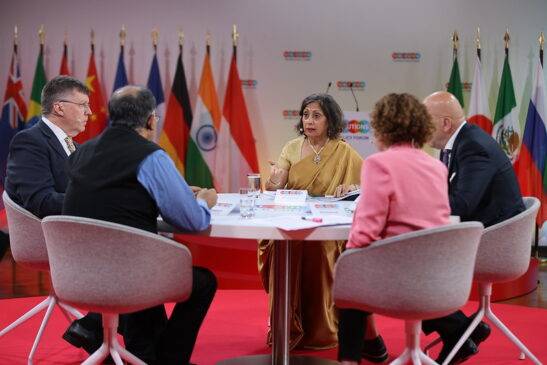 At Global Solutions Summit 2023 in Berlin, Germany task forces were discussed for instance TF-1: Macroeconomics, Trade, and Livelihoods: Policy Coherence and International Coordination, TF-2: Our Common Digital Future: Affordable, Accessible and Inclusive Digital Public Infrastructure, TF-3: LiFE, Resilience, and Values for Wellbeing, TF-4: Refuelling Growth: Clean Energy and Green Transitions, TF-5: Purpose & Performance: Reassessing the Global Financial Order, TF-6: Accelerating SDGs: Exploring New Pathways to the 2030 Agenda, TF-7: Towards Reformed Multilateralism: Transforming Global Institutions and Frameworks.
G7 Think7 Germany 2023
Some of the G7 Germany 2022 Task Forces are as follows:
The Think7 task force on Saving the Planet: A wide range of interconnected topics will be covered by the topic of climate and environment, including the environment's climate, biodiversity, clean water, air, land, and oceans, food and agriculture, energy, and infrastructure. The task force will create policy recommendations for Germany's G7 Presidency, especially those with the greatest impact in reducing climate change, with a focus on greenhouse gas emissions sinks and sources, jobs-rich just transitions, nature-based solutions, and the 2030 Agenda for Sustainable Development.
Global Health: In order to offer a solid foundation for scientific-policy discussions on the current pandemic and the establishment of preventative health infrastructures, the T7 task force on global health aims to bring together epidemiological, medical, social science, and policy expertise. Regional, socioeconomic, and geographic disparities in health concerns and infrastructures will all receive special consideration. Contributions will be made to enabling the interaction with other international governance formats, particularly the G20, by reflecting consciously on the G7's position in global health governance.
Sustainable Economic Recovery: In order to help Germany's G7 Presidency formulate national and international policies that will not only enable and sustain rapid economic recoveries but also assist in achieving the Agenda 2030 for Sustainable Development and the Paris Climate Goals, the T7 Task Force on Sustainable Economic Recovery will develop research-based policy recommendations. The Task Force will create policy suggestions for reviving global trade, creating more resilient supply chains, addressing the debt crisis in the Global South, regaining growth momentum for the global economy, and the role of international cooperation and international organizations in achieving these objectives.
T7 Think7 Japan
The T7 Japan represents the think tank community and experts from Japan. The T7 Japan focuses on conducting research, generating policy recommendations, and organizing dialogues to provide intellectual input to the G7 summit. Its goal is to contribute to shaping the G7 agenda and providing evidence-based insights and perspectives on various global issues.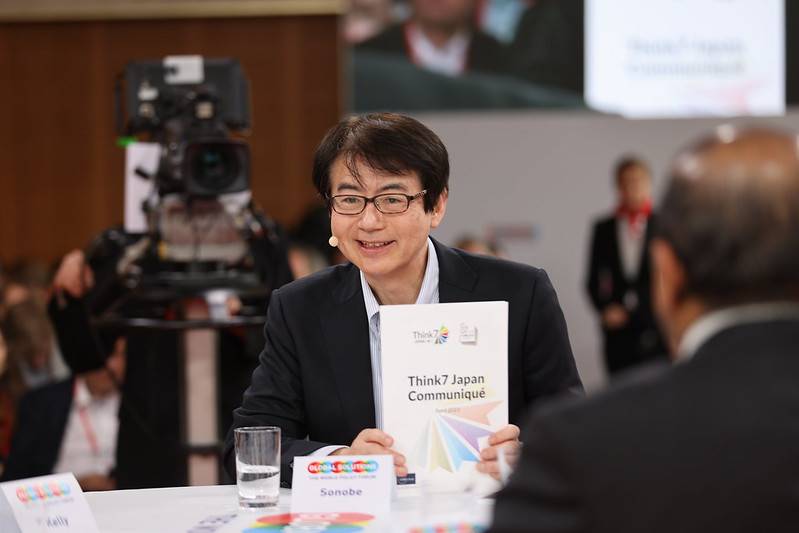 The T7 Japan engages in discussions and produces reports on a wide range of topics relevant to the G7's priorities, including the global economy, trade, climate change, sustainable development, innovation, and other pressing challenges. The aim is to contribute to the G7 leaders' decision-making process by offering well-informed policy suggestions based on rigorous research and analysis.