New Delhi: To encourage the citizens of the New Delhi area in achieving the goals of Swachh Bharat Mission 2.O, New Delhi Municipal Council (NDMC), Chairman Shri Dharmendra along with Vice-Chairman – Shri Satish Upadhyay, Member of Council Shri Kuljeet Singh Chahal and Secretary NDMC- Smt. Isha Khosla felicitated the winners of various competitions amongst its stakeholders in a ceremony held at NDCC Convention Center New Delhi today.
In his keynote address, Shri Dharmendra after congratulating all stakeholders of NDMC for the first rank in Swachh Survekshan 2021, sets the target of 7 Star rating in the forthcoming Swachh Survekshan 2022 by the NDMC. He urged all the citizens of NDMC area to come together for achieving the target by united active participation in every effort taken by the Civic Body.
He also suggested that every RWAs, MTAs and Local Community should constitute "Residents Swachhta Cell" to create awareness by sensitizing the people about their duties and responsibilities about Swachhta. He also said that the cell should emphasize on the activities at local area level for achieving the goal of SBM 2.O and Swachh Survekshan 2022.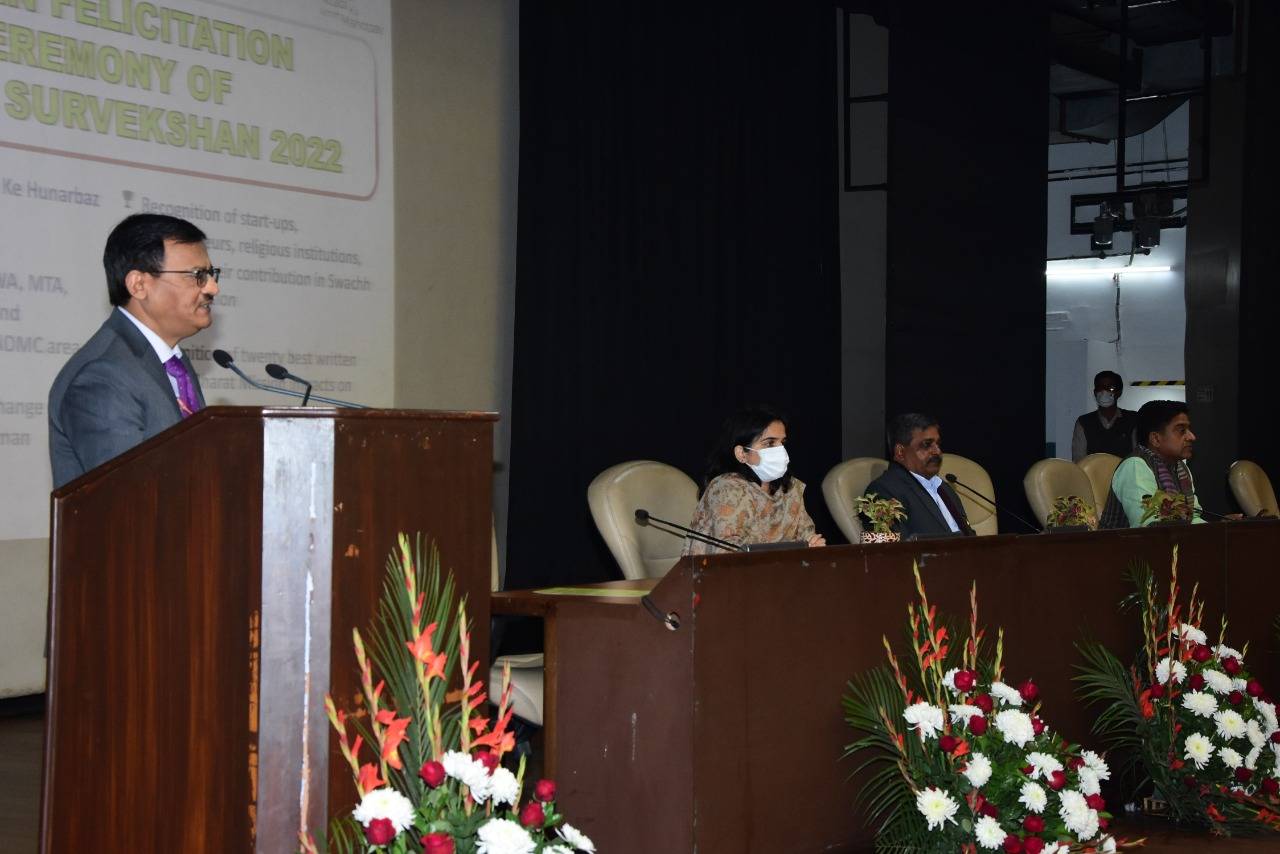 On the occasion, Vice Chairman-NDMC Shri Satish Upadhyay appealed to the citizens of the New Delhi area to cooperate with the Civic body's steps towards achieving the 7 Star rating by joint efforts of stakeholders and NDMC. He said that without the cooperation of citizens and institutions of the NDMC area, we are not able to do anything to achieve any target of any mission.
In her welcome address, Secretary NDMC- Smt. Isha Khosla informed that the competition was conducted for ranking of Hotels, RWAs, MTAs, Hospitals, Educational Institutions and Offices on the basis of cleanliness and sanitation. They were upraised by the spirit of healthy competition amongst them and by a three-layer quality check and the awardees were given prize money of Rs. 8000 for the first position, Rs. 4000 for the second position and Rs. 3000 for the third position in the above-mentioned categories.
The spirit of the celebration was further enhanced through recognition given to Entrepreneurs, Startups, Religious institutions and Voluntary organizations in NDMC to boost their morale and appreciate their work done for Swachh Bharat Mission. Also, various competitions like painting, jingle making, movie making were conducted to engage a large number of citizens and the awardees were presented with appreciation certificates.
In the felicitation Ceremony, Chairman NDMC administered the Pledge of "Say No to single-use Plastic" to all participants.
While presenting his vote of thanks to MOH-NDMC, Dr. Ramesh said that the function is a celebration of the achievements of NDMC towards cleanliness & sanitation and a commitment of citizens of NDMC to move forward with the next phase of Swachhata with NDMC.