New Delhi: Aiming to enhance the beautification of the New Delhi area & welcome G20 delegates in the NDMC area and support the government's ongoing efforts of making India's G-20 presidency a success under the dynamic leadership of Hon'ble Prime Minister – Shri Narendra Modi Ji, New Delhi Municipal Council' Horticulture Department enhancing and maintaining Green Beautification work in New Delhi area by 247 Artistic Shaped Structures and Prefabricated Planters, it is informed by Shri Satish Upadhyay, Vice Chairman- NDMC.
Shri Upadhyay informed that 42 Nos. of Artistic Arch shaped structures with 13 baskets, 45 Nos. of Artistic Pole shaped structures with 1 football-shaped basket, 55 Nos. Artistic tree-shaped structures with 7 baskets, 20 Nos. Artistic Ring (full arch) shaped structure with 48 baskets, 82 Nos. Artistic Cylindrical Column shaped structures and one each Artistic Pyramid shaped structure, Artistic Conical shaped structure, Artistic Cylinder shaped structures with strings hanging baskets were displayed all over the NDMC area aiming to make NDMC a "City of Flower". Total 247 different-different shaped Artistic Arch shaped structures were displayed all over the NDMC area.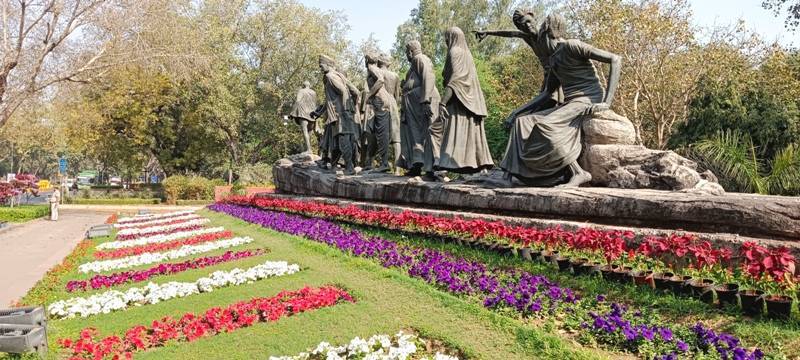 He said that Flowers especially Petunia and Dianthus are used for enhancing beautification. The Petunia flower blooming period is till May end and the reason for planting this flower particularly is because it has a variety of colours and has a long span of life. The whole NDMC North area covered viz Mandi House, Windsor Place, Palika Kendra, Central Park-Connaught Place, Sikandra Road, Tilak Marg, Hyderabad Bhavan, 'C' hexagon India Gate and Pandara Road, Janpath, Barakhamba Road etc.  He said that this kind of structure's display has transformed the city the visual beauty and visual impact and created public happiness, feelings and vibration which is the Motto of NDMC which was on try got achieved by getting appreciation from every walk of life. He said that the display of such structures has added to the visual beauty of the city.
Apart from this beautification work, NDMC is doing another green beautification initiative a second time by using new techniques to develop planters in the concrete surface between the roads without any digging work at Barakhamba Road, he informed. He said that this initiative not only gives uniformity & beautiful look but also gives a pleasant ambience environment, happiness area with same level of flower having a same height which looks like a flower carpet spread in the stretch of 1000 sqcm.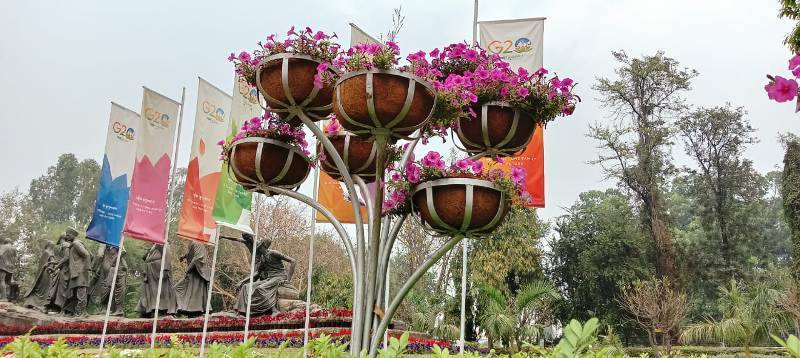 Shri Upadhyay appreciates the Horticulture Department's efforts in creating this kind of initiative as the whole stretch is on a concrete base. He said the work is assembled and disassembled based which may be shifted anywhere at any time according to their use. He said that NDMC is a role model for other civic bodies because nobody took these kinds of unique initiatives.
Shri Upadhyay said that the response to these efforts is excellent from every walk of life. He said that seeing these beautiful flowers not only gives positive vibes, stress-free environment but also gives happiness to the visitors and employers working in this area particularly.
He said that NDMC's this initiative creates happiness when life gets hard and plays the role of light in the darkness. People are capturing these moments by taking photographs on a regular basis but also social media, print and electronic media keep focusing on the beauty of Lutyens Delhi.
Shri Upadhyay said that in furtherance of the G20 theme NDMC is organizing various events, programmes, seminars, meetings etc. related to G20 by involving civil societies like Resident Welfare Associations, Market Traders Association etc. to raise awareness and engage various sections of society under the vision of G20 theme of 'Vasudhaiva Kutumbakam'- 'One Earth One Family One Future'