New Delhi: Pollution & Dust-free & make it more liveable and environmentally friendly Capital City, New Delhi Municipal Council ( NDMC ) will implement "100 % Mechanical Sweeping" in its prominent areas viz Connaught Place, Hanuman Mandir Vatika, Baba Kharak Singh Marg Emporia Buildings on the vision of Hon'ble Prime Minister's "Swachh Bharat Mission" and celebrating 75 years of India's Independence as "Azadi Ka Amrit Mahotsav", informed by Vice-Chairman-NDMC, Shri Satish Upadhyay.
Shri Upadhyay said that it is need of the hour there should be comprehensive planning of housekeeping through the mechanical process instead of manual process on the lines of Airport housekeeping. It is observed during the inspection with Market Traders Associations and HoDs of NDMC.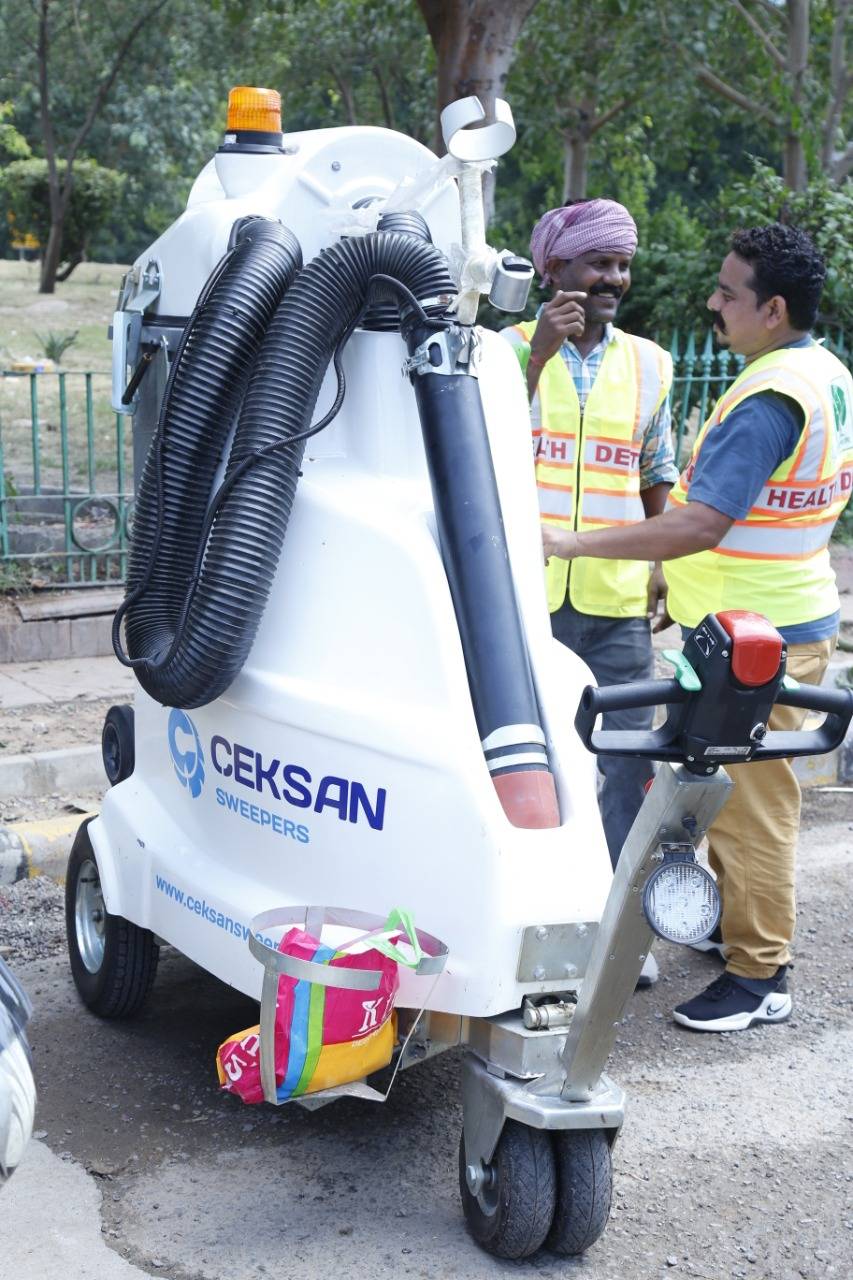 He further said that presently sweeping work on parking area, corridors and courtyards in Connaught Place pavement area is being carried out by the Health Department manually, whereas Green belt is being carried out by Horticulture / Health Department and Mechanized sweeping on main roads is being carried out by Civil Department of NDMC.
Shri Upadhyay informed that in the first phase of this mechanical sweeping work will covered the 14 Block and 7 Radial Roads of Connaught Place, as it is a biggest and prominent commercial market situated in the heart of Capital City where more than one lakh visitors, traders come for carrying out day to day business and commercial activities.
He further informed that in the second phase, it will be implemented for Hanuman Mandir Vatika and Baba Kharak Singh Emporia Building area. The sweeping, washing, scrubbing & maintenance work will be divided into two durations. In the first duration, the work of sweeping will be commenced in the night hours after closing of shops from 11 pm onwards and in the second duration, the sweeping will be done at day-time.
Shri Upadhyay said that sweeping work will be carried out by special machines like TRUCK MOUNTED MECHANICAL ROAD SWEEPER, SWEEPING WORK BY RIDE, SWEEPING WORK BY WALK BEHIND SWEEPER, CLEANING WORK BY WALK BEHIND SCRUBBING MACHINE, PRESSURE JETTING MACHINE, VACUUM LITTER PICKER & MECHANIZED LITTER PICKER MACHINE which will operate round the clock accordingly to the use.
Shri Upadhyay said as per the proposed SOPs (Standard Operating Procedure) overall activity work related to Connaught Place will be divided into Seven main parts which cover each & every single corners viz  Inner Circle, Middle Circle, Outer Circle, Radial roads, Parking area, Corridors, Courtyard, Public plaza, Footpath/ paved area. He said there is provision of scrubbing machine which help in scrubbing Corridors and Granite footpath. He said there is a provision of washing Pan spitting walls, railings and corners, Litter bins through Pressure Jetting Machine.
Shri Upadhyay also informed that the proposal will be prepared for a 2 years period through inviting tender. He said that tender will be floated within 3-4 months after completion of the tender procedure.
Shri Upadhyay said that Hon'ble Prime Minister of India had already announced Swacchta Mission during 2014 to ensure cleanliness in market areas, public places, roads, parks etc. in each city. And the motive of NDMC behind this drive is also  to achieve 7 Star ranking in the forthcoming Swachta Survekshan 2022. This initiative not only helps to provide 100 % perfect sweeping but automation will help to increase efficiency of workers and reduce manpower.
At last, Shri Satish Upadhyay-Vice Chairman, NDMC alongwith other Members of the Council Shri Kuljeet Singh Chahal, Smt.Vishakha Sailani and Shri Girish Sachdeva said we all are committed to implement the vision of Hon'ble Prime Minister of India "Swachh Bharat Mission" & celebrating 75 years of India's Independence as "Azadi Ka Amrit Mahotsav" with true spirit .