Shri Hardeep Singh Puri, Minister of Housing & Urban Affairs and Petroleum & Natural Gas, Govt. of India has inaugurated NDMC G20 Food Festival on the theme of "Taste the World" and "International year of Millets" at Talkatora Stadium in New Delhi today.
On the occasion Chairperson – NDMC, Shri Amit Yadav, Vice-Chairperson, Shri Satish Upadhyay, Council Members Shri Kuljeet Singh Chahal, Smt. Vishakha Sailani, Secretary – Dr. Ankita Chakravarty and other senior officers were present.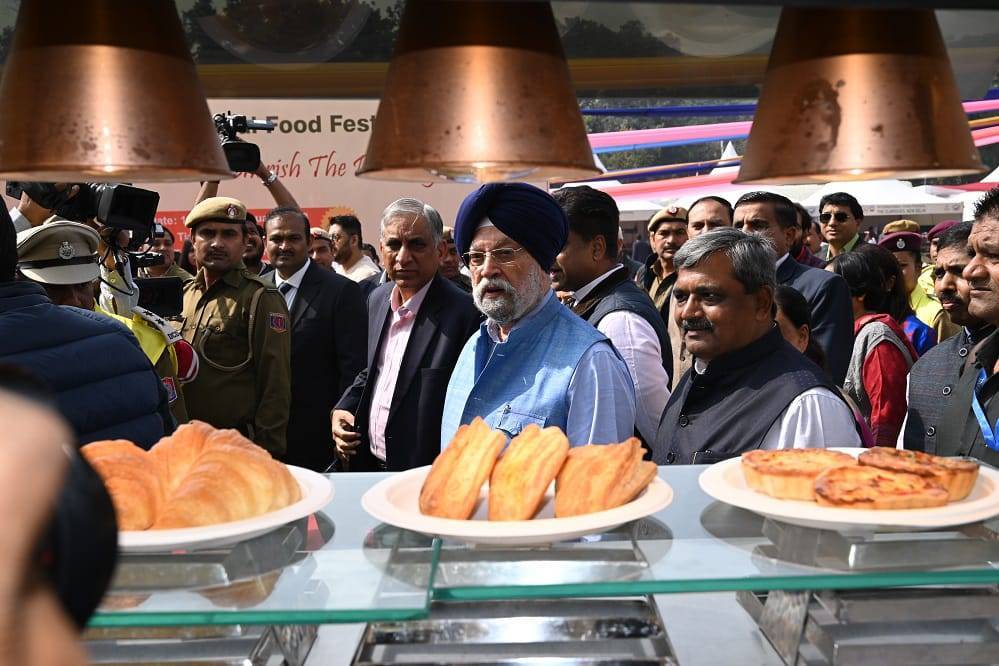 After inaugurating the Food Festival, Shri Puri appreciated the efforts of G20 Secretariat, NDMC, participating countries, states, hotels and other outlets for organising the event to promote the theme of International Year of Millets which will spread the awareness about the importance of millets in our food. He said that it is like a yoga promotion by the Indian Govt. all over the world I hope that the millets will become a public movement for their healthy food habits in daily routine.
While expressing their feelings about the Food Festival, Shri Puri said that the event is not only G20 Food Festival but also a Food Festival of Indian States wherein various states have participated with G20 countries with their millets, cuisine and products and its live cooking. He stressed upon the promotion of millet products in Government events, canteens and kitchens.
Chairperson, NDMC – Shri Yadav informed that as per the  Hon'ble Prime Minister of India call for the active participation of people in G20 programmes, NDMC organised this Food Festival to promote International Year of Millets as well as G20 cooperation, spirit with public participation. The food festival will generate awareness on India's presidency of G20 Summit, International Cuisines and provide education and guidance on nutritional health and food preparation.
He further said that the entry in the event is free for all from 11 am to 11 pm till Sunday. The Chairman cordially invited all with family and friends to visit the Food Festival and take the experience of International & Indian states cuisines under the one corridor. Food preparation workshops or live demonstration counters are also a part of the food festival.
The four G 20 countries – China, Turkey, Japan and Mexico participated in the G20 International Food Festival with their national cuisines. Signature cuisines from different states/UTs of India like Gujrat, Tamil Nadu, Telangana, Delhi, Bihar, Punjab, Kashmir, UP, Kerala, Maharashtra, Karnataka, Rajasthan, Manipur, Meghalaya and other north eastern states are also available for the public.
Prominent Hotels like Taj Palace, Taj Mahal, The Connaught,  Taj Ambassadors, Le Meridian, ITC Maurya, The Park, The Claridges, The Lalit, City Park, Food Fiesta, Munch Fit Millets Food etc. are also available with their signature food items.
The Ministry of Agriculture has put up its stalls in the Food Festival on the theme of the international year of Millets. Delhi Prison Department also participated under the Tihar Baking School.
The public has responded with their active participation and contributed with their active support to make this Food Festival running success.