Auckland: Indian High Commission in New Zealand celebrated the spirit of freedom ie Independence Day on 15th August 2020. High Commissioner of India to New Zealand Muktesh Pardesi has given a speech on this memorable day that created an aura of exuberance in the masses fostering good relations. Independence Day celebration in New Zealand was quite memorable and patriotic.
The people gathered at Bharat Bhavan, New Zealand to mark the 74th Independence Day of India. On this day, the people celebrated the spirit of freedom and collective achievements as a nation.
High Commissioner of India to New Zealand Muktesh Pardesi gave a memorable speech
He said in his speech that "India is a nation which is on the rise as the largest democracy having a self-reliant economy (Atmanirbhar Bharat). India is making rapid strides in all areas. Our government is undertaking comprehensive economic measures to realise a 5 trillion-dollar economy by 2024."
7 new cases of coronavirus in New Zealand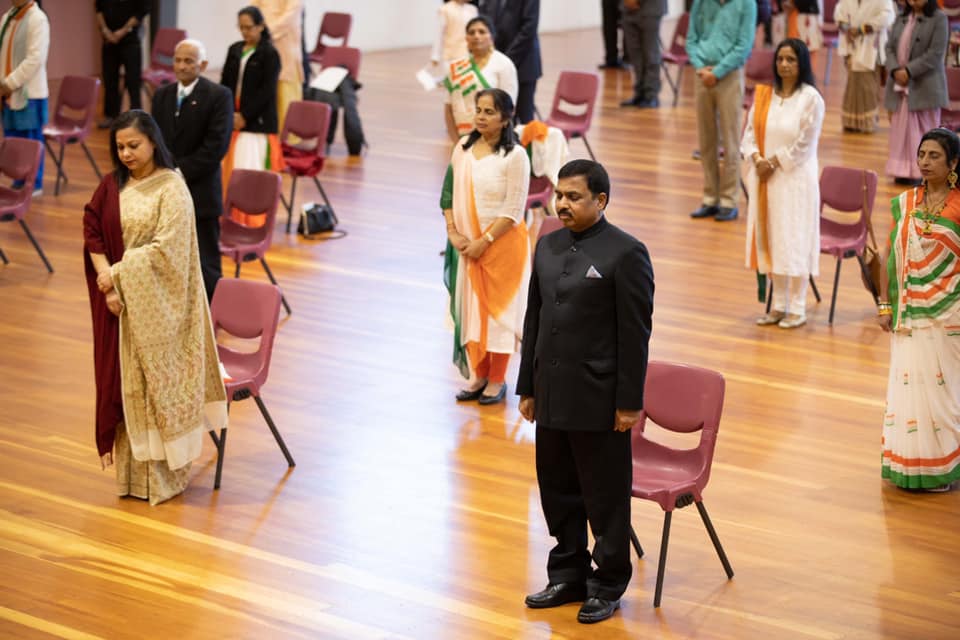 Independence Day 2020 celebration in New Zealand
Despite this global pandemic, 15th August Independence Day 2020 celebration was still celebrated in New Zealand with enthusiasm. He further added that "In dealing with the crisis, New Zealand has emerged as a role model. During the last few months, the High Commission has been at the forefront of looking after the welfare of distressed Indians by providing help in the form of food, shelter, transportation of mortal remains, arranging funerals and repatriation of some 2000 stranded Indians by special flights. As the representative of the largest democracy in the world, I wish a very smooth and successful democratic exercise next month in NZ and wish all success to the candidates of Indian origin."
Education and tourism sectors have doubled
It has been a year for Mukesh Pardesi serving as the High Commissioner of India to New Zealand and the level and frequency of political contacts between the two nations has enhanced. There is a strong and mutual desire on both sides to take the relationship forward. This is reflected in regular interactions between the leaders of both countries during the past 12 months including the meeting of Prime Ministers in September 2019 in New York where they discussed the whole range of bilateral and regional issues. The direction provided by the two Prime Ministers has been diligently pursued at the Ministerial and official levels and in this context, the visit of Hon'ble Deputy Prime Minister to India in February 2020 was significant. He was accompanied by Minister of Trade and Export Growth and a high-level business delegation.
Bilateral trade has grown substantially in the last five years, with the trade in services having more than doubled. The two-way trade amounted to approximately NZD 2.7 billion in 2019. Education and tourism are significant growth sectors, with the number of Indian tourists having more than doubled since 2011 and India being the second largest source of international students. There is a huge, untapped business potential. The high commission is working on a business partnership which focuses on technology, innovation and digital economy.
History of High Commission of India in New Zealand
Independence Day celebration in New Zealand: A Trade Commissioner's Office was opened in Wellington in 1950, which was upgraded to a High Commission in 1952. Similarly, NZ opened its resident Mission in 1958. Historical and shared connection dates back to the eighteenth century, when Indian sailors visited on-board ships from the British East India Company. Both the nations bilateral relationship rests on a strong foundation of shared values and people-to-people contacts which began in the late 19th century. By the end of the 19th century, there were not more than 50 Indians recorded in New Zealand. There are about quarter a million [2, 40,000] persons of Indian origin now living and thriving in New Zealand contributing to almost 5% of New Zealand population. Hindi today is the 4th most commonly spoken language in New Zealand. They are working on Hindi to be included amongst the top 10 taught languages in Schools. It is the fastest growing ethnic group, which is becoming more and more engaged in NZ politics, business, and socio-cultural life. In this context, I would like to mention that the Auckland Indian Association is celebrating 100 years of its foundation this year. It was set up at a time when the no. of Indians in this country was merely 671 if we go by data compiled in 1921.
High commissioner of india further congratulated to the Auckland Indian Association on reaching this historical milestone in serving the community. Today there are more than 30 million people of Indian origin living in different countries. In order to promote cultural understanding between the two countries, the community have decided to celebrate a Festival of India in New Zealand when things become normal. They had the opportunity to welcome Indian cricket team early this year on a long tour. He also mentioned that the President of India Shri Ram Nath Kovind read excerpts from the address on the occasion of the Independence Day 2020.