The full schedule of the 13th season of the IPL, to be held in the UAE between the Corona era, has been released. Cricket lovers have been waiting for the past several weeks to know the entire schedule of the Indian Premier League, but due to problems, the program was being postponed again and again. But today finally the outline of the tournament has been released by the BCCI.
The Dream 11 Indian Premier League 2020 schedule to be held in UAE was announced by the IPL Governing Council on Sunday. The 13th season of the T20 League will begin on 19 September in Abu Dhabi with a blockbuster match between defending champions Mumbai Indians and Chennai Super Kings.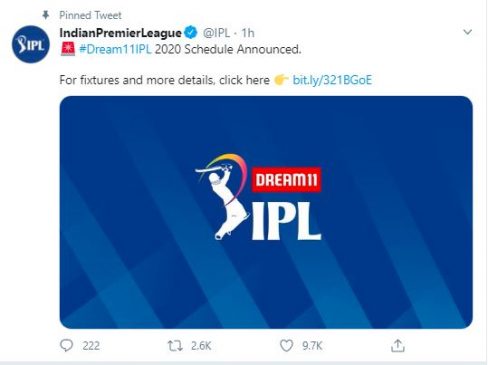 Following the tournament's opening match in Abu Dhabi on Saturday (19 September), Dubai will host their first match on Sunday the following day, where the teams of Delhi Capitals and Kings XI Punjab will face each other. After this, in the third match of the tournament in Dubai itself, Sunrisers Hyderabad and Royal Challengers Bangalore will clash. From here on again on the fourth day, the thrill of IPL will leave Dubai and reach Sharjah where on September 22, the Rajasthan Royals team will host Chennai Super Kings.
According to the advisory, there will be a total of 10 doubleheader bouts (two bouts a day) during the tournament. In this, the first match will start at 3:30 pm Indian time. At the same time, the time of evening matches is kept from 7:30 pm.
During the tournament, a total of 24 matches will be played in Dubai, 20 in Abu Dhabi, and 12 in Sharjah. The BCCI is yet to announce the venue for the Dream 11 IPL 2020 playoffs and final matches.