New Delhi: New Delhi Municipal Council (NDMC) in its Council Meeting held today presided over by Smt. Meenakashi Lekhi, Minister of State for External Affairs and Culture, Govt. of India, Member of Parliament (New Delhi) and Member NDMC as Presiding Officer of the Council Meeting in the presence of Chairperson-NDMC, Shri Dharmendra,Vice Chairperson – NDMC, Shri Satish Upadhyay, MLA & Member – NDMC, Shri Virender Singh Kadian apart from other NDMC Members – Shri Kuljeet Singh Chahal, Shri Girish Sachdeva Smt Vishakha Sailani & Shri Vikas Anand and Secretary-NDMC – Ms. Isha Khosla considered and approved 06 proposals in the agenda items placed before it.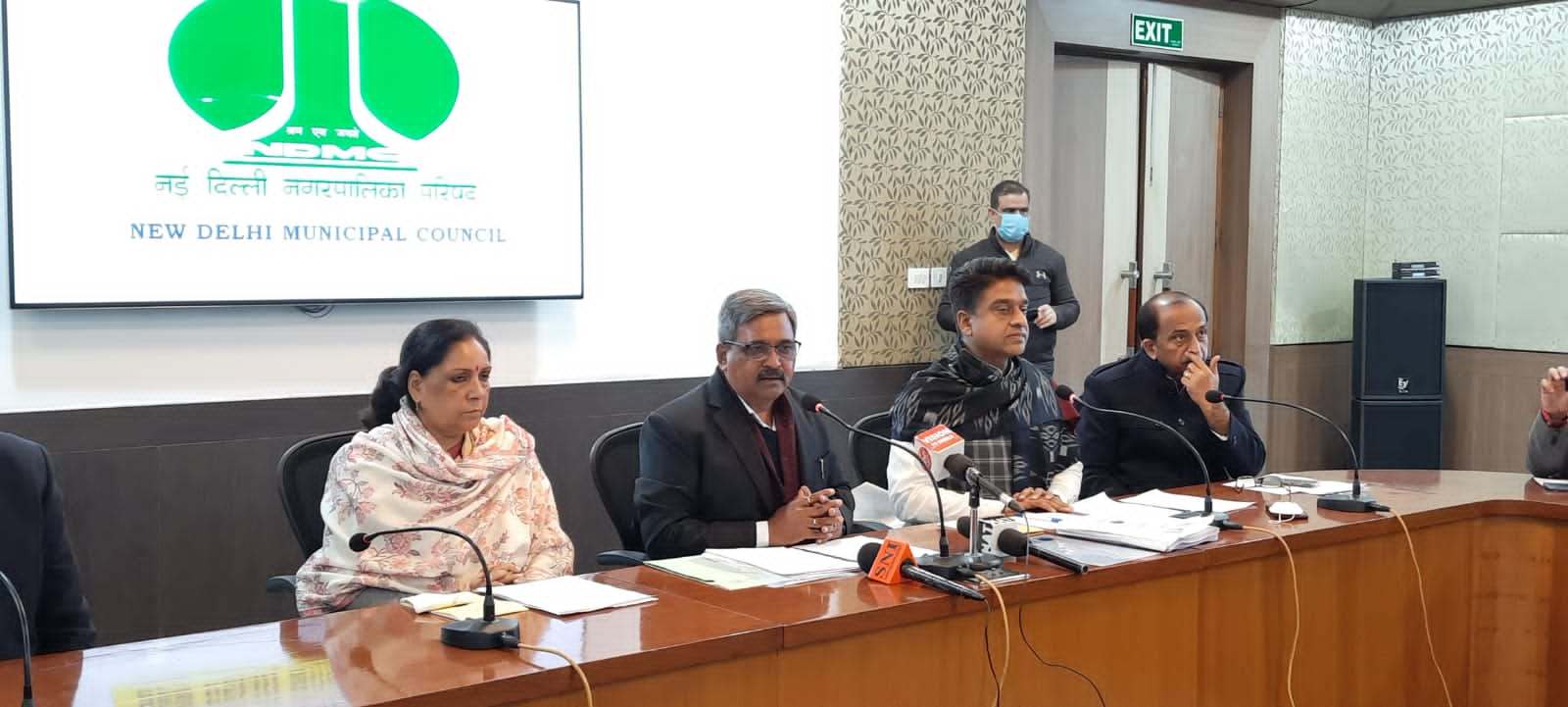 After the Council Meeting Vice-Chairperson, NDMC Shri Satish Upadhyay, Members of Council, Shri Kuljeet Singh Chahal, Shri Girish Sachdeva and Smt Vishakha Sailani while addressing a Press Conference informed that the Council considered 08 agenda items in which 06 proposals have been resolved.
Shri Satish Upadhyay said that the important issues in the agenda are review of the Investment Policy of NDMC funds, upgradation of the school labs modern furnitures, fixation of pay of contractual doctors of NDMC as per 7th CPC who are at present being paid salary and allowances as per the 6th CPC in terms of earlier council resolution, rejection of a tender of automatic switch over system at 11KV electric supply system due to change of scenario after construction work of Central Vista Project.
On the issue of an agenda item regarding printing and supply of electricity, water and licence fee of consumer in NDMC area by a outsource government agency, Shri Upadhyay said that Council resolved this issue with the target of total digital delivery of these bills to the consumers in the coming year in view of Digital India Mission.
The agenda item of RRs for all the posts of Architect Department has been deferred. The recommendations on the DTL pay scale to employees from the Council members side has been sent to the Chairman, NDMC.
He also informed that three committees have been constituted on the Education, Market and Women Hostel issues and Members of NDMC Shri Kuljeet Singh Chahal, Shri Girish Shdeva and Smt. Vaishakha Sailani will be the Coordinator of these committees respectively.
In the press conference, Member NDMC- Shri Kuljeet Singh Chahal informed that a detailed report on the education, civil and electrical infrastructure, curriculum and holistic development will be presented in next Council meeting for regaining the glory and prestige of NDMC's Schools.
We are also upgrading our existing Navyug Schools as per the vision of our Hon'ble Prime Minister with all upgraded scientific teaching techniques, better infrastructure, specialized curriculum and course in order to have a feel of improvement, up gradation & modernization. We can have some schools under the name of Schools of New India to provide a proper platform to the children of Economical Weaker Section.
Shri Chahal suggested providing furniture in Class Rooms and Staff Rooms, Microvawe, Coffee Vending Machine, Locker or small Almirah, Tab for staff and library books to the staff of every NDMC school. The data pack charges to the students of NDMC schools was provided in the lockdown period may be continue to the all students till normalacy of the covid situation. He also raised the issue to create awareness about the new variant of covid – omicron by every mode and means of publicity.
He also raised the issues of audit of citizen centric IT services like online payment gateway and others to ease the mechanism for a layman citizen and upgrade it accordingly.
Shri Girish Sachdeva, Member NDMC informed about the agenda items regarding revised plan of Sarojni Nagar Market and said that different meetings were held with NBCC and a detail plan is required to be made according to the desire of all stakeholders and a meeting with all stakeholders also organized very shortly hence, this agenda item has been deferred. He also raised the issue of death cases of employees who died due to corona will be expedite so that the dependent will get their dues without any delay.
Smt. Vaishakha Sailani- Member NDMC in the press conference raised the issue of NDMC's working women hostel on the basis of several inspection/visits and deliberations of the inmate of the hostel. She informed that she will shortly submit a detail report to upgrade the infrastructure, services and conditions of the Hostel in the next meeting.