New Delhi: Union Minister of State for External Affairs and Culture Smt. Meenakashi Lekhi inaugurated the free vaccination drive at Swami Shiv Narayan Mandir BR Camp, Race Course Club, New Delhi on November 24, 2021 under Har Ghar Dastak Abhiyaan. The camp was organised in collaboration with Learning Links foundation, Hinduja Foundation and Divoc Health which will benefit over 3500 people across Delhi NCR.
Speaking at the inauguration, Mrs. Lekhi said that the Wellbeing of our people is the utmost priority of the government. The central government has launched a month-long "Har Ghar Dastak" campaign to ensure no person is left behind in the vaccination exercise.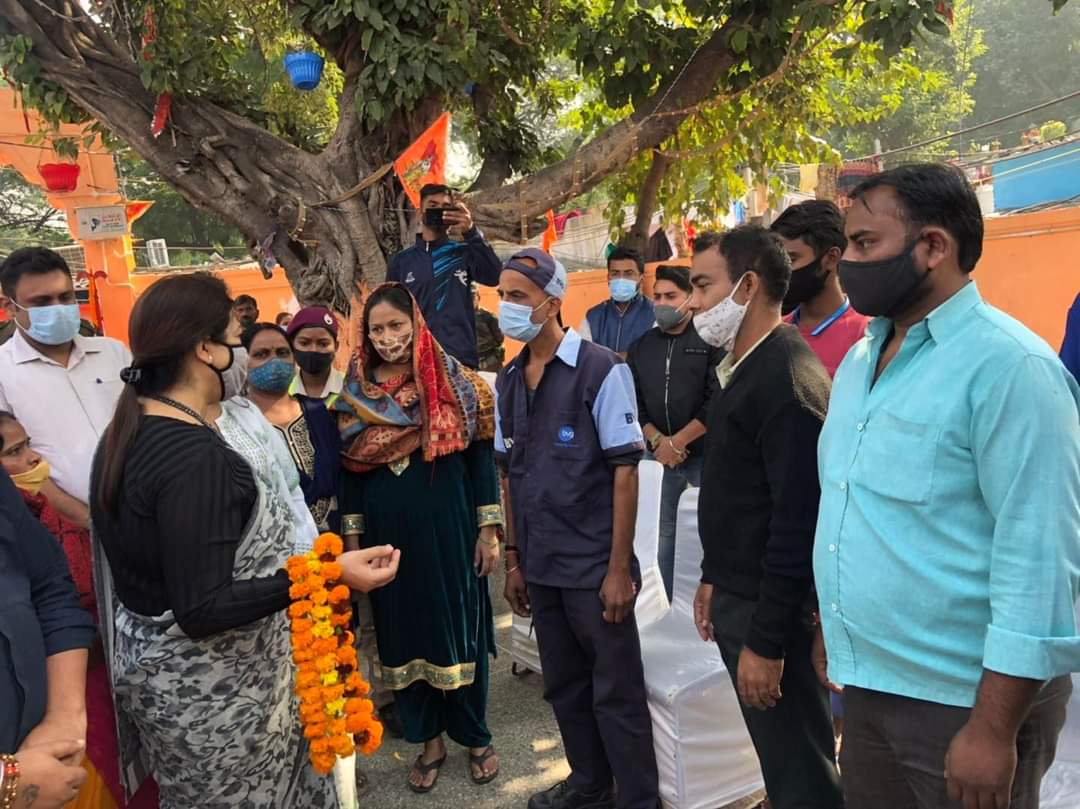 Mrs. Lekhi interacting with the people at the camp told that under the free-vaccine-for-all campaign, India created a record of administering about 25 million vaccine doses in a day, a feat that bears testimony to India's capabilities. Hailing the efforts of Central Government She added that the Prime Minister Hon'ble PM Modi gave a clarion call and launched the 'Har Ghar Dastak' campaign on November 3 to knock at every door and reach out to every household and immunise every citizen against COVID-19 in the spirit of Antyodaya. The same is being implemented all over the country today and it is our priority to safeguard the people.She further urged the people to participate in such drives and create awareness among all about the same.
Mrs. Lekhi stated that we have achieved historic milestone against the global fight against COVID-19, having administered over 1 billion vaccines. Record vaccinations in record time are a monumental achievement of Modi Government.
Mrs. Lekhi motivated the public present at the camp and sought their earnest cooperation in safeguarding the lives of all the citizens. She appreciated the efforts of Hinduja Foundation, Learning Links Foundation and Divoc Health for taking this initiative which will go a long way in helping India's fight against COVID 19 pandemic. She said such camps where every partner has a role to play clearly signifies Our Motto of Sabka Sath Sabka Vikas. It is our responsibility to ensure every citizen is immunised against COVID 19 and we shall make this happen together. A First Aid kit was also distributed among the vaccinated people by the Hon'ble Minister.