New Delhi: A Going Global Workshop for three days on "Green Chemistry Education Today for a Sustainable Tomorrow" under the prestigious Going Global Partnership project awarded by British Council was jointly organized by the Green Chemistry Centre of Excellence, University of York, Hindu College, University of Delhi, Green Chemistry Network Centre, University of Delhi and the University of Ladakh from 27th – 29th May, 2022 at Hotel Maidens, New Delhi. The inaugural of the workshop witnessed the presence of Hon'ble Minister Shri Arjun Ram Meghwal, Minister of Parliamentary Affairs and Cultural. He said that we need to adopt, practice and implement real green chemistry in day-to-day life. He stressed cycling for an hour on the 5th of June, which is World Environment Day, Water management through self-control and self-introspection, and one night with moonlight to save electricity and use electronic vehicles.
Hindu College Principal Prof. Anju Srivastava informed that 'our efforts were directed towards designing a course on Green Chemistry Education through which talented and potential students can undergo an exchange program between India and UK. It was a highly brainstorming and interactive session between practitioners and students wherein students had a working group discussion with the advisors. After highly engaging discussions between the mentors and students, the various working groups came up with effective suggestions for the course design. With the introduction of the National Education Policy (NEP) 2020, which focuses on internationalization, this three-day workshop provided a platform for the students to enhance their creativity, critical thinking, and logical decision-making. We saw some thought-provoking research-based interactions by the young members of the Green Chemistry Network Centre. The young students of Hindu College also provided valuable feedback on the workshop added Prof. Srivastava.
Dr. A. S. Matharu in his talk included internationalization of Higher Education and equip teachers with the latest technology and education methodology, the requisite of curriculum development on Green Chemistry that will enable increased mobility, prospects of strengthening our existing education system; the need to support research, knowledge and innovation to address the local as well as global challenges, strengthening our higher education systems and improvising the quality of our institutions through exchange programs.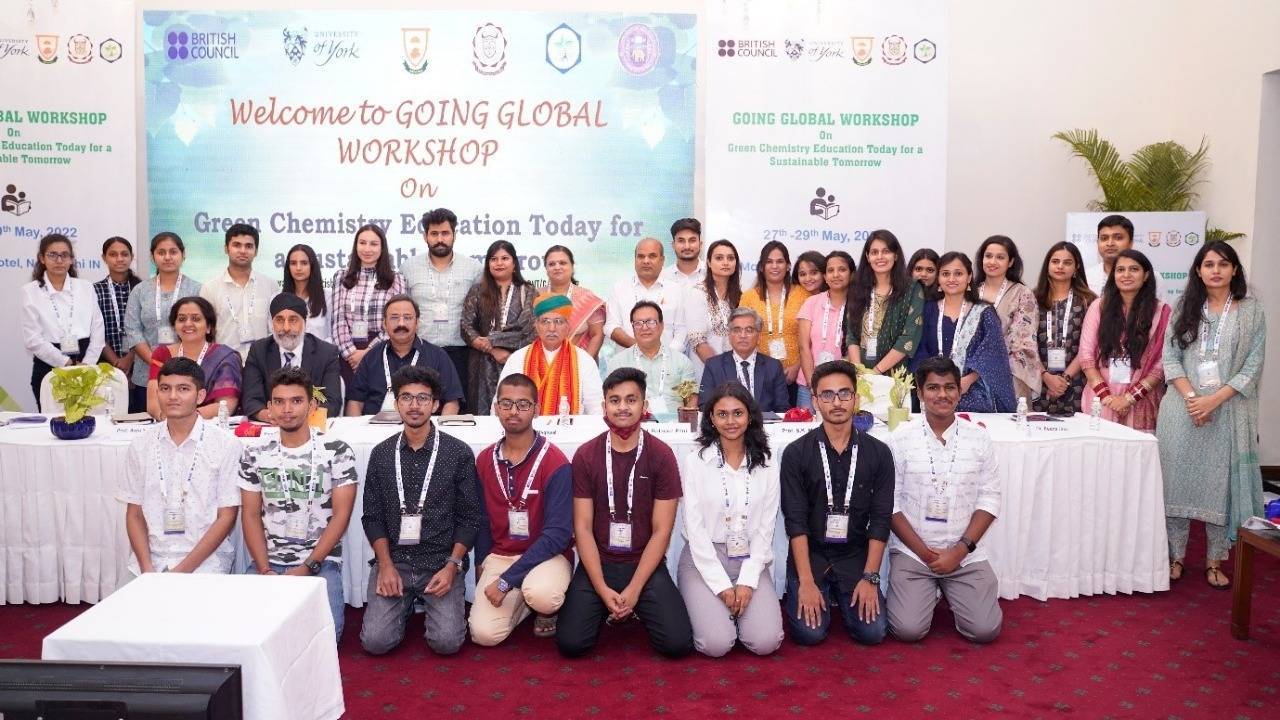 The conference cum workshop was also graced by the presence of some renowned academic experts including Prof. R. K. Sharma, Coordinator, GCNC, Prof. A.S. Matharu, Director, GCCE, Prof. S.K. Mehta, Vice-Chancellor, University of Ladakh, Prof. Balaram Pani, Dean of Colleges, University of Delhi, Prof. Anju Srivastava, Principal, Hindu College and Prof. Reena Jain, Vice-Principal, Hindu College. In fact, some of the industry practitioners, Dr. Rakeshwar Bandichhor, Vice-President, API, R&D, Dr. Reddy's Laboratory Ltd., Hyderabad and some dynamic personalities from the world's leading multinational consumer goods, health and hygiene company Reckitt Benckiser- Dr. Manas Sarkar, Global Head, Science Platform and Global Head, Entomology, Dr. Mallika Mishra, Head Analytical Division and Mr. Sandeep Kumar Jain, Senior Scientist, Science Platform, R&D also interacted with the students. Apart from this, an inspiring and intellectual lecture by Dr. David Constable, Director, ACS GCI, ACS motivated students to think beyond green chemistry and understand the concept of how system thinking is an integral component of Green Chemistry. The conference was overall a grand success.