New Delhi | The Kharge era has begun in Congress. Mallikarjun Kharge has taken over as the President. During this, Sonia Gandhi congratulated him and said, now I am feeling relieved. However, the moment Sonia Gandhi spoke of relief, Kharge, sitting on the stage, replied immediately and said, you will not get relief.
In her address, Sonia Gandhi said, I thank the new Congress President Kharge ji and other leaders. I am happy, Kharge ji is an experienced and down to earth leader. He has reached this height with his dedication, he will inspire the party and the Congress will be strengthened under his leadership.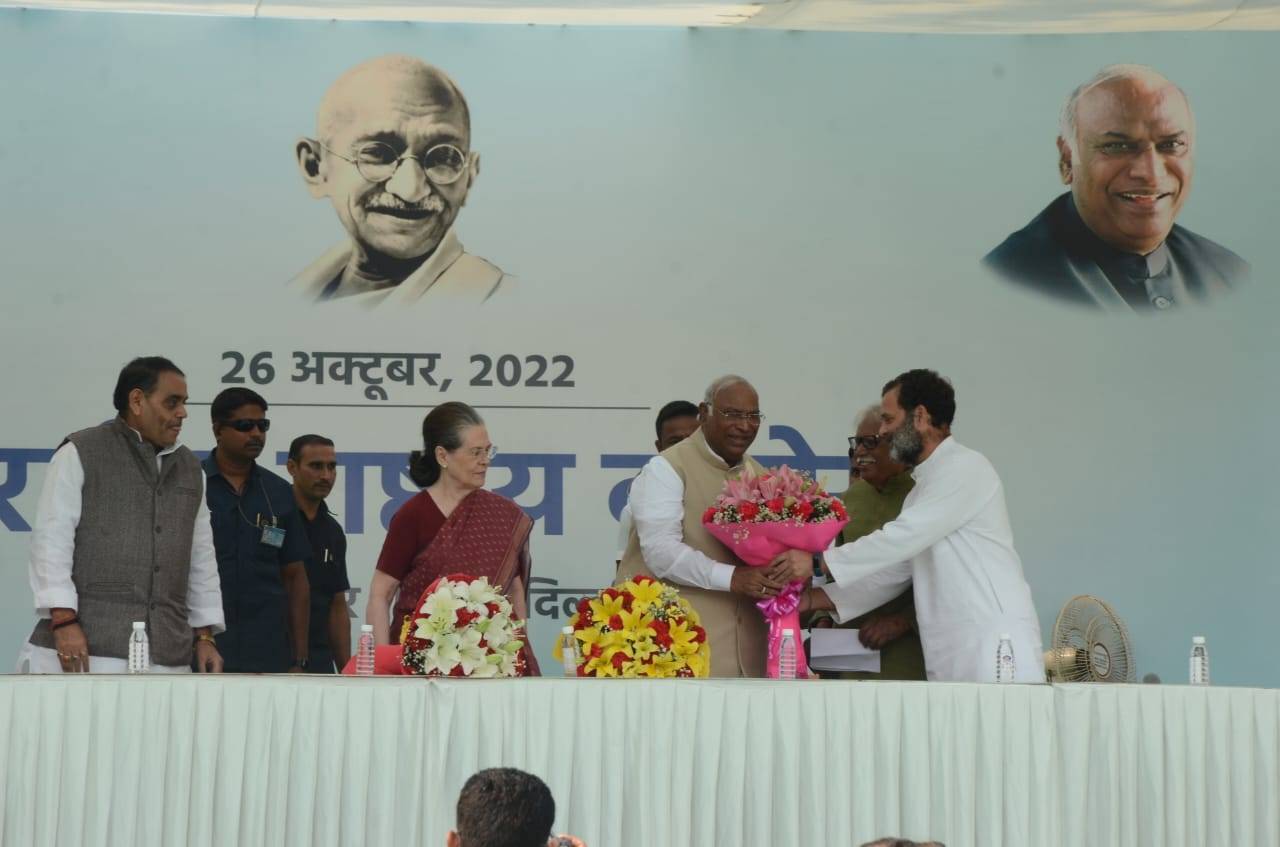 I am relieved because I want to make it clear that the love and respect you have showered on me over the years will be felt till the last breath of my life. But this honor was also a great responsibility.
He further said, change is the law of the world. This happens in every area of ​​life. There are many challenges before our party today. The biggest challenge facing the country is the threat to democratic values, how to counter it? The Congress has faced big troubles in the past as well. But we didn't give up. I welcome Malikarjun Kharge.
Earlier, Congress leader Ajay Maken while addressing the gathering also passed a resolution in support of Sonia Gandhi. All the senior party leaders present stood up and approved the proposal.
He said, "So many things and so many works have been done by Sonia ji for the country and for the Congress in the last 25 years, but still we have tried, there are some sentiments inside this resolution, which are of Congress workers, leaders, It belongs to the people of the country, they can put in it.
During the last 25 years from Panchmarhi to Udaipur, he inspired and compelled all the important officers of history to reconsider the organization and formulate a strategy. The most powerful idea that emerged in the Udaipur camp was that of 'Bharat Jodo Yatra' from Kanyakumari to Kashmir.
He never desired power to protect public interest and values. She did not remain in power, but as Congress President, she inspired the government of the country to enact new and concrete rights related laws in favor of the people. Right to Information Act, Mahatma Gandhi National Employment Guarantee Act, Forest Rights Act, Right to Education Act, Food Security Act, Land Acquisition, Rehabilitation and Resettlement Act, are the gifts of that era.
He further said, Sonia ji converted the common minimum program of consensus and development into a political value and with her unequaled political acumen, according to the needs of the country, groups of parties and people of different political mindedness stood on one platform. done. As successful as this experiment proved, it was also of historical importance.