ABOUT KASHMIR
Located at the northern tip, Kashmir is an astounding valley in India. Kashmir holds the sobriquet of 'Heaven on Earth' as it is endowed with the beauty of nature in opulence. The alluring valleys that are beckoned by the snow-capped peaks of the majestic Himalayas are delightful enough to lure the visitors. The tranquilizing ambiance of Kashmir has made it as a frequented tourist destination. It houses different places that fetch more popularity to Kashmir. The people, throughout the year, swarm to Kashmir for spending a vacation. Here are some popular tourist attractions in Kashmir that shouldn't be missed whenever one plans to pay a visit to the 'Heaven on Earth'.
        BEST TIME TO VISIT
June to October, and for snow you must visit Srinagar in December or January
PLACES TO VISIT
1) Srinagar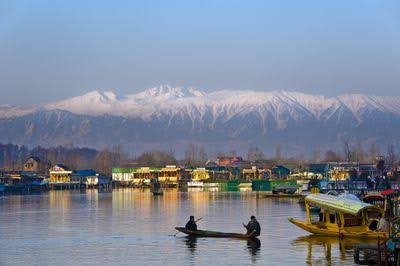 Srinagar is undoubtedly one of the most beautiful and famous places to visit in Kashmir as well as in India. It is the capital of J&K. From boating to trekking, bird watching to water skiing, Srinagar place has it all. Locally this place is known as the mirror to the mountains, Srinagar is a first stopover for every traveler and there are a long list of places to visit in Srinagar, Kashmir. The largest city of Kashmir, this place is enclosed by the green mountains and the main highlight being the Dal Lake which is the gem of the city. This place gives a close outlook to the Kashmiri cuisine and the state's culture. Take a shikara ride on the peaceful Dal Lake, view the city from the top of Shankaracharya Temple and stay in the iconic house boats on your next trip. Srinagar is home to the Shalimar Gardens that are on the back of the Rs. 10 Indian Currency Note. You'll definitely fall in love with Kashmir!
Where to stay- Batra Hotel, Regenta Central Point Srinagar, Four Points by Sheraton Srinagar
2) Gulmarg
Gulmarg is renowned to be India's best and Asia's 7th best skiing destination. Famously known as the 'Meadow of Flowers', Gulmarg is a treat to the eyes with its spread of vibrant flowers against snow capped mountains as backgrounds. It has steep skiing slopes right in the middle of spectacular mountain views. The skiing area, called the Gulmarg ski resort, is known as the finest powder destination in the world. Hiking and cable car riding are other fun activities to indulge here. The Khyber Himalayan resorts and spa is worth considering for a memorable stay. The view from top of the mountains at 3979 metres above sea level is bewildering. Snow falls are regular even during summer, giving every tourist a fair chance to enjoy the fall!
Where to stay- The Vintage Gulmarg, The Khyber Himalayan Resort & Spa
3) Kashmir Valley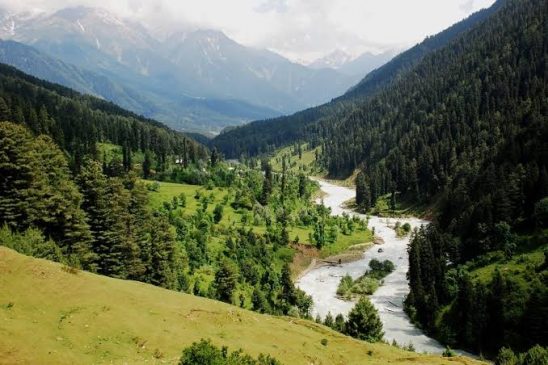 Kashmir Valley, the largest Himalayan valley, is an elliptical saucer shaped landmark of Kashmir. Surrounded by the Karakoram and Pir Panjal ranges, Kashmir Valley has a mesmerising view in all the directions possible. This 140km long valley is the perfect spot for all trekkers and mountaineers alike!
Where to stay- You need to book your stay in srinagar or pahalgam as there are no hotels near this valley.
4) Pahalgam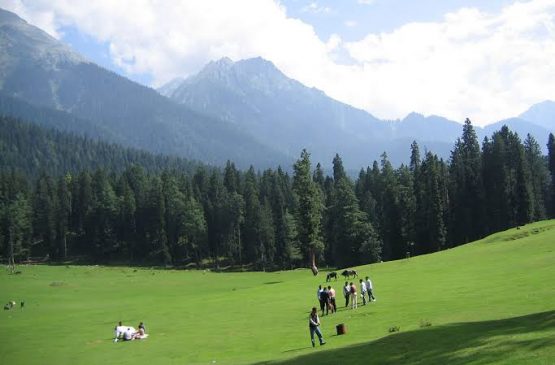 Pahalgam ("Valley of Shepherds) is a popular destination for trekking and adventure tourism.Pahalgam is considered as an illustration of the heaven on earth which is situated at an altitude of 2740 m. It is situated at distance of 95 Kms from Srinagar and surrounded by dense forests, beautiful lakes and meadows of flowers.
. Visitors commonly head to Betaab Valley (the Bollywood movie "Betaab" was shot there), with its fresh flowing Lidder River and surrounding snow-capped hills. However, do note that you'll only be allowed to take your vehicle up to a certain point to reach the Valley. After that, you'll need to hire a prepaid vehicle provided by the local transport association or walk. Entrance to the Valley is regulated and costs 10 rupees. Other possible activities around Pahalgam include golfing, trout fishing, and river rafting
Where to stay- Hotel Alpine K2, Eden Resorts & Spa, Hotel Island Pahalgam, Premier  Pahalgam
5) Sonamarg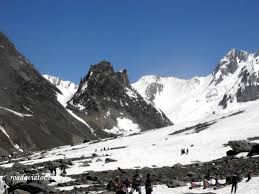 Sonamarg is a picturesque hill station in Jammu and Kashmir, located 80km north-east of Srinagar. At an elevation of around 2800 km from sea level, Sonamarg is known for its snow-laden fields, surrounded by majestic glaciers and serene lakes which casts subtle spells on the travellers. Sonamarg, as the name suggests, is famous as the 'Meadow of Gold'. An endless stream of stunning flowers and undulated trekking routes are its attractions. Sonamarg has to be in every visitors' list of places to visit in Kashmir for its mesmerizing aura and breathtaking views. Sonamarg is enveloped by the great Himalayan glaciers – Kolhoi Glacier and Machoi Glacier – and gives rise to the famous Three Sisters of Kashmir Valley. Towering over this charming hill town are the peaks like Kolhoi Peak, Amarnath Peak, Machoi Peak and Sirbal Peak which makes Songamarg a popular place for adventure sports tourism.
Where to stay- Hotel Barzman, Hotel Village Walk Sheen Woods Resort, Hotel Snow Land, Hotel Akbar Sonamarg
6) Kupwara
Kupwara District is one of 10 districts located in Kashmir region of Jammu and Kashmir, India. The river Kishenganga, originating from the Himalayas, flows through the outer areas of the district from east to west. Kupwara is a small district located in the state of Jammu and Kashmir and situated at a distance of 90 Kms from the state capital, Srinagar. Blessed with nature's finest views, the thriving meadows, alpine mountains, and the gushing clear water make Kupwara a must-visit destination in Kashmir. This city epitomizes the beauty of Kashmir.
Where to stay- Royal Park Hotel, The Orchard Retreat & Spa
7) Kargil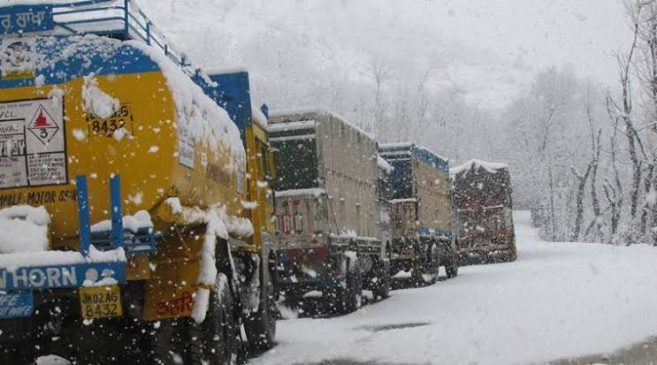 The beautiful city of Kargil is the second largest in Ladakh region in Jammu and Kashmir after Leh. Known for its rich cultural, historical and political importance, this city sits at 2676 meters above sea level, along the banks of the Suru or Indus River. The location of Kargil makes for an extreme climate, with temperatures dropping to as low as -45 degree Celsius in winters!
Known for the infamous Kargil War of 1999, Kargil has now become a very peaceful tourist destination with historical importance. Being a getaway to Leh, a number of tourist visit Kargil. Tourists from all over the world come to visit the 'ranbhoomi' of the war here. A number of monasteries and the Kargil War Memorial are worth a visit. If by any chance you get the opportunity, do take a night's break in one of the military camps and listen to those amazing war stories from the army people themselves.
Where to stay- Rangyul Resort
8) Hemis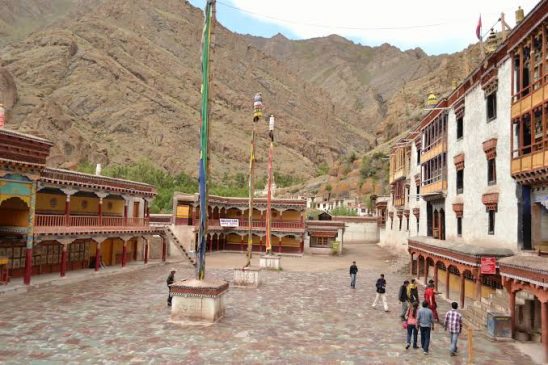 It is the region of Rarity, an unexplored land with tons of monasteries and national parks. A must visit in Kashmir in summers if you are a wildlife enthusiast. Species like Snow leopard and Bharals find shelter in these national parks. Located in Leh district, around 40 kilometers southeast of leh town, in Ladakh, Hemis is mostly famous for Hemis festival, a festival donned with multitude of colours and masks followed by monks wearing long horns and dancing to music. One of the many unexplored destinations in Jammu and Kashmir, Hemis is a small village which is located at a distance of 40 Kms southeast of Leh. Like every other region of Jammu and Kashmir, Hemis also epitomizes natural beauty. Rare species like the snow leopard and bharals find shelter in the national park here.
Where to stay- There are no hotels in Hemis, so one has to book a stay in Leh
9) Patnitop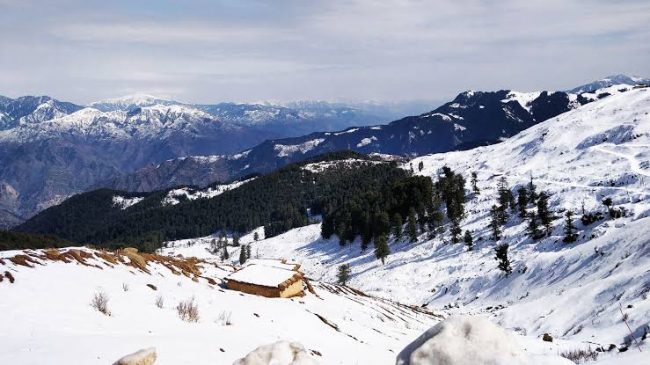 Endless meadows and picturesque views describe Patnitop the best. Blanketed by the sky-high Himalayas covered with snow, Patnitop has created a niche in the tourism industry due to its surreal beauty. Along with this, the place also offers some thrilling activities that will treat the adrenaline junkie in you.
Along with the widespread abundance in sceneries, Patnitop is known for activities like skiing and trekking as well as water springs, altogether making it a popular tourist destination. Sanasar, located 17 kms away is also popular for a paragliding base, golf courses along with extended sightseeing options. These together, are sure to give one the most splendid and grand views and make the experience all the more enjoyable with a host of adventure activities. It proves to be one of the top tourist places in Kashmir for both families and friends.
Where to stay- Akas Resort Patnitop, Hotel Trinetra Resorts
10) Anantnag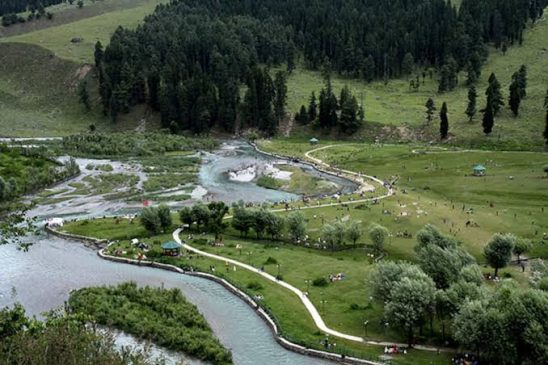 Adorned with flourishing gardens and freshwater springs, Anantnag is a divine destination. Right here, you get to enjoy the comfort of a city and the essence of nature. There is a number of places you can go on for a day tour, such as Verinag and Daksum. Surely, our list of Kashmir tourist places wouldn't be complete without mentioning this one! Anantnag is popular among tourists for its numerous shrines, which are of religious importance to both Hindus and Muslims. Hazrat Baba Reshi, Goswami Gund Ashram, Shilagram Temple and Nila Nag are some of the prominent shrines in the district of Anantnag.
Adorned with flourishing gardens and freshwater springs, Anantnag is a divine destination.
Where to stay- Hotel Himalaya house, Hotel pahalgam divine