New Delhi: The Joint Team of PS Kotwali & Special Staff have arrested 01 Robbers and his informer and worked out a broad day light blind robbery case of Kotwali Police Station occurred on 9th November 2023 in front of Red Fort.
INCIDENT:
On 09.11.2023, complainant Sanjay Kumar alleged that he works in New Lajpat Rai Market Delhi in office of Shri Shayam Gupta. At around 5 PM one unknown person came in office and was asking for payment and in between another person came inside office and locked the gate after which first person showed a Pistol to him and robbed Cash which were kept on table and beneath it. Accordingly, a case FIR No.868/2023, dated 0911.2023 U/s 392/397/34 IPC was registered at PS Kotwali North District, Delhi.
TEAM & INVESTIGATION:
Keeping in view the nature and gravity of offence, following special teams of North District were constituted under the leadership of Shri Sudhanshu Verma DCP-I/North with close guidance of undersigned to work out the case: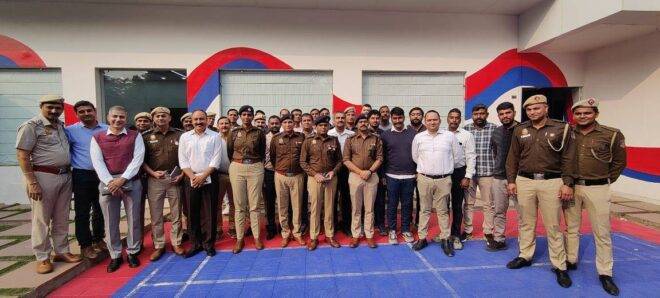 1. Team of Sub-Division Kotwali under the close supervision of Sh. Vijay Singh, ACP/Kotwali & Sh. Jatan Singh SHO/Kotwali led by Inspr. Neeraj Kumar, Inspr./Inv. comprising of SI Yogesh Yadav, SI Nagender Giri, ASI Suresh Kumar, HC Than Singh, HC Narender, HC Amit Malik, Ct Puran, Ct Amit, Ct Rahul, Ct. Manjeet and Ct. Nitesh from PS Kotwali.
2. Team of Special Staff, North District under the overall supervision of Sh. Dharmender Kumar ACP Operations Cell & Sh. Raj Malik, INSP/SPl. Staff led by SI Rohit comprising SI Praveen Sharma, SI Devender Antil, ASI Har Phool, ASI Sudhir, HC Devendra, HC Kaluram, HC Akash, HC Parveen, HC Pardeep, HC Ajay, Ct Mohit and Ct Kuldeep.
During investigation, multiple teams were created to solve the case. Therein it was found that accused avoided using his own vehicle or any other scooty & motorcycle and was found travelling in public transport.
Through painstaking efforts over 500 CCTV cameras the accused was identified as Sanjay @ Kaley. Search of accused Sanjay was made but he was found absconding from house as the photo captured by CCTV was published in Newspaper. A trap was laid outside house of accused Sanjay @ Kaley who didn't turn up at his residence even on his daughter's birthday on 18/11/2023. Technical surveillance was mounted on the phone numbers used by the accused and other details of his logistics were collected. The accused was found travelling continuously between Delhi & Agra. Raids were conducted at Vrindavan, Kosi, Mathura & Agra in search of accused but he was not traced. Subsequently, accused was located on Border of Haryana, Punjab & Himachal Pradesh and 3 teams were dispatched to trace accused. Location of the accused was pinned down between Satluj & Beas River in Punjab which was further narrowed down to Ludhiana. Subsequently, Safe City Project CCTV of Ludhiana was analyzed and accused was traced in a Hotel in Ludhiana from where he was apprehended and brought to Delhi. Co-accused was identified as Deepak @ Deepu, brother of accused Sanjay, whereas informer was identified as Tushar Sharma @ Lucky, who is a businessman of same market.
On the basis of technical surveillance accused Tushar Sharma @ Lucky was apprehended and Cash of Rs 1,17,500, along with 3 gold items & household items purchased form robbed/shared money was recovered. Rs 12 lacs and gold jewelry worth Rs. aprox. 6 lacs were also recovered from accused Sanjay @ Kaley along with one brand new Enfield Bullet Motorcycle of Rs 2,65,000. Accused also disclosed about remaining amount. House of co-accused Deepak @ Deepu was also raided who was found absconding. The money trail of the remaining case property is also being established.
PROFILE OF ACCUSED PERSONS:
1. Sanjay Dutt @ Kale @ Kalia R/o East Rohtash Nagar, Sahadara, Delhi Age-41 yrs was previously involved in 01 criminal case Case FIR No.284/2016 U/s 392/394/397/34 IPC PS Shahdara.
2. Tushar Sharma R/o, Subhash Park, Shahdara, Delhi Age-31 years (informer)
Accused yet to be arrested:
Deepak Dutt @ Deepu S/o Late Sh. Jagmohan Dutt R/o Flat No. 402, Rajnagar extn., Ghaziabad, UP
RECOVERY:
1. Cash aprox. Rs. 13,00,000/-.
2. Jewelry valued aprox. Rs. 6,00,000/-.
3. Newly purchased Bullet Motorcycle of Rs. 2,55,000/-.