PM Modi solar project news:PM Narendra Modi will inaugurate the Rewa Ultra Mega Solar Project set up in Madhya Pradesh on Friday through a video conference. The project which PM Modi will dedicate to the nation today at 11 am is the largest solar power project in Asia. It has a capacity of 750 MW. PM Modi has given information about this by tweeting.
More: PM Modi: Corona warriors will be be the first to be vaccinated
PM Modi solar project news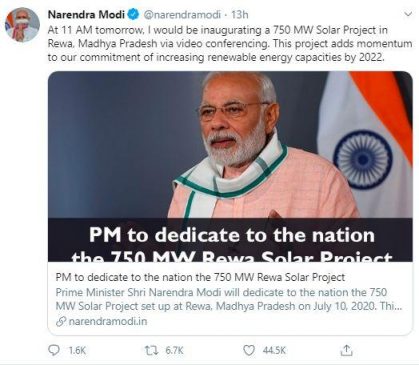 PM Modi wrote, at 11 am I will inaugurate a 750 MW Rewa Ultra Mega Solar Project, Madhya Pradesh through video conferencing. This project accelerates our commitment to increasing renewable energy capacity by 2022. its is Asia biggest solar project.
The project consists of three 250 MW solar generating units on 500 hectares of land located inside a solar park.