Rat or mouse turns out to be an amazing artist, earning money by painting. On social media, Amalie Markota Andersen pet mouse has been in a lot of headlines these days. You too are sure to be shocked when you hear about the exploits of this mouse. Actually a mouse is earning money due to its artistry. Video of a rat became viral on social media recently.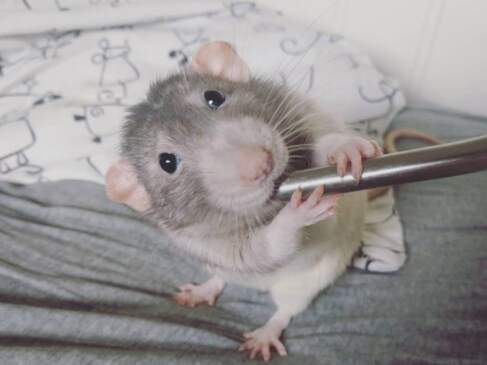 It is not a common rat but a rich rat. This rat does painting with his feet and he also earns money from that painting.
Mouse painting is viral on social media
This mouse painting has been sold worldwide. Apart from this, the cost of painting made of this rat has been kept at 1,000 pounds. When the owner of the rat came to know that he did such a good painting, the painting equipment was bought for him.


Amalie Markota Andersen is the owner of the mouse bought the color and canvas without the chemical, so that the rat could introduce people to his skills. The owner of this rat named it Gus. People from countries such as South Korea and Australia are also involved in buying paintings made by Gus.


See More: This bridge of UP is Cursed 1000 people committed suicide
Source: OneNews youtube
Amalie Markota Andersen is earning money from the pet

Amalie Markota Andersen has 4 more rats. If you go to social media and watch videos of Gus, then you too will surely become a fan of this mouse. In the video on social media, you can see how Gus is painting very comfortably while eating food.
It is quite elliptical that such creatures exists that are god gifted. Such talent is very rare to find. This is trending and viral on social media and it is adored by many netizens. The owner is in a state of euphoria and admires this little creature work.