Y our immune system is constantly active, figuring out which cells belong to your body and which don't. Immunity booster drinks are required to replenish the energy. This means it needs a healthy dose of vitamins and minerals to keep its energy up and going. Juice makes your immune system strong. Health is wealth and healthy eating is the secret to long life. In the summer season, we should focus more on drinking(healthy summer drinks) like Amla juice, watermelon juice etc and less on eating. Due to hot temperature and humid weather, our body loses out on hydration which can cause dehydration and various other health issues.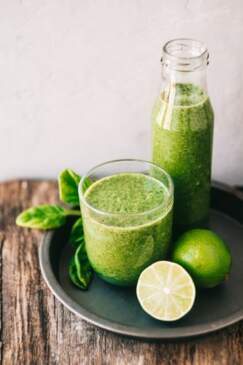 Immunity booster drinks during the times of grave infections and seasonal flus is of utmost importance. With the outbreak of corona virus all across the globe and the change in season, the importance of immunity has been stressed upon once again.
Apart from social distancing, your first and immediate line of defence in these COVID-19 times is your immune system. Providing your body with enough nutrients is one way of ensuring you stay safe and far away from infections. And in this heat, what's better than having some chilled and refreshing summer drinks, that double up as immunity booster.
See More: Suhana khan- SRKs dusky and lovely, asks to remove fair from fair and lovely
1) Pineapple, Mint and Turmeric booster
Pineapple has enzymes that helps to increase metabolism and also burn fat, along with fresh turmeric which is the best natural antibacterial and immunity booster drink or enabler. Mint adds freshness in this prickly summer and aids digestion.
Ingredients– 1/2 peeled, cored pineapple, 12 pcs mint leaves, 2-3 g fresh turmeric
Blend all the ingredients through a slow juicer and serve.
2) Turmeric latte and Juice
Strong Immune system juice
This one has survived the ages. Drink it hot or cold, drink it during the day or at night. It repairs your insides and boosts immunity. Remember it was what our ancestors banked on till the discovery (and sad overuse/misuse) of antibiotics.
Ingredients– 1 cup hot milk, sugar as per taste, 1 pinch turmeric
3) Amla(gooseberry) Juice
This recipe is a very simple to make preparation with detoxifying and antioxidant properties. Along with its health quotient, Amla juice is also a refreshing beverage on any hot day to cool down. Rich in Vitamin C, this juice derives its sweetness from honey and sugar along with the added flavours of cardamoms. Amla Juice can also be made in large quantities and refrigerated for a long term use. With its wonderful health benefits, you can serve it to your family in the morning for overall benefits. It is one of best Summer drinks.
Ingredients– 8 medium amla, 4 teaspoon sugar, 1 tablespoon honey, 1/4 teaspoon salt, 1/2 teaspoon green cardamom, water as required.
Take amla (Indian gooseberries) and grate or finely chop them. Discard the seeds. Now, blend the grated or chopped amla with water till it turns into a fine paste. Strain it well. Add sugar, honey, cardamom, and salt and blend it again. Pour the blended juice into a glass and serve with ice cubes(choice)
4) WATERMELON JUICE
Watermelon juice doubles up as a treat during summers apart from strengthening immunity. This is a treat during summers as watermelons help in building immunity and also soothe sore muscles.
Ingredients– watermelon, sugar
Blend cubes of watermelon in a blender with water, and add half a teaspoon of sugar if you so desire.
5) ORANGE JUICE
Oranges are loaded with Vitamin C. Our personal favourite, orange juice is a hearty drink that contains several vitamins and nutrients. Most importantly, Vitamin C – oranges are loaded with it and thus, a glass of its juice, can keep diseases and infections at bay.
6) GRAPE JUICE
Green grapes are high in Vitamins C and K which helps to improve your immunity.
Ingredients– green grapes, water
Blend a bowl of green grapes with water in a blender to prepare this juice.
What are you opting for?