Suhana khan asks fair and lovely company to remove Fair from the product advertisement and shared HINDUSTAN UNILEVER's official statement in her Instagram stories.
Suhana khan supports removal of 'Fair' from 'Fair & Lovely' in a Simple Instagram post
Suhana recently shared the HINDUSTAN UNILEVER's official statement in her Instagram stories to show how she feels about the decision that comes years after constant criticism of promoting a product on the basis of white skin prejudice, especially in a country like India where racism is deeply rooted across cultures.
See More: Siya(Sia) Kakkar Income, Age, Biography, Birth Date, Family and more
Hindustan Unilever has also released an official statement for this. In this statement, the company says, "We are committed to all skincare portfolios including skin tones, which celebrates the diversity of beauty. That is why we are removing the words 'Fairness', 'Whitening' and 'Lightning' from our products and changing the name of the brand 'Fair and Lovely'. "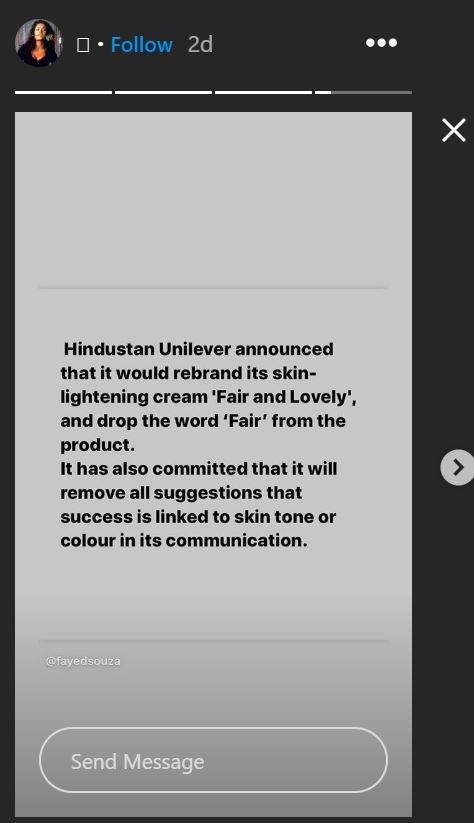 Suhana khan- bollywood's dusky star kid
Suhana khan, the second child of Shah Rukh and Gauri Khan, is a sensation on the internet. Currently she is pursuing her higher education from the London University.
Suhana has been always admired for elegance and humility. She has often made it to the headlines and been a sensation on the social media.
when a video of her playing the modern cinderella went viral, her fondness for acting came into light. Even before making her Bollywood debut, she grabs everyone's attention with her pictures and videos.Last year, she also made her acting debut in a short film titled 'The Grey Part of Blue'
Recently, she celebrated her 20th birthday on 22nd may with family during the lockdown. she has shared a few beautiful pictures clad in the birthday dress. Giving a funny caption, she wrote, "I'm gonna be 30 in ten years."