Vikas Dubey Latest Breaking news: A police van carrying notorious gangster Vikas Dubey to Uttar Pradesh from Madhya Pradesh overturned on Friday early morning. Vikas Dubey & the policemen who were travelling in the vehicle are wounded & have been brought to the nearby hospital. This is the latest breaking news. Notorious gangster Vikas Dubey was arrested in Ujjain. Vikas Dubey went to visit Mahakal temple.Prabhat Mishra encounter. Vikas Dubey car overturned.
Vikas Dubey was arrested near the Mahakal Mandir in MP, Ujjain after a six-day search operation following the Kanpur encounter in which 8 policemen lost their life.
Vikas Dubey Latest Breaking news: The Kanpur encounter 
Vikas Dubey car overturned: Last week, 8 policemen were killed ruthlessly by the team of this gangster. The incident took place in a village called Bikaru which lies near Kanpur's Chaubepur block.
A massive hunt had ensued, with special focus on the Nepal borders, as there were intelligence inputs that he might escape to the neighboring country.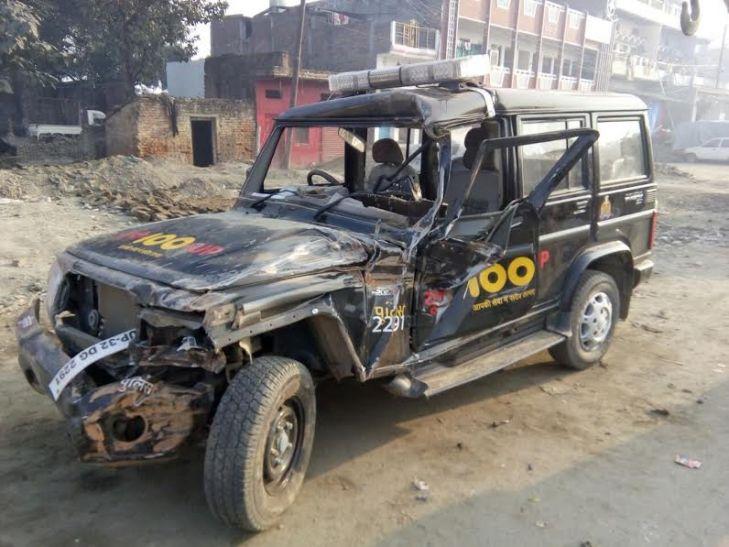 Vikas Dubey was seen at a hotel in Faridabad
Vikas Dubey Latest Breaking news: Accused gangster Vikas Dubey was seen on Tuesday at a hotel in Faridabad, Haryana, adjacent to Delhi. But when the police reached there to raid, he had left from there. The Special Task Force (STF), which was involved in catching the notorious criminal, confirmed that the person seen in the CCTV in Faridabad was Vikas Dubey. After this, the high alert was also released in Gurugram.
Vikas Dubey arrested in Ujjain, went to visit Mahakal temple
Vikas Dubey arrest news: From there, gangster Vikas Dubey escaped towards Madhya Pradesh. On Thursday morning at 8 am in Ujjain, the Mahakal temple reached the premises, where a shopkeeper suspected. He told Temple Security. When he came out after worshiping, the security people brought him. Asked to show ID which was made in someone else's name. When the security asked more, they started beating them. When he brought to the police station, he confessed. The big news is that finally Vikas Dubey is arrested which is a relief for police.
More: Police finds history sheeter Vikas Dubey on CCTV footage in Faridabad
Vikas Dubey killed 8 policemen
Vikas Dubey arrest news
Vikas Dubey Latest Breaking news: On Thursday morning, the police had two encounters – one in Kanpur and the other in Etawah. In this, two colleagues of Vikas Dubey have been piled up. Kanpur police has told that Dubey's associate Prabhat Mishra has died in this encounter, he was arrested on Wednesday in Faridabad. The police was bringing him to Kanpur on transit remand, during which he was trying to escape by attacking the police, during which he was shot in the leg during the encounter.
Prabhat Mishra was killed during the encounter
Police said that while bringing Prabhat Mishra to Kanpur, the tire of the police car was punctured, which he was engaged in fixing, during which the accused snatched a revolver from a policeman and fired several rounds at the police. He was shot in retaliation, which led to his death.
At the same time, the UP Police has done another encounter in Etawah. Vikas Dubey's partner has also been killed in this. The culprit had a reward of 5,000. Senior police officer Akash Tomar said, 'Around 3 in the morning, a Swift Desire was looted by four armed men sitting in Scorpio.
More: More than 25 teams, raids in more than 100 places, yet out of grip 8 policemen killer Vikas Dubey
After trying to escape, police stopped them after about an hour. When they tried to escape, there was firing from both sides. An unknown person was hit by several bullets. He was brought to the hospital, where he was declared dead. Later he has been identified as Vikas Dubey's partner Ranbir. Police have found a pistol, a double-barreled gun and several cartridges in Encount. Three other crooks who were with Ranbir managed to escape.