M umbai is a cosmopolitan city known for its many lip-smacking dishes. Be it vegetarian or non-vegetarian, the dishes in Mumbai boast of rich taste, fieriness and impressive flavors. The cuisine of Mumbai covers a large assortment of interesting, authentic dishes and zesty seafood dishes. The staple foods consumed by the residents of Mumbai include rice, aromatic fish curries, Indian bread- chapatis and rotis, vegetable curries, pulses and desserts. Coconuts, cashew nuts, peanuts and peanut oil are some of the major ingredients used in many of Mumbai's traditional dishes. Mumbai houses many restaurants where people can enjoy some amazing food. The city is known for its delectable chaats at the various food stalls in the busy streets of Mumbai. Here, the stalls are crowded with people who relish tangy fast-food and local snacks. Apart from the traditional dishes, chaats, sweets and seafood specialties, there are lovely continental restaurants across the city that will cater to a more subtle palate, if you can't handle all the hot food.
1) Sev Puri and Bhel Puri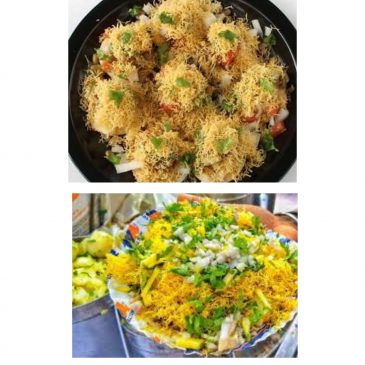 Among the vegetarian dishes of street food in Mumbai, Bhel Puri and Sev Puri are the most popular ones. Bhel Puri is a Marathi Chaat made out of puffed rice, vegetables, and a tangy tamarind sauce. Sev Puri is another chaat essentially made of Puri loaded with diced potatoes, onions, 3 chutneys (tamarind, chili, and garlic), and topped with sev (small pieces of crunchy noodles made from chickpea flour paste). It is seasoned with raw mango or a hint of lemon and chaat masala. Bhel puri is available everywhere. The stalls at Chowpatty and Juhu beaches draw throngs of die-hard fans. But if you want a bhel puri with ambience, try it at Sea Lounge, Taj Mahal Hotel.
2) Pav Bhaji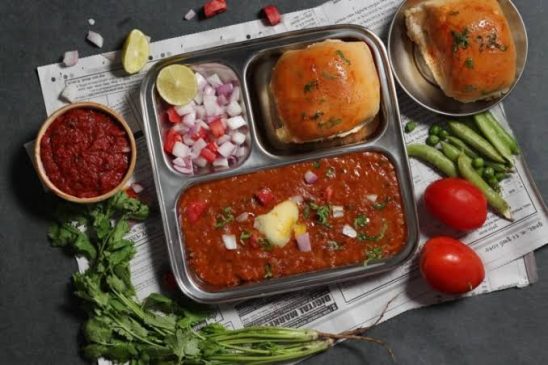 The two components of this dish are pav and bhaji . The vegetable preparation is an assortment of vegetables like potatoes, peas, tomatoes and onions, which are cooked in butter and spices. This is widely available at local restaurants. If you are roaming hungry and looking for street food in mumbai at night, then you will find at least one Pav Bhaji stall open late in night in your area where you can kill your hunger pangs.
3) Vada Pav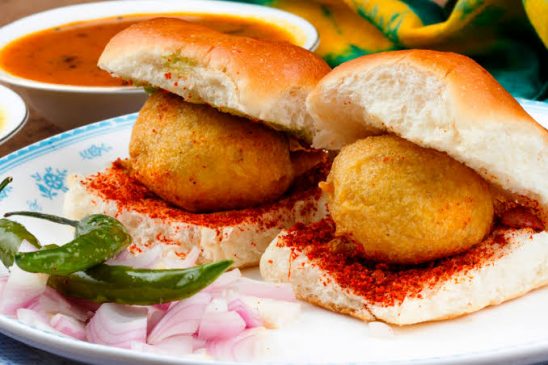 Vada Pav is a vegetarian fast food dish native to the state of Mumbai.
The Indian version of a burger. As popular as any of the "Pao" items. Vada Paos are available almost everywhere in the city and can be eaten as a snack. All stalls offer something different, so be sure to taste it in various areas of the city. Pav vada is tempered mashed potato is filled in pav and dipped into gram flour batter and deep fried, eaten with chutney and chilly.
4) Pani Puri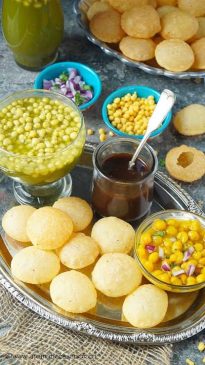 Pani Puri is a popular street snack in Mumbai. A puri filled with sweet tamarind chutney, tangy water and a filling of either Ragda or potato or boiled dal or onions. Although Pani Puri is not a Mumbai invention, what makes the Mumbai Pani Puri unique is the tang and bite in the water and the use of warm small white chick pea as a filling in the puri. Different versions of Pani Puri are popular throughout North India, East India, Nepal, Pakistan and Bangladesh. Many Mumbai Pani Puri stalls also sell Ragda-Pattise, Dahi Puri etc.
5) Batata Vada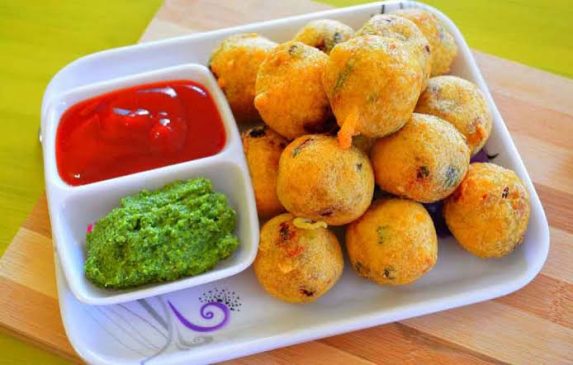 Literally translates into potato fritters, this is another delicious all-day snack from the streets of Mumbai. The word batata means potatoes, and no, the word is neither Hindi nor Marathi; it's Portuguese! Remember, it was Portuguese who first introduced potatoes to our country. Consisting of a patty made of mashed potatoes and spices, which is then dipped in chickpea flour batter and deep-fried, the dish looks like a thick sphere. You will get one or more chutneys and green chilies as accompaniments; it is best had with a steaming cup of coffee or tea. You will find Batata Vada sellers in every corner of Mumbai, each selling their own version. Try as many versions as you like.
6) South Indian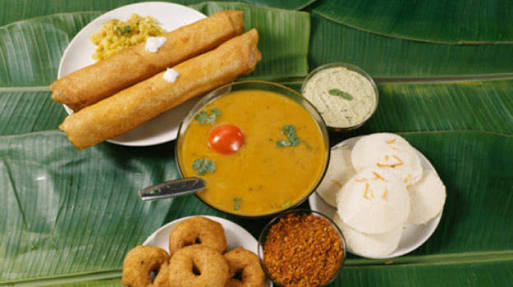 Another famous street food in Mumbai for breakfast is Idli – Vada served with Sambhar and coconut chutney. Idlis are steamed batters of fermented black lentils and rice. Vadas, on the other hand, are savory fritter type snacks made using Lentils, chilies, onions, and curry patta leaves. Dosa, a staple South-Indian dish, is a thin pancake-like food made of fermented rice batter. Different variants of the popular Bombay street food are stuffed differently. Mumbai is formed from outsiders. SO, you will find a lot of dishesthat are not of Maharashtran influence and Dosa is one of them.
7) Sandwich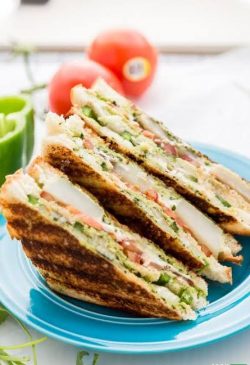 This street-side invention is a combination of the most unlikely ingredients. Lavishly buttered white bread and sandwiched in between thin slices of beetroot, boiled potatoes, cucumbers, tomatoes, onion rings, and mint chutney. Cut into four triangles so that you can handle all the layers without spilling them, you get the most refreshing tangy taste, after each bite. A toasted version steams up the vegetables inside and adds another dimension. Truly, there is no other sandwich quite like it in the world.
8) Ice Gola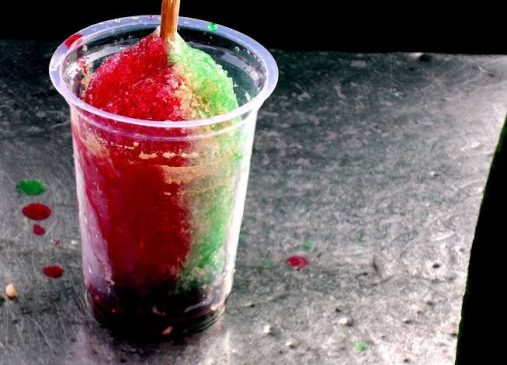 Ice gola consists of a ball of shaved ice, which the vendor molds into an oblong shape around the end of a stick. After dropping the end with the ice ball into a cup, the vendor will add various fruit flavorings, depending on which kind you order, and salt. And just like that, you have an icy treat to enjoy on a sweltering Mumbai day! The kind I tried had both blueberry and lemon flavors, which made for a unique flavor combination, especially with the salt added. Just try not to get brain freeze like I did!
9) Falooda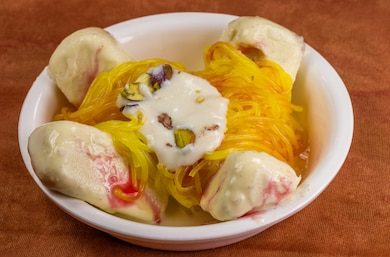 Falooda, an Indian adaptation of the Persian dessert, is a rich drink of vermicelli mixed with milk, almonds, pistachios, rose syrup, and basil seeds, topped with ice-cream. This street food needs no introduction and is a perfect street food in Mumbai in summers to cool off heat.
10) Modak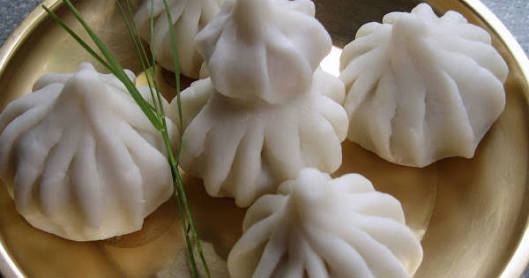 It is an Indian sweet popular in states of Maharashtra, Goa and in the regions of Konkan in India. The sweet filling on the inside of a modak consists of freshly grated coconut and jaggery while the outer soft shell is made from rice flour or wheat flour mixed with khava or maida flour. It is used for Ganesha during prayers.