Himachal Pradesh apart from being blessed with breathtaking natural beauty, is also a tasteful blend of exquisite pahari cuisine that gives any traveller more than just one reason to fall in love with this beautiful mountains dotted state. Himachali or pahari cuisine has a unique aroma and flavour to it due to the usage of a lot of yoghurt and cardamom and cooking on slow flame. One can clearly see that the Himachali dishes have a lot of influence of Punjabi and Tibetan style of food.

There are a lot of restaurants all over Himachal Pradesh which serve authentic pahari food for you to enjoy and imprint on your minds. So, if you are planning to go to the land of the majestic Himalayas for your next vacations, you should definitely give a try to these amazing dishes from Himachal Pradesh.


1) Metthe Chawal/Meetha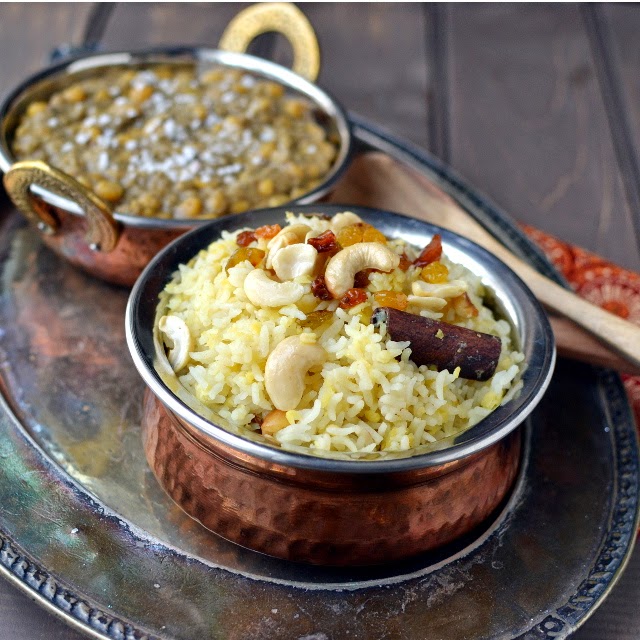 This dessert dish has the perfect blend of sweetened rice, dry fruits, kesar and raisins. Regarded as the traditional sweet dish of Himachal Pradesh, it is prepared for festivals and special occasions.


2) Dham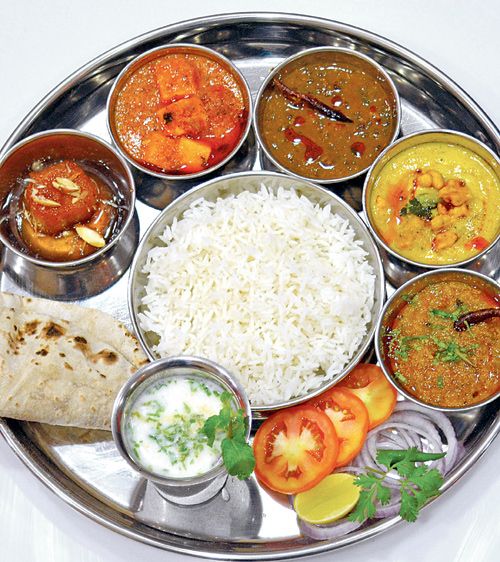 No festivities of Himachal are considered complete without Dham. It is a dish prepared by the Brahmins of the regions of Chamba by cooking red kidney beans (rajma), green lentils (moong daal) and rice in curd. It is served teamed with mash daal, boor ki kari and sweet and sour sauce made from tamarind and jaggery (gur). It is traditionally served on plates made out of leaves.


3) Chana Madra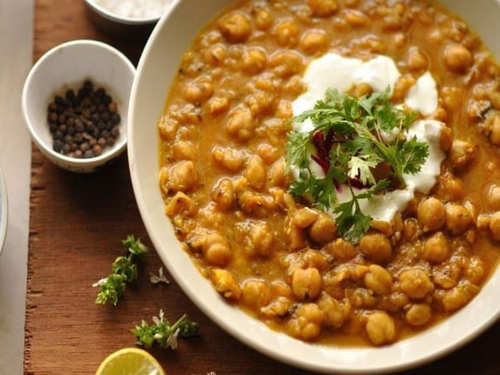 Madra is a form of yoghurt and chickpea flour based gravy popular in pahar cuisine. Chana Madra is one such dish made with kabuli chane or white chickpeas cooked in the gravy seasoned with  assorted spices, ginger, garlic and onions. Chamba and Kangra Madra is originally a delicacy that belongs to the Chamba district of Himachal Pradesh. Madra is one of the dishes that represents the food culture of Himachal Pradesh. Every restaurant, every occasion, and the festival will have Madra offered to you with utmost love.


4) Kullu Trout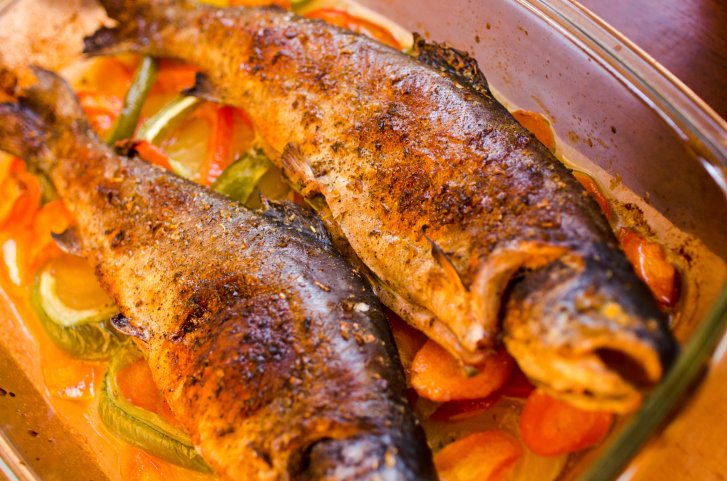 This fish delicacy made with marinated trout shallow fried in mustard oil with spices is a much loved dish of the Kullu region. Cooked in minimal spices, the dish brings out the natural flavours of the delicious trout. The dish is best coupled with the number of boiled vegetables, and hence it remains one of the healthiest delicacies of Himachal Pradesh.



5) Babru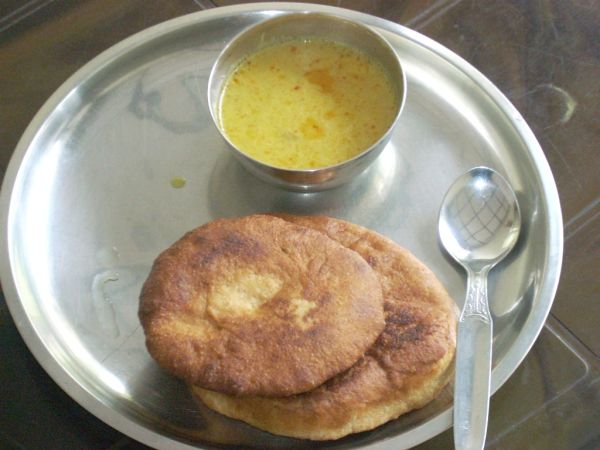 Himachal have added a unique twist to popular Kachoris of North India. Babru is a flat bread which is like a Himachali variation of the popular kachoris. It is made by stuffing soaked and ground black gram daal paste to kneaded dough patties. These patties are then rolled and deep fried and served with tamarind chutney.


6) Palda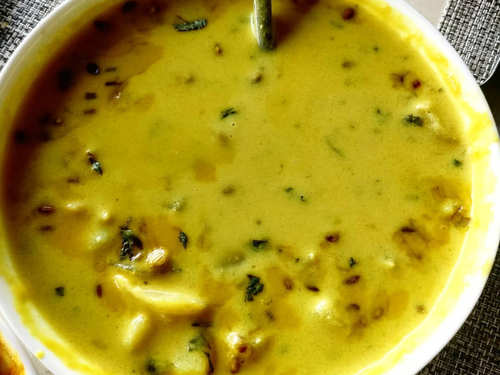 Also known as Pahari Aloo Palda is a creamy potato subzi simmered in yogurt. This gravy dish is sweet with a bit of sourness in it. It is a common dish of Himachali cuisine that people often make with potatoes or it can also be made with a mixture of vegetables as well.


7) Khatte Channe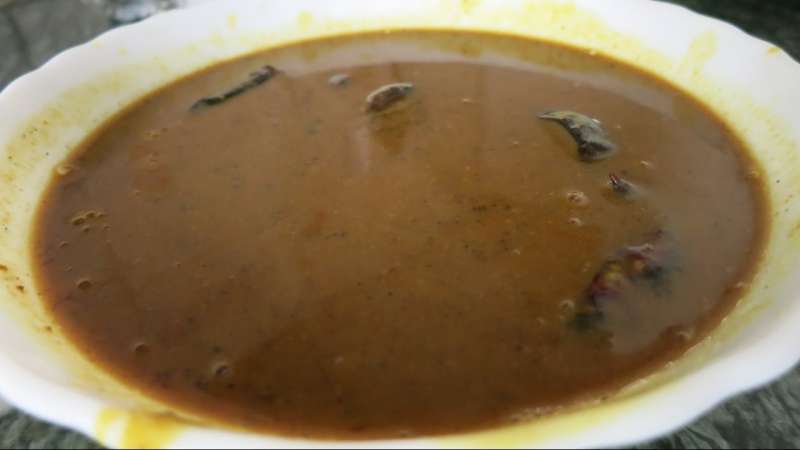 Khatte Chane is one of the most popular dishes from Himachal that is an integral part of traditional thali called Dham. Made with black chickpea, gram flour, spices and jaggery this traditional dish is also called "Channe ka Khatta" or simply "Khatta". This recipe is sweet and sour in taste, with a strong flavour of mustard oil and is usually eaten with rice in the Himachal region.



8) Spicy Lotus stems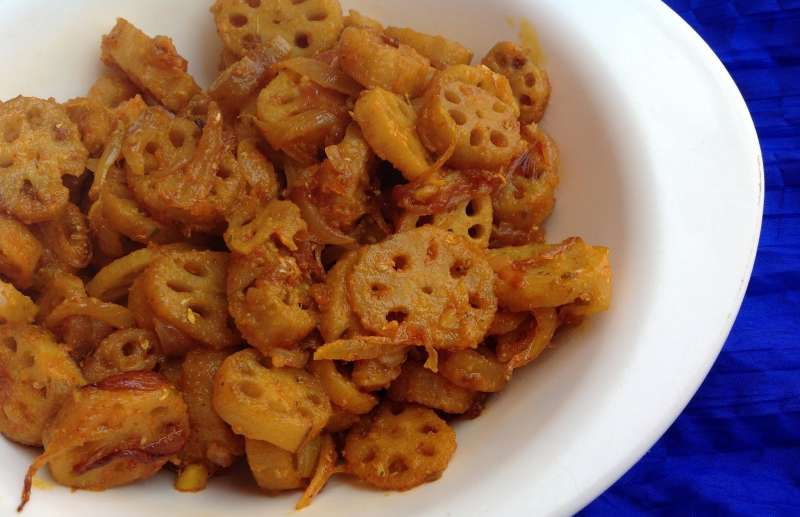 A famous dish of Himachal Pradesh that is fondly eaten in the households of the Himachali people. Bhey is a delicious dish which is prepared with the lotus stems. Thinly sliced lotus stems are then cooked in the ginger-garlic, onions and gram flour which adds the unique and great taste to the dish.



9) Siddu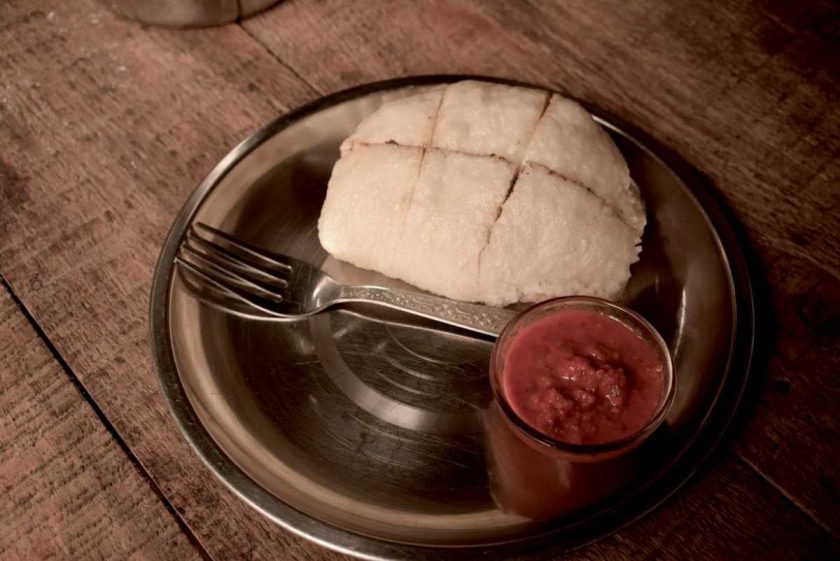 Made from wheat flour, Sidu is a local side- dish of Himachal Pradesh which greatly complements the main course of mutton or some vegetables. The preparation of Sidu is difficult and time-consuming, but for the taste that it renders, every minute of preparation is worth it. The wheat flour is kept for 4-5 hours for the yeast to settle down. Later, the dough is filled with fat and put on the direct flame to get the half-cooked dough. This partly cooked dough is then steamed to keep the taste and nutrients of the ingredients intact. Sidu can easily be found in the local restaurants of Himachal Pradesh to give tourists a flavour of Himachali cuisine.



10) Aktori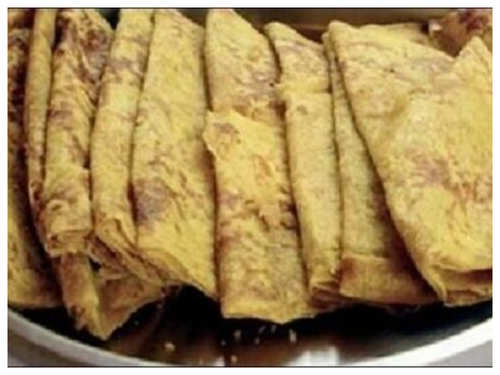 Aktori is a festive dish which is very much enjoyed by the people of Himachal Pradesh during their festive time. Aktori is prepared in the form of a cake or pancake made with the buckwheat leaves which is further cooked in the wheat flour. Although, the dish originates in Spiti Valley but it is frequently prepared and fondly eaten all over Himachal Pradesh.



11) Tudkiya Bhath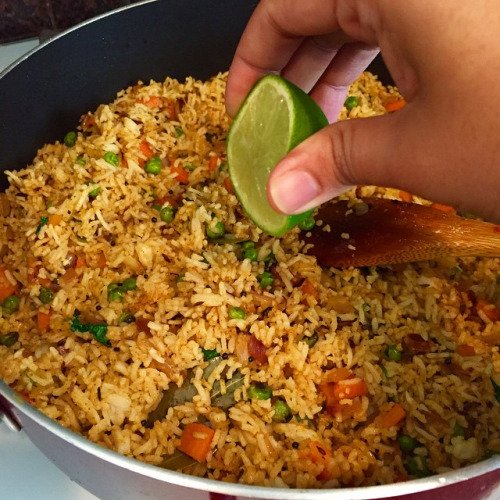 Another dish from the hills of Chamba, Tudkiya Bhath is an authentic delicacy of Himachal Pradesh. This pahadi-style pulao is a perfect dish to savour during special occasions and festivals. In fact, most authentic restaurants in the region serve this delight. Made with the goodness of rice, lentils, potatoes and yoghurt along with onion, tomatoes, garlic, cinnamon, cardamom, Tudkiya bath tastes best when served with mashed dal and few drops of lime juice.