NEW DELHI: Tamil Nadu Chief Minister MK Stalin heaped praises of the Kejriwal Government's schools and Mohalla Clinics on his visit to Delhi today. He expressed his willingness to develop a model school in his state on the lines of Delhi and invited Chief Minister Shri Arvind Kejriwal to see it. The Delhi CM accepted the invitation of visiting Tamil Nadu and said that "It will be an honour for me to attend Thiru Stalin". Tamil Nadu CM Thiru MK Stalin stated — I visited Delhi's government schools and Mohalla Clinics with CM Arvind Kejriwal and Dy CM Manish Sisodia. We will develop a world-class model school in Chennai; I am inviting CM Arvind Kejriwal to it in advance. On this occasion, CM Shri Arvind Kejriwal said — Only education can help build a better society and an empowered nation; come let's bring an education revolution together. The Delhi Government would love to share their experiences with the Tamil Nadu Government and will learn from their works too. This country can only progress when we learn from each other's ideas. All states need to work together to help the country walk faster towards development. Deputy CM Shri Manish Siaodia said that CM Stalin's Delhi visit would motivate both states to bring reform in their education system. He added that If we work together to improve our education system by learning from each other then we can bring an unprecedented transformation in the country.
Delhi Chief Minister Shri Arvind Kejriwal and Deputy CM Shri Manish Sisodia hosted Tamil Nadu CM Thiru MK Stalin and Education Minister Thiru Ambil Mahesh Poyyamozhi and told them the full story of the revolutionary change that has taken place in Delhi Government schools. These government schools in Delhi, once called 'tent schools', are today beating the private schools in terms of infrastructure, building and modern facilities. The results of Board exam shows that the government schools of Delhi have left behind the private schools. The Tamil Nadu CM visited the classrooms and took note of the modern facilities and splendid buildings and got a glimpse of the growing confidence in the children of Delhi's government schools.  Principal Secretary (Education) H Rajesh Prasad, Education Director Himanshu Gupta, Deputy CM's Secretary C. Arvind and Rajkiya Sarvodaya Kanya Vidyalaya Principal Jyotsna Minj and other dignitaries were present on the occasion.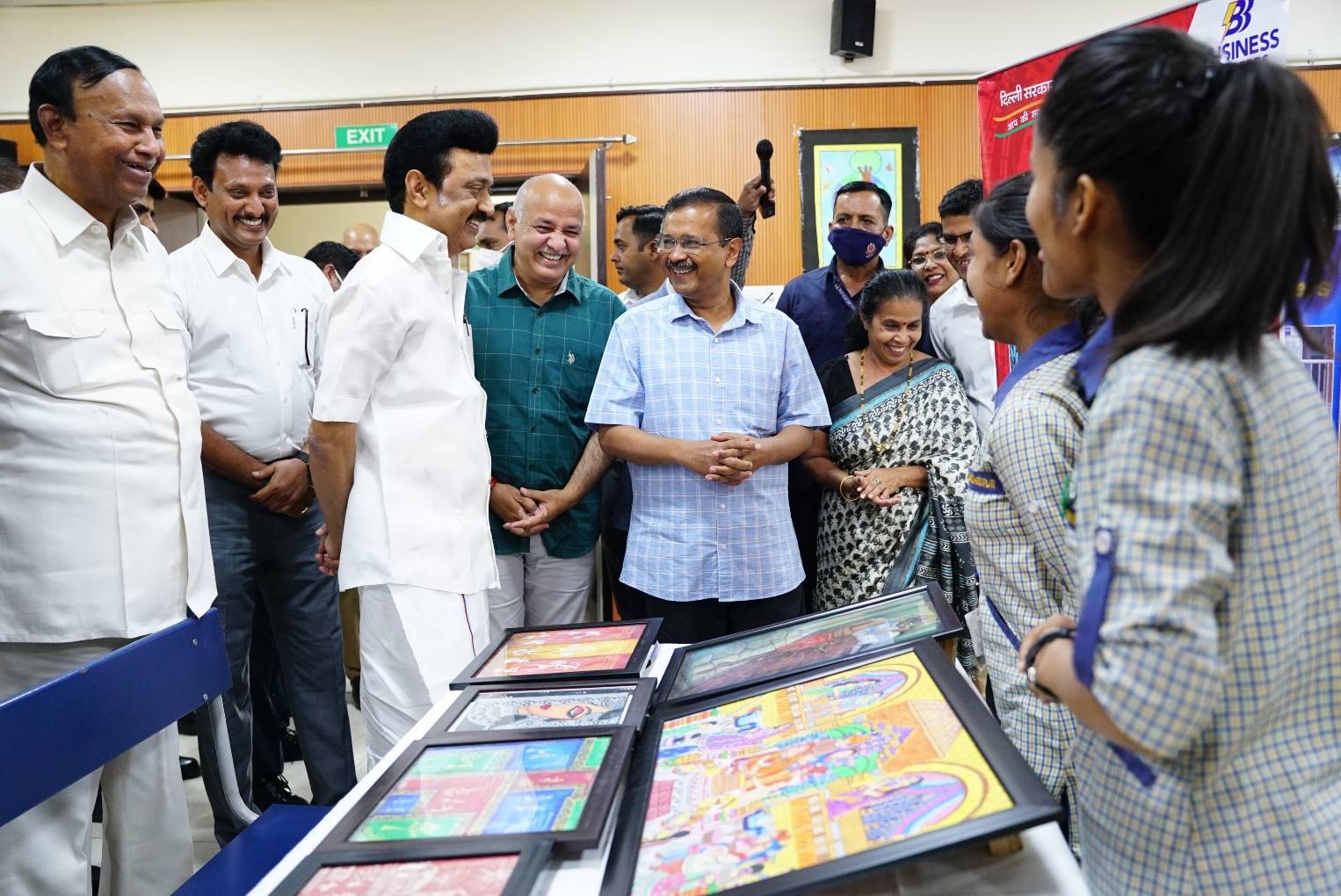 Tamil Nadu Chief Minister Thiru MK Stalin reached Rajkiya Sarvodaya Bal Vidyalaya in Delhi at around 11.30 am today, where he was received by CM Shri Arvind Kejriwal and Deputy CM Shri Manish Sisodia.  During this event, school children presented flowers to the Tamil Nadu Chief Minister to welcome him upon his arrival at the school.  CM M K Stalin presented a shawl and books to CM Shri Arvind Kejriwal and Deputy CM Manish Sisodia. The Delhi CM also felicitated his Tamil Nadu counterpart and the ministers accompanying him were welcomed by presenting them with shawls and expressed their happiness on coming to Delhi's government schools. CM M K Stalin saw the school building thoroughly and attended the Happiness class and talked to the children in it. He also met the children of Deshbhakti class and got to know their experience.  A team from the Business Blaster program told him that they started with seed money and earned Rs 1.50 lakh.  They have given employment to 25 local residents and some people from Tamil Nadu and Karnataka have also been given employment as well. Thiru Stalin was very impressed by the self-confidence that the children had in them. He then saw the swimming pool built in the school and also talked to the children taking training there along with their coach. After this visit, CM Stalin came to see the Aam Aadmi Mohalla Clinic. He talked to the patients and doctors who came to the clinic and got to know about the facilities.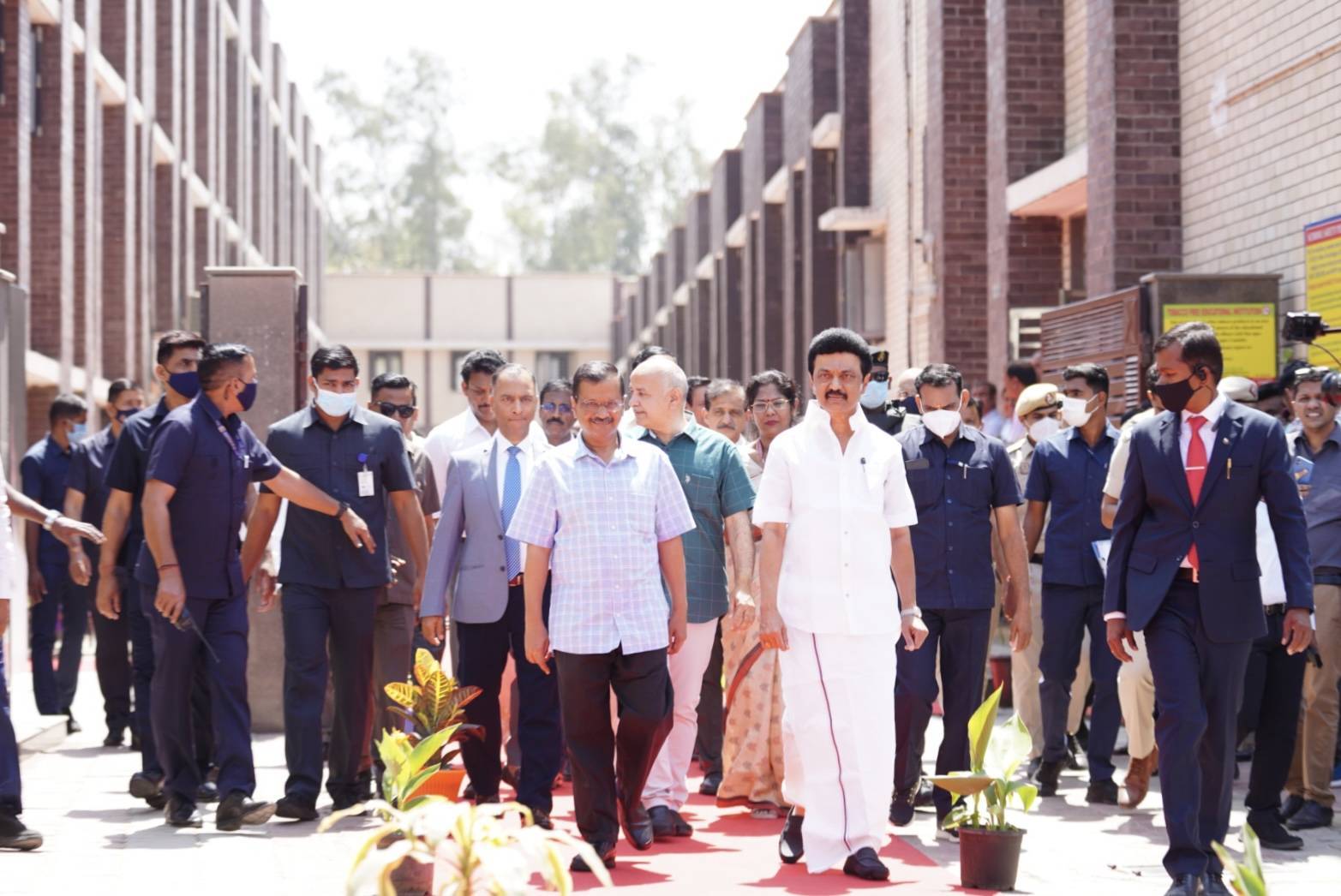 During his visit to Rajkiya Sarvodaya Bal Vidyalaya, CM Stalin tried to understand how the all-round development of children was being ensured there.  On this, the officials apprised him that the Delhi Government is spending about 25 percent of the total budget of the state on education.  Education Minister Shri Manish Sisodia constantly reviews the reforms in education. He visits the schools.  Not only the building of the schools, but how and what was taught to the children is also constantly reviewed. There is a very good rapport between the children of the school, parents and teachers. More than 500 students of Delhi Government are qualifying for JEE Mains every year. This year, about 3.5 lakh children have got their names cut from private schools and taken admission in Delhi Government Schools. Teachers are also being trained by sending them to big institutions like Cambridge and IIM.
CM Shri Arvind Kejriwal said, "Today, Thiru MK Stain, the Chief Minister of Tamil Nadu has come to visit Delhi Government's schools and Mohalla Clinics. We just finished our visit at the school, and we will head to see the Mohalla Clinics next. It is a great honour and my privilege to have him among us today."
After visiting the Mohalla Clinic, Shri Arvind Kejriwal added, "We all need to learn from each other. I am very delighted and pleased to have had the chance to receive him and take him around our schools and clinics. So, whatever good work and progress is being done by our government will be shared with everyone, and we will learn from the good work that is being done by the Tamil Nadu government. This exchange of ideas is the way for our country to progress and flourish. All the states in India need to work together towards developing the nation."
The CM also tweeted, "I am very delighted that Thiru MK Stalin visited Delhi Government's schools and Mohalla Clinics today. This country can only progress if we all learn from each other's good ideas."
Thiru M K Stalin said, "I heard about Delhi Government schools and Mohala clinics from my cabinets and newspapers. I had contacted Arvind ji a few months back and told him about my interest in visiting them. Arvind ji accepted my request and showed the schools and Mohala clinics to me today. What he has built is excellent. I'm planning to build a model school like this in Tamil Nadu very soon. I request Arvind ji to come and visit our school. I'm placing this request on behalf of the people of Tamil Nadu."
Elucidating the reform in Delhi Government's education sector, Deputy CM Shri Manish Sisodia said, "India has waited for a long time to see education on top in the priority list of political parties. This is a new beginning of a better world where states are coming forward to learn from each others' best practices. It was indeed a pleasure welcoming Tamil Nadu Chief Minister Thiru MK Stalin in our government school where he learnt about how the wave of change in Delhi education system was set over the years and best practices being followed. By working together in this way, radical changes can be brought in the education system as well as in the country through education."
At the same time, Deputy CM Shri Manish Sisodia tweeted, "Tamil Nadu CM Thiru MK Stalin ji visited our school today. It was an honour to show him around our school along with Delhi CM Shri Arvind Kejriwal ji. I'd like to thank CM Stalin for his gesture, which will encourage states to work together to improve the education system."
Tamil Nadu Chief Minister Thiru MK Stalin gets a glimpse of Delhi's standout health and education programs:
During this event, the revolutionary changes that took place in Delhi government schools during the last 7 years were depicted through the medium of a short film. Before the formation of the Aam Aadmi Party government in Delhi, the government schools here were referred to as tent schools. The film showed the formerly poor state of the government schools, how low the students' confidence was, and other lack of facilities. The students in these government schools did not view themselves as the future of our country. These children considered themselves to be inferior to the children studying in private schools. The Kejriwal Government has brought about revolutionary change in government schools and transformed the infrastructure of every school. School classrooms to major buildings – everything is now in a splendid condition. The schools are equipped with many facilities including playgrounds and swimming pools. As a result of this change, the morale of the students of Delhi's government schools has increased. Today, the same students have left private schools behind in board examination results. The officials of the Education Department have described this entire journey in detail to Tamil Nadu CM M.K. Stalin – of how the quality and morale of the children are being raised through the various progressive curriculums. Thiru M.K. Stalin was highly impressed with the progress made by the Delhi Government.
While visiting Delhi Government's schools and Mohalla Clinics, Chief Minister Shri Arvind Kejriwal gave Tamil Nadu Chief Minister Thiru MK Stalin a glimpse of the government's standout programs. These included Business Blasters, Pre-Primary Classes, Happiness Curriculum, Deshbhakti Curriculum and Aam Aadmi Mohalla Clinic.
Business Blasters:
Business Blasters is part of the Entrepreneurship Mindset Curriculum for nearly 4 lakh students of classes 11 & 12. Its objective is to provide an immersive real-world opportunity to practise and apply entrepreneurial abilities. In the first cycle of the program, 3 lakh students came up with 51,000 ideas. Through selections at various levels the top 126 teams showcased their ideas to investors and mentors in the Business Blasters Investment Summit and Expo held on the 5th of March. It was attended by approx. 800 investors. From next academic year, the Business Blasters will be implemented for private school students also.
Pre Primary Classes:
Nursery and KG classes in Delhi government schools have been envisioned to encourage play-way and activity-based methods of learning. There are Nursery and KG classes in 435 schools of Delhi government. All the Nursery and KG classrooms have toys, activity worksheets and books which are designed to suit the holistic development needs of children. Delhi government plans to introduce Montessori method in its foundational classes (Nursery to class 2) of around 100 schools. One of its kind Montessori Lab is functional in Rana Pratap (Sindhi) Sarvodaya Vidyalaya in Delhi.
Happiness Curriculum:
Based on the science of emotions, this curriculum seeks to build emotional resilience among children in a scientific manner. Its key objectives are inculcating skills of critical thinking & inquiry among children; empowering children to express themselves freely and creatively; to develop holistic approach to education in a universal context.
Desh bhakti Curriculum:
This curriculum seeks to inculcate the true spirit of citizenship & pride for our country among children. Its goals are to ensure that every child should feel pride for our country. Children are taught about the glories of the country. Each child is made aware of their responsibility and duty towards the country. Instil the commitment among children to be prepared to contribute and also sacrifice for the country.
Mohalla Clinics:
The Aam Aadmi Mohalla Clinic has been conceptualised as a mechanism to provide quality primary health care services accessible at community level in Delhi. Most clinics are in Pre-Engineered Insulated Box Type Re-located Structures (Porta cabins). At present, 520 clinics are functioning. Plan is to increase it to 1000. Clinics have been set up in 20 schools of Delhi Government as well and is called Aam Aadmi School Health Clinic to take care of physical and mental health of school children. Every clinic has qualified doctors, allied health providers and nurses to provide diagnostics and generic medicine and therapies as per standard operating procedures.Delhi Government plans to set up AAMCs at Delhi Metro stations and Airport also besides Mahila Mohalla clinics exclusively for women.
Following dignitaries have so far visited Delhi Government's schools
Delhi Government's schools have hosted the attraction of several international and Indian dignitaries and heads of states. These include, Melania Trump, Former First Lady of USA;  King Willem-Alexander and Queen Maxima of Netherland; Assadullah Hanif Balkhi, Education Minister of Afghanistan; Mohd. Hussain Ibrahim Al Hammadi, Education Minister of UAE; Md Zakir Hossain, Minister of State for Primary and Mass Education, Bangladesh. The list also includes, Prajakt Tanpure, Minister of Higher Education; Maharashtra, Sanjay Bansode, Minister of State, Maharashtra; MK Stalin Chief Minister, Tamil Nadu; Thokchom Radheshyam,  Education Minister, Manipur; Samir Ranjan Dash, Education Minister, Odisha;     Prabhuram Chaudhary, Minister of  Education, Madhya Pradesh; Lahkmen Rymbui, Minister of  Education, Meghalaya; Konchok Stanzin, Councillor-in charge for Education for Ladakh Hill Council; R Kamalakannan, Minister of  Education, Puducherry; and K Tokugha Sukhalu, Minister of  Education, Nagaland.