Janmat Samchar Exclusive: The hypocrisy of Delhi University has been highlighted over once again and this time through online examination. Delhi university website is crashing. Students unable to take DU mock exams and open book examinations. #DUAgainstOnlineExams on Twitter.
DU Open Book Exams
DU Open Book Exams: The open-book online examinations for Delhi University final year students initiated a day ago however, with a plethora of obstacles From technical glitches to "incorrect" question papers, students reported these issues wherein Online exams were made a laughing stock on Saturday Morning.
Many of the students took to social media to showcase the lunacy of DU as #DUAgainstOnlineExams on Twitter. The mock exams will go on till July 8 while the main exams are to be  scheduled from July 10 onward. And, all this even as the university has been facing backlash vehemently from students against the open-book examinations from past 2-3 months. It seems as if the Delhi University  is not working tandemly with UGC.
Delhi University website crashing
Website is crashing. See the pictures below.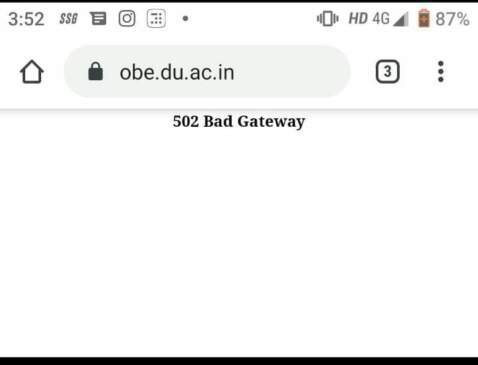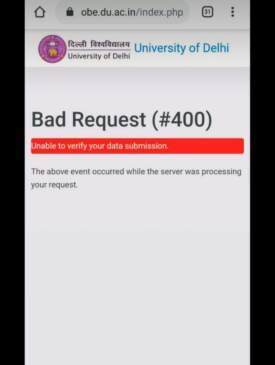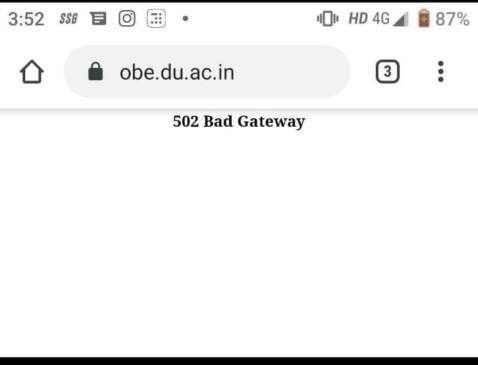 DU Open Book Exams: Shishir , a 3rd year Bsc. Instrumentation (H) student of Bhaskaracharya college of applied sciences, told Janmat Samachar-
"A Website that fails when the results are out, even though only a section of students are accessing it, the site crashes and DU is trying to take the OBE on that website this act is foolish, insensitive and against Students."
Also if they say that the thing is to only look for answers over internet and Write, then OBE is nothing but writing exams with cheating and if that's the purpose, exams should be scrapped"
See More: In 1983, Indian Team made history by winning the Cricket World Cup

Shishir also told us that the site crashed multiple time.

DU mock exams: "The mock test was a disaster. The website crashed, details of students were missing, papers were incorrect. They didn't upload all subjects. Then they claimed that this is just for us to understand the procedure," He said.


Rishabh a Bsc. Botany(H) student of DDU college told Janmat Samachar.

" I don't think it's justified to cancel the examination for 3rd year students, but seeing the current scenario of situation where even Delhi University Mock Test has so many flaws and errors. It's not a good move to play with the career of students.

Seeing the health emergency concern, it should be advisable to not take any Examination by the university beacuse the students are themselves not in situation to handle the pressure " He added.
Learn SAP for free and make your career: https://abaponhana.com/
See More: Delhi Police Sub-inspector arrested for running over the car on woman
DU mock exams
Students came across a numerous issues as they logged on to Delhi University's official website to appear for their mock exams on Saturday.
The Delhi High Court said that it would not interfere with Delhi University's decision to conduct open-book online exams for final year students. Along with this, the court has also asked the university, UGC and the Center to resolve the issue of taking the exams of disabled students.

At the same time, the court said that all students should prepare for the open book examinations and should not assume that the examinations will be delayed due to these hearings. The order was given on a petition by the National Federation of the Blind challenging DU's decision to conduct open book examinations on the grounds that it violates the rights of students with visual impairments and other disabilities.
See More: Siya Kakkar suicide TikTok Star (Sia) in Delhi (Dead Body Video)

Meanwhile, the academic and executive council members of the Delhi University also wrote to the vice-chancellor asking him to scrap the online open book examinations.
Union HRD Minister Ramesh Pokhriyal Nishank had also asked the Universities Grants Commission (UGC) to revisit the guidelines issued earlier for intermediate and terminate semester examination, and the academic calendar.


See More: Still after 9 months passed, Delhi traffic police not yet refunded fines