Dubai: In a vibrant display of unity, spirituality, and cultural pride, the Indian community in Dubai organized a grand celebration to mark International Yoga Day at the picturesque Karama Park. The event, organized by the Indian Cultural Association (ICA), brought together yoga enthusiasts from diverse backgrounds, showcasing the deep-rooted connection between yoga and Indian heritage.
As the golden sun rose over Dubai's skyline on June 21, 2023, Karama Park came alive with the harmonious convergence of individuals, all eager to partake in the celebration. The park's tranquil ambiance, adorned with colorful decorations and fragrant flowers, set the stage for a captivating experience that embraced the essence of yoga.
Under the guidance of experienced yoga instructors, the participants, adorned in comfortable attire, gathered on their mats, symbolizing a collective commitment to well-being and holistic living. The event began with an invocation of peace and unity, creating an atmosphere of serenity that resonated throughout the park.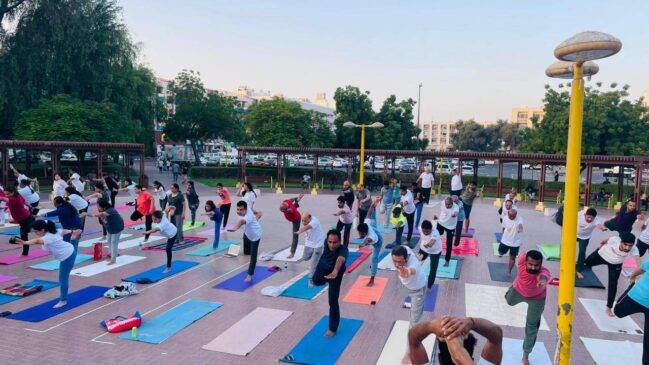 The yoga sessions featured a blend of traditional Indian styles, such as Hatha, Ashtanga, and Kundalini, along with modern variations like Power Yoga and Yoga Fusion. Participants of all skill levels were encouraged to explore the diverse range of practices, accommodating beginners and experienced practitioners alike.
Speaking at the event, Mr. Ravi Sharma, President of the Indian Cultural Association, expressed his gratitude for the overwhelming response and emphasized the significance of yoga in fostering unity and well-being. He stated, "Yoga is a universal language that transcends borders and unites individuals from all walks of life. Today, we celebrate the profound impact it has on our physical, mental, and spiritual well-being."
The International Yoga Day celebration at Karama Park exemplified the Indian community's commitment to promoting a healthy lifestyle and sharing their rich cultural heritage with the wider Dubai community. It served as a testament to the transformative power of yoga, reinforcing its ability to foster a sense of harmony, both within oneself and among diverse communities.