New Delhi: With the aim to enhance the beautification and to create happiness & positive vibes in New Delhi area, New Delhi Municipal Council (NDMC) developed an approximately half kilometer stretch in a concrete central verge at Barakhamba Road with Petunia Flower beds in a prefabricated planter on the vision of Hon'ble Prime Minister's "Swachh Bharat Mission" & celebrating 75 years of India's Independence as "Azadi Ka Amrit Mahotsav", this was informed by Vice-Chairman-NDMC, Shri Satish Upadhyay today.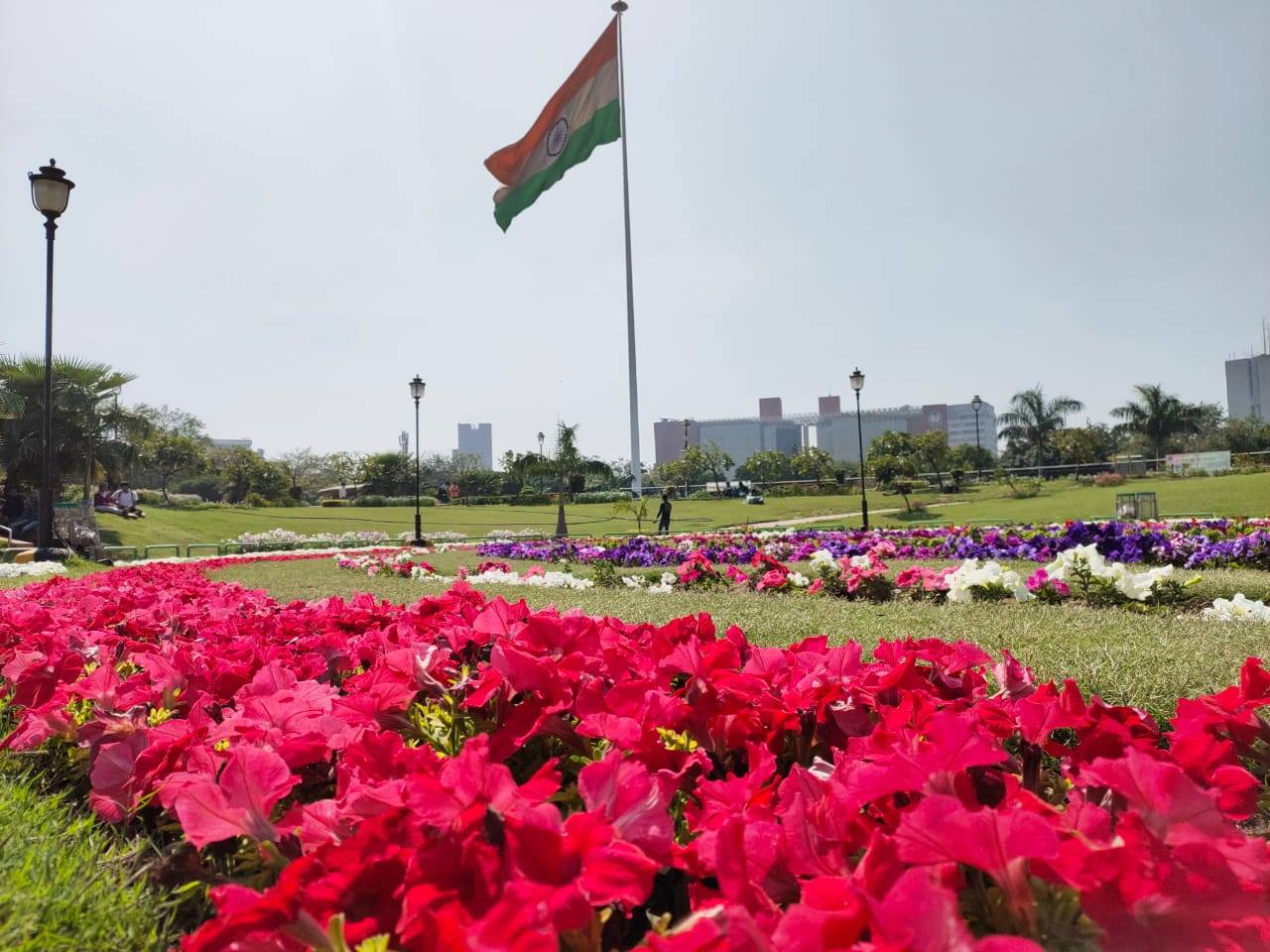 While giving the details of this project, Shri Upadhyay said that the Barakhamba Road is surrounded by office buildings which are full of hustle & bustle. That is why NDMC takes initiative by using new techniques to develop planters in the concrete surface between the roads without any digging work. He said that this initiative not only gives uniformity & beautiful look but also give pleasant ambience environment, happiness area with same level of flower having same height which looks like a flowery carpet spread in the stretch of half a kilometer.
He said that the Petunia flower blooming period is till May end and the reason for planting this flower particularly is because it has a variety of colours and has a long span of life. The Petunia flower is less leafy and much flowery with sufficient period of blooming.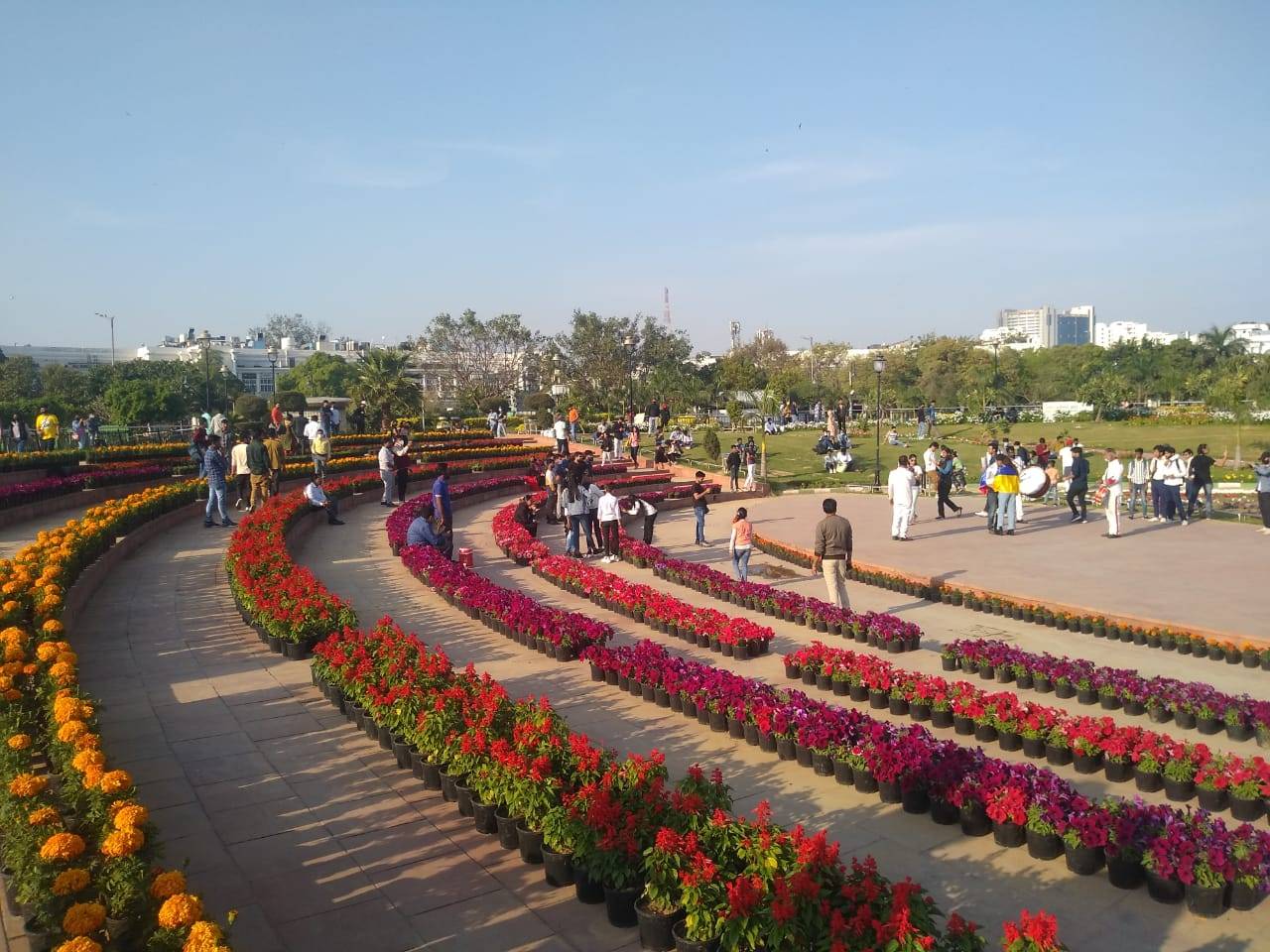 Shri Upadhyay appreciates the Horticulture Department efforts for creating this kind of initiative as the whole path is on a concrete base. He said that NDMC is planning to develop and maintain this flower avenue concept for the whole year. He said that the whole work is completed in-house by NDMC's Horticulture department except pre-fabrication with very nominal cost. He said the work is assembled and disassembled based which may be shifted anywhere at any time according to their use.
Shri S.Chellaiah, Director (Horticulture) – NDMC  while giving the technical details of the project said that the depth of the soil in these planters is 6 to 8 inch and width is 2 metre approximately and having two layer first layer Geo-textile and second layer Green-texture having a quality to not allow soil go out. He said it will only allow water to go outside in case of excess giving. He said it consists of our department labour and fabrication cost extra which we completed in a short span of time. He said that we trained our Gardner for giving water through sprinkle only during less traffic hours.
Shri Chellaiah also said that after Petunia flower NDMC is planning to plant a "Sadabahar" desi variety in white and purple colour in a pattern way. He said that the sadabahar is having a quality to survive in less water which we are planning to plant from June onwards which will survive till November.
While appreciating the team work, Shri Upadhyay said that it is the first time NDMC has initiated this kind of experiment in which we get success by the efforts of the Horticulture department. He said that NDMC is the role model for other civic bodies because nobody took these kinds of unique initiatives before.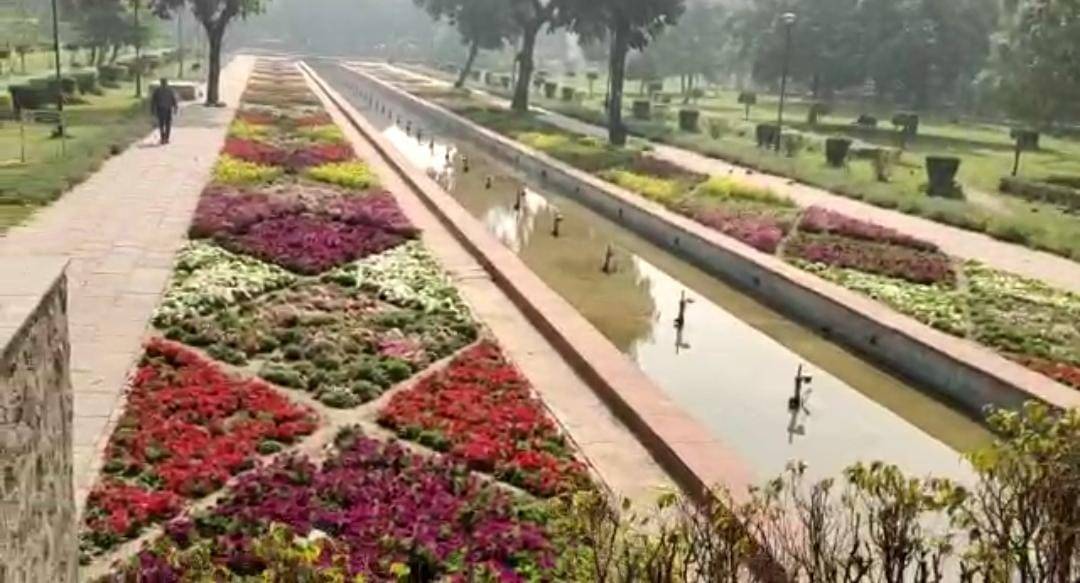 Shri Upadhyay informed that NDMC has also maintained their major parks, roundabouts with the beauty of various species of colourful flowers viz Nehru Park, Lodhi Garden, Central Park-CP, Talkatora Garden. He urges the environment lover to visit these parks and be a part of these blooming beauty.
Shri Upadhyay said that the response of these efforts is excellent from every walk of life. He said that seeing these beautiful flowers not only gives the positive vibes, stress free environment but also gives happiness for the visitors and employers working in this area particularly. He said that NDMC's this initiative creates happiness when life gets hard and plays the role of light in the darkness. People are capturing these moments by taking photographs on a regular basis but also social media, print and electronic media keep focusing on the beauty of Lutyens Delhi.