Fiza Nazir, daughter of Nazir Ahmed, hails from Fateh Kadal Srinagar. 20 years old Fiza Nazir is the winner of more than 40 medal of martial arts. She has won eleven gold medals, nine silver and seven bronze medals, five state trophies, and green, blue, and yellow belt.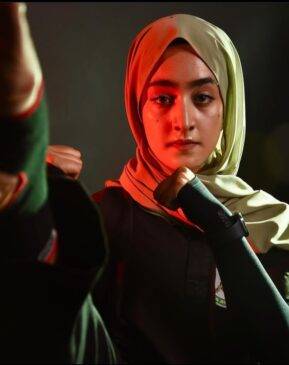 Fiza Nazir Martial Arts Athlete played national level martial arts
At 9 years of age, fiza had already played national level martial arts, this would mark the beginning of a highly successful road for her. When Fiza Nazir was in second or third grade, her father (Nazir Ahmad) an athlete, who was associated with football and weight lifting for years, told her, 'if he had a son, he would have pursued his dream of becoming a champion. So, these words of her father became a challenge for Fiza Nazir but she didn't feel discouraged nor thought about giving up rather she prepared herself for more difficulties because she was knowing about our communalism. This brave thinking of Fiza Nazir made her more special and inspiration for other girls or martial players. Fiza Nazir has won against many countries like Bhutan, China, the Philippines and South Korea. Before going further let's see some pictures of her.
Besides her father assured her that most even the whole family has been very concerned throughout her journey. The same is from Fiza Nazir to her father, who despite odds and communal oppression dispense all plausible prerequisite and assure her daughter. She is feeling very much lucky to have a family like this because you might have seen that most of our society members didn't allow girls to play but she is the one who didn't care about others, she just thinks about herself and work for goals. Fiza Nazir says it wouldn't have been achievable for her to win all these awards without his support/guidance. She believes that "Winning or losing is the part of the sports, but giving moral support to a player pushes him/her for success. It was not easy for her to go for daily practice and studies simultaneously, So, she decided to keep her studies on hold just for a year. But after that year she starts preparing for the NEET examination.
First snowfall of the season in high altitude areas of Jammu and Kashmir and Ladakh
As already known that she lives in downtown and during turbulence it became much difficult to go outside, but she always make it a point not to miss any single day of practice classes. Fiza has risen above everything to be one of the premier martial art athletes of the valley.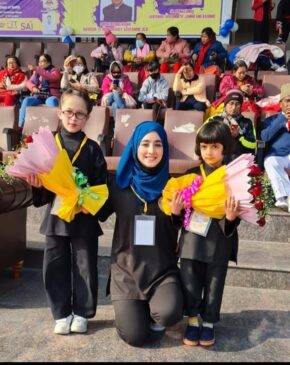 Despite performing great in her field, Fiza Nazir argues that there is no monetary concern from the State Sports Council for the players. "Every time ministers and other government officials came to watch sports programs, they announced a long list of facilities and benefits for the players. But later none was delivered. The sports sector in Kashmir lacks many facilities. She demanded that it is time for authorities to address players' demands and boost the field of sports in Kashmir.
Fiza Nazir said that playing martial arts gives her more immense satisfaction and makes her more energetic and "Thang-Ta is a highly satisfying game" Says Fiza Nazir.
The j&k Thang_Ta championship organized by the j&k Thang_Ta association concluded at the indoor sports hall. Fiza Nazir was declared champion of champions in the women's section.
At last, wish her luck with more achievements and support her…Thank you
Contact details
Email: fizanazir399@gmail.com
Instagram: fiza_nazir