New Delhi: Keeping in view, the regular directions of senior officers regarding checking the menace of criminals and to curb street crime, police presence has been increased in the beat area of PS Wazirabad by regular area patrolling and conducting random picket checking during odd hours to surprise the criminals. PS Wazirabad staff has also been directed for maximum use of ROKO-TOKO strategy of Delhi Police.
On 01.03.2022 in the afternoon, HC Vikash, Ct Nineet, Ct Pratap and Ct Anil of PS Wazirabad as per the direction of Inspr. Bhaskar Sharma, SHO/PS Wazirabad and guidance of Shri Swagat Patil, ACP/Timarpur started random vehicle checking by installing barricades at CC Road Sangam Vihar cut to curb street crime and surprise the criminals.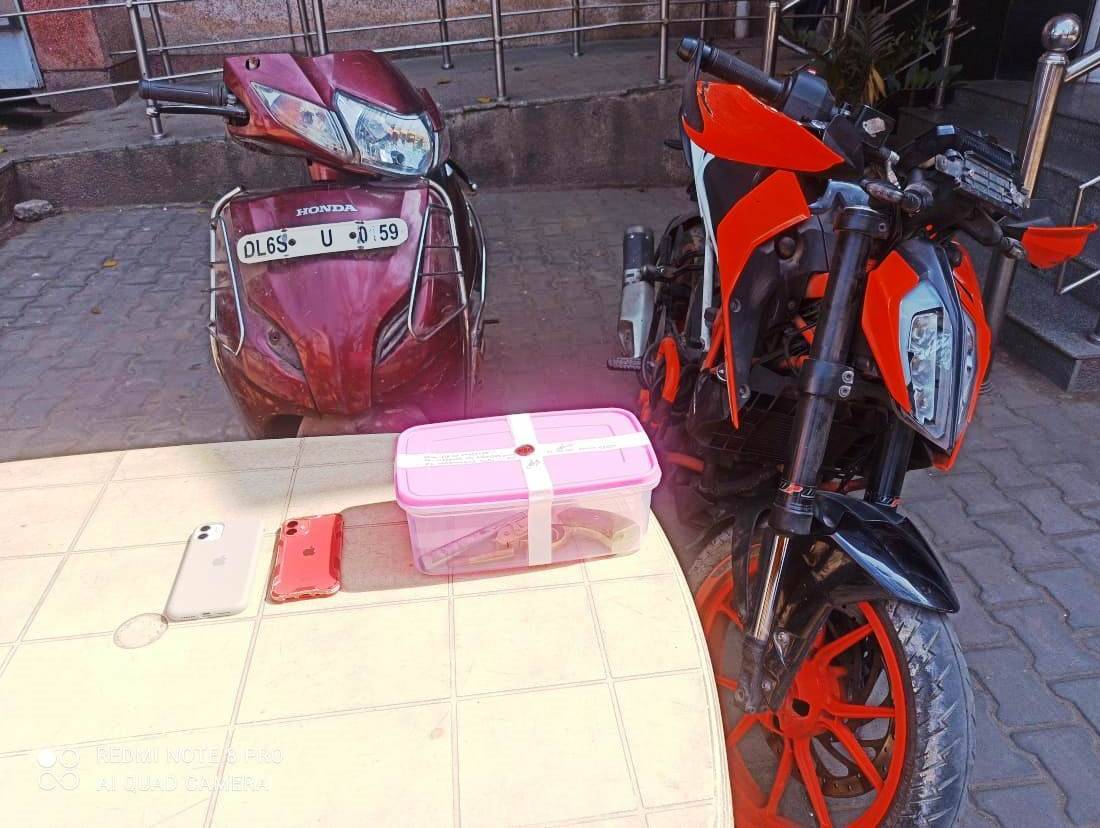 During picket duty at about 04:00 PM, the above said police staff received secret information through reliable sources that two desperate criminals involved in many robbery/snatching incident are roaming on a motorcycle in the area to commit crime. They might be carrying firearm and might pass through the CC Road. The information was immediately passed to the senior officers.
As per the directions of senior officers and acting upon the secret information, the dedicated police team strategically started vehicle checking. After some time, the alert picket checking staff noticed two riders on a without registration number plate motorcycle make KTM Duke. The team immediately signalled them to stop, but instead of stopping they tried to escape from the spot. The team strategically stopped and overpowered both the suspects. During enquiry about the ownership of the motorcycle, they could not give any satisfactory reply nor could not produce any supportive document of the motorcycle.
During their cursory search, one Country Made Pistol loaded with one live cartridge was recovered from their possession. On verifying the motorcycle with the Engine & Chassis numbers in police record, it was found stolen vide e-FIR No. CD-NK-000033 dated 28.02.2022, u/s 379 IPC, from PS Nabi Karim. Both the accused were identified as Mohd. Monis, age-26 years and Namir @ Namiruddin, age-22 years.
As the accused were nabbed with firearm, accordingly a case vide FIR No. 246/22, dated 01.03.2022, u/s 25/54/59 Arms Act was registered at PS Wazirabad and investigation was taken up.
During further investigation, at their instance 02 mobile phones make Apple I-phone 11 and I-Phone 12, both snatched from DU Campus, PS Maurice Nagar area were recovered from their home and one Scooty stolen from PS DBG Road was recovered from Bio Diversity Park, Jagatpur, Delhi at their instance.
During interrogation, both accused persons Mohd. Monis, 26 yrs and Namir @ Namiruddin, 22 yrs disclosed that they purchased the recovered Country Made Pistol and one live cartridge from one person Shahrukh for Rs 6,000/-, who met them in Seelampur, Delhi area about two months ago.
They further confessed that in the early morning of 28.02.2022 at around 6:00 AM, they stole the recovered motorcycle make KTM Duke from Nabi Karim area. On the stolen motorcycle, they started roaming in Delhi University North Campus area and snatched two mobile phones both make of Apple iPhone from a person at around 8:30 AM (later identified as Mohd. Numan Khan, an employee in DU) then from a girl at around 9:00 AM (later identified as a girl student in DU). After committing both snatchings, they committed another snatching with a person in PS Mukerjee Nagar area.
They stole the recovered Scooty from PS Desh Bandu Gupta Road in September, 2021 and used the same in committing crime. Further, both accused confessed about committing other criminal activities in different part of Delhi.
08 cases of Snatching and Motor Vehicle Theft registered at PSs Wazirabad, Maurice Nagar, Nabi Karim and DBG Road worked out with their arrest.
RECOVERY:
One Country Made Pistol along with one live cartridge, Two mobile phones make Apple iPhone snatched from PS Maurice Nagar area, One motorcycle, make KTM Duke stolen from PS Nabi Karim, Delhi on 28.01.2022 and One Scooty stolen from PS DBG Road area.
Further investigation of the case is in progress and efforts are being made to nab the main supplier of firearm and to affect more recovery.