New Delhi: One shrewd, notorious interstate auto lifter arrested by ps civil lines team
Unique mo of stealing high-security number plate before stealing the car of the same model.
The accused used to work on order & supply system
Four stolen luxury cars, several ECM, stolen number plates, blank no plates & other implements of car theft recovered
One Shwetank Aggarwal R/o Under Hill Lane, Civil Lines, Delhi registered an online eFIR NO. 35485/21, u/s 379 IPC, dated 10.12.2021 about the theft of his car make Toyota Fortuner parked outside his home.
Keeping in view the incident, a special team comprising of ASI Vinod, HC Ankush, Ct Ramesh, Ct Shiv Kumar & Ct Jaipal was constituted under the leadership of Insp. Ajay Kumar Sharma, SHO/Civil Lines and Supervision of Sh. Satender Yadav, ACP/Civil Lines to solve the case and arrest the culprits.
The team conducted technical investigation and thoroughly analysed several CCTV cameras installed in the vicinity of place of incident and possible routes taken by the thieves but didn't get any success.  The team laid their local sources to get any clue and made search in police record about the criminals involved in such auto thefts.
The team also started extensive work of identifying the vulnerable spots, laying trap & developing information about active auto-lifters in the area. The team worked for about one month relentlessly and finally identified one active auto-lifter active in the area on the basis of information developed through sources. He was found to be a notorious interstate-auto-lifter Kunal.
It was told through sources that he is super-cautious in his activities and takes no chance to be caught. He runs his interstate Gang to supply vehicles on demand. The team started collecting information and further developing it.
The said efforts bore fruits on 11.01.2022, when one of the deployed secret informers shared a tip-off that Kunal would come near Monestry Market to deliver his stolen car at around 6:00 PM. The team laid strategic trap and took its position near Monestry Market towards Kashmere Gate Bus Terminal. At around 6:00 PM, at the instance of secret informer, one white Hyundai Creta Car coming from Chandgi Ram Akhara was intercepted. When, he was asked about the papers of the car, the driver couldn't produce any.
When checked in police records through the number plate, it revealed that though the model & colour of Creta car is same but the registration number of the car does not tally with its engine number & chassis number and is surprisingly entirely different. As a result, the driver was arrested and the person disclosed his name as Kuanl @ Tanuj @ Vijay r/o Sangam Vihar, near Majidiya Hospital, Delhi, age-42 Yrs."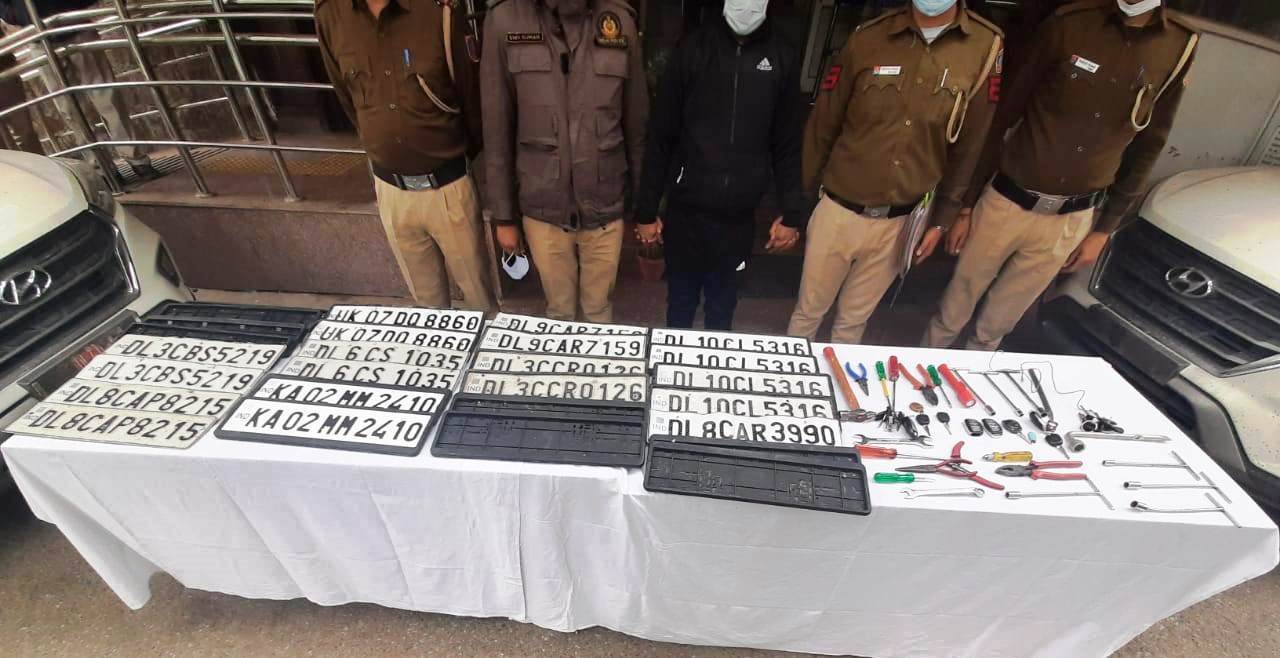 During further investigation, one more Creta car, 02 Swift cars, many registration Number plates, ECM Machine, Several number Frames, Keys of different cars and Implements used for stealing Cars were recovered.
During interrogation, accused Kunal disclosed that he has been stealing cars since 2013. He used to steal luxury cars from Delhi/NCR and supply it to UP & Kashmir. He wishes to be called Car-Raja and to complete the "century" of theft in auto lifting.
He confessed that his penchant for driving new cars daily & his lavish lifestyle has ruined him. He has a good family background as his father was a businessman and was running a shop in the Amar colony area. He has studied in a well-reputed convent school. He claimed that if he has his desired instruments/stealing implements/Auzars, he can steal any car in just 5 minutes.
Kunal used to Steel luxurious cars on-demand basis. As per the demand, first, he used to identify the demanded vehicle model and even the same colour vehicles available in the City. Then he used to first steal the number plates of the same make, color & model vehicle from one area and then he would steal the targeted vehicle of the same description from another area. Then he used to replace the original number plates with the stolen number plates. Now there were very few chances of the stolen vehicle being traced. As there is no consolidated/centralized data of stolen number plates. It is normally the registration number and broader specifications are checked in routine checking on roads. Moreover, he used to park the stolen vehicle with a fake number plate at some random parking place for a few days to check whether the vehicle has been traced by the police through GPS or otherwise. Then he used to call the person to get the delivery at a different spot. Before the delivery, it was advised to pass sanitize the spot of meeting multiple times to assure that no one is following or a trap is laid or not.
On the part of one of the receiver, he used to ask for delivery of the car with the model, which got damaged (100 %) in accidents. So the receiver used to come with the number plate of the damaged car and the ECM. Which he used to replace and then receiver used to take the vehicle safely.
10 cases of auto-thefts/theft registered in different PSs of all over Delhi i.e. PS Civil Lines, PS Patel Nagar, PS Shahbad Dairy, PS Kalkaji, PS Tilak Nagar & PS Punjabi Bagh solved.
 RECOVERY:
02 cars make Hyundai Creta stolen from PS Tilak Nagar and PS Patel Nagar, Delhi area.
02 cars make Maruti Swift stolen from PS Tilak Nagar and PS Shahbad Dairy area.
Number plates of Hyundai Creta car stolen vide E-FIR No. 1246/2021, dated 20.12.2021 of PS Punjabi Bagh, Delhi.
Stolen registration number plates vide E-FIR No. 1197/2021, dated 20.12.2021, PS Kalkaji.
One pair of registration number plates was stolen vide LR No. 1048031/2021.
One pair registration number plate stolen vide LR No. 1061201/2021.
Two ECM
Several number Frames
Keys of different cars
Implements used for stealing cars
Further interrogation investigation is on.