Filmmaker Eugene Jarecki imposed the Trump Death Clock
Number of deaths due to corona in New York Times square is being continuously shown here
Trump Death Clock in New York Times Square
Due to Corona virus, there is a surge of death all over the world. America is the most affected by Corona. In the US, Corona has killed more than 83 thousand people so far, while more than 1.4 million people have been infected.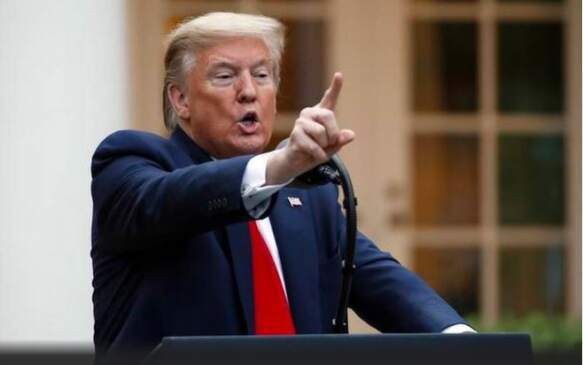 Every day the number of people who die and are infected with the corona is increasing constantly. Now people blame US President Donald Trump for the death of such a large number of people. People have now started saying that if Trump would take the right steps in time and lockdown the country, the death toll would not have been so large.
"Fake news!" says someone in line as the "Trump death clock" drives by. pic.twitter.com/WkdJIzfHDn

— Ford Fischer (@FordFischer) June 20, 2020


More: Geeta pasra Indian US
President Trump may make Indian Geeta Pasi an American envoy in Ethiopia
Trump Death Clock
So now the Americans are expressing their anger against Trump. In this episode, a big clock has been installed in New York's famous Times Square. This watch is designed by filmmaker Eugene Jarecki. This watch is named Trump Death Clock. In this time, the figure of deaths due to corona infection is visible. Currently, the number of deaths in New York alone is being shown in this watch. Let us know that one-third of the deaths from corona worldwide are from America alone.

Filmmaker Eugene Jarecki imposed the Trump Death Clock
Let me tell you that this 56-foot billboard of this watch was unveiled on Friday. Since then, the number of deaths due to corona in New York is being continuously shown here. New York is the city with the highest number of deaths. The clock is produced by filmmaker Eugene Jarecki.


It is Eugene who installed this clock on the roof of the Times Square building. He also wrote a post after applying the clock. In his post, Jarecki said- If Trump had understood the severity of the virus and worked to prevent it by lockdown or any other measures, then probably there would not have been so many deaths. It is known that filmmaker Eugene has been awarded the Sundance Film Festival Award twice